«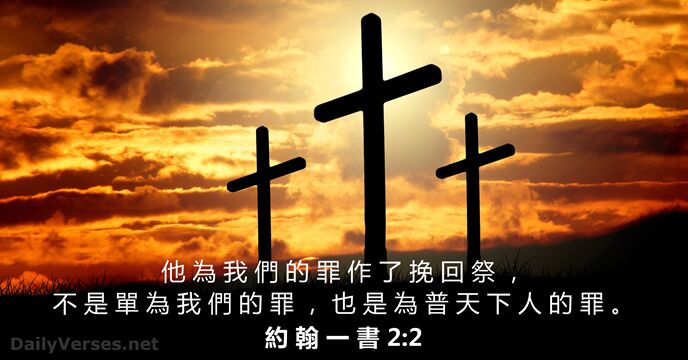 »
| | |
| --- | --- |
| He is the propitiation for our sins, and not for ours only but also for the sins of the whole world. | 他 為 我 們 的 罪 作 了 挽 回 祭 , 不 是 單 為 我 們 的 罪 , 也 是 為 普 天 下 人 的 罪 。 |
| Do not love the world or the things in the world. If anyone loves the world, the love of the Father is not in him. | 不 要 愛 世 界 和 世 界 上 的 事 。 人 若 愛 世 界 , 愛 父 的 心 就 不 在 他 裡 面 了 。 |
| For all that is in the world—the desires of the flesh and the desires of the eyes and pride of life—is not from the Father but is from the world. | 因 為 凡 世 界 上 的 事 , 就 像 肉 體 的 情 慾 , 眼 目 的 情 慾 , 並 今 生 的 驕 傲 , 都 不 是 從 父 來 的 , 乃 是 從 世 界 來 的 。 |
| And the world is passing away along with its desires, but whoever does the will of God abides forever. | 這 世 界 和 其 上 的 情 慾 都 要 過 去 , 惟 獨 遵 行 神 旨 意 的 , 是 永 遠 常 存 。 |
| No one who denies the Son has the Father. Whoever confesses the Son has the Father also. | 凡 不 認 子 的 , 就 沒 有 父 ; 認 子 的 , 連 父 也 有 了 。 |
| Let what you heard from the beginning abide in you. If what you heard from the beginning abides in you, then you too will abide in the Son and in the Father. | 論 到 你 們 , 務 要 將 那 從 起 初 所 聽 見 的 , 常 存 在 心 裡 。 若 將 從 起 初 所 聽 見 的 存 在 心 裡 , 你 們 就 必 住 在 子 裡 面 , 也 必 住 在 父 裡 面 。 |
| But the anointing that you received from him abides in you, and you have no need that anyone should teach you. But as his anointing teaches you about everything, and is true, and is no lie—just as it has taught you, abide in him. | 你 們 從 主 所 受 的 恩 膏 常 存 在 你 們 心 裡 , 並 不 用 人 教 訓 你 們 , 自 有 主 的 恩 膏 在 凡 事 上 教 訓 你 們 。 這 恩 膏 是 真 的 , 不 是 假 的 ; 你 們 要 按 這 恩 膏 的 教 訓 住 在 主 裡 面 。 |
| And now, little children, abide in him, so that when he appears we may have confidence and not shrink from him in shame at his coming. | 小 子 們 哪 , 你 們 要 住 在 主 裡 面 。 這 樣 , 他 若 顯 現 , 我 們 就 可 以 坦 然 無 懼 ; 當 他 來 的 時 候 , 在 他 面 前 也 不 至 於 慚 愧 。 |
I stretch out my hands to you;
my soul thirsts for you like a parched land. Selah
You shall serve the L

ord

your God, and he will bless your bread and your water, and I will take sickness away from among you.
Read more
I stretch out my hands to you; my soul thirsts for you like a parched land. Selah
Personal Bible reading plan
Create an account to configure your Bible reading plan and you will see your progress and the next chapter to read here!
Read more...