<
1 Thessalonians 5 - KJV & KEH
«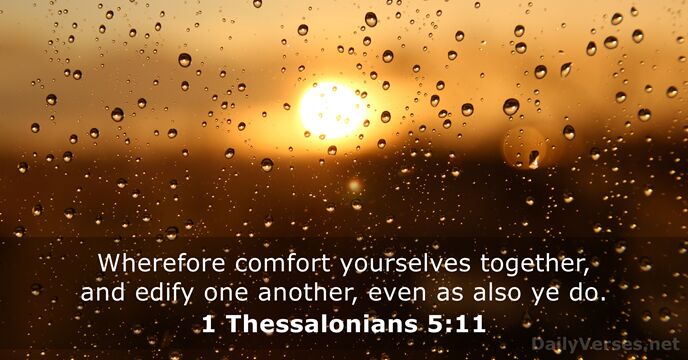 »
| | |
| --- | --- |
| Therefore let us not sleep, as do others; but let us watch and be sober. | إِذَنْ، لَا نَنَمْ كَمَا يَنَامُ الآخَرُونَ، بَلْ لِنَظَلّ سَاهِرِينَ وَصَاحِينَ. |
| Wherefore comfort yourselves together, and edify one another, even as also ye do. | لِذَلِكَ عَزُّوا بَعْضُكُمْ بَعْضاً وَشَدِّدُوا أَحَدُكُمُ الآخَرَ، كَمَا أَنْتُمْ فَاعِلُونَ. |
| See that none render evil for evil unto any man; but ever follow that which is good, both among yourselves, and to all men. | حَذَارِ أَنْ يُبَادِلَ أَحَدُكُمْ شَرَّ غَيْرِهِ بِشَرٍّ مِثْلِهِ. بَلِ اسْعَوْا دَائِماً إِلَى الْخَيْرِ فِي مُعَامَلَتِكُمْ بَعْضِكُمْ لِبَعْضٍ وَلِلآخَرِينَ جَمِيعاً. |
| Rejoice evermore. Pray without ceasing. In every thing give thanks: for this is the will of God in Christ Jesus concerning you. | افْرَحُوا عَلَى الدَّوَامِ؛ صَلُّوا دُونَ انْقِطَاعٍ؛ ارْفَعُوا الشُّكْرَ فِي كُلِّ حَالٍ: فَهذِهِ هِيَ مَشِيئَةُ اللهِ لَكُمْ فِي الْمَسِيحِ يَسُوعَ. |
| Prove all things; hold fast that which is good. Abstain from all appearance of evil. | امْتَحِنُوا كُلَّ شَيْءٍ وَتَمَسَّكُوا بِالْحَسَنِ. تَرَفَّعُوا عَنْ كُلِّ مَا فِيهِ شُبْهَةُ شَرٍّ. |
| Faithful is he that calleth you, who also will do it. | فَإِنَّ اللهَ الَّذِي يَدْعُوكُمْ صَادِقٌ، وَسَوْفَ يُتِمُّ ذَلِكَ. |
I stretch forth my hands unto thee:
my soul thirsteth after thee, as a thirsty land. Selah
But the fruit of the Spirit is love, joy, peace, longsuffering, gentleness, goodness, faith, Meekness, temperance: against such there is no law.
Read more
I stretch forth my hands unto thee: my soul thirsteth after thee, as a thirsty land. Selah
Personal Bible reading plan
Create an account to configure your Bible reading plan and you will see your progress and the next chapter to read here!
Read more...