Read this Bible chapter online, click
here
to read.
Bible Verses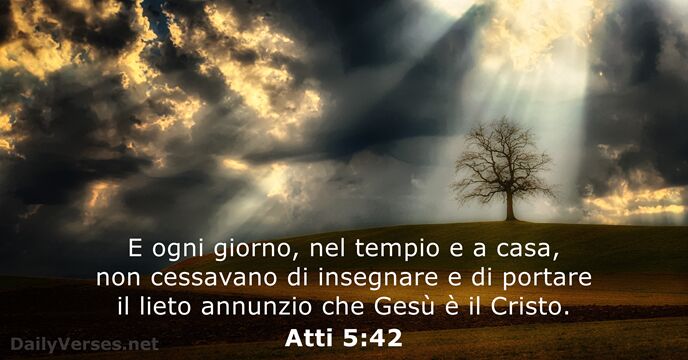 | | |
| --- | --- |
| But Peter said, "Ananias, why has Satan filled your heart to lie to the Holy Spirit and to keep back for yourself part of the proceeds of the land? While it remained unsold, did it not remain your own? And after it was sold, was it not at your disposal? Why is it that you have contrived this deed in your heart? You have not lied to man but to God." | Ma Pietro gli disse: «Anania, perché mai satana si è così impossessato del tuo cuore che tu hai mentito allo Spirito Santo e ti sei trattenuto parte del prezzo del terreno? Prima di venderlo, non era forse tua proprietà e, anche venduto, il ricavato non era sempre a tua disposizione? Perché hai pensato in cuor tuo a quest'azione? Tu non hai mentito agli uomini, ma a Dio». |
| And we are witnesses to these things, and so is the Holy Spirit, whom God has given to those who obey him. | E di questi fatti siamo testimoni noi e lo Spirito Santo, che Dio ha dato a coloro che si sottomettono a lui. |
| And every day, in the temple and from house to house, they did not cease teaching and preaching that the Christ is Jesus. | E ogni giorno, nel tempio e a casa, non cessavano di insegnare e di portare il lieto annunzio che Gesù è il Cristo. |
Receive the Daily Bible Verse:
Get wisdom; get insight; do not forget, and do not turn away from the words of my mouth.