Read this Bible chapter online, click
here
to read.
Bible Verses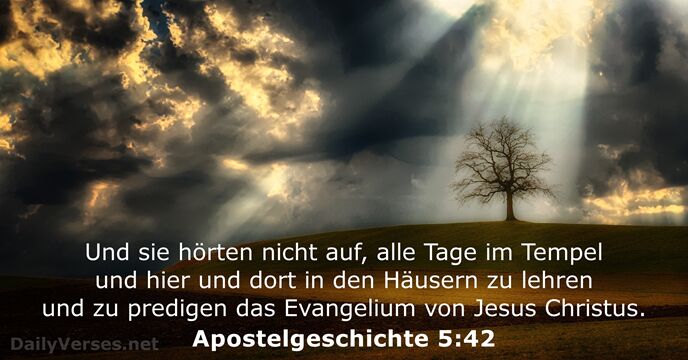 | | |
| --- | --- |
| But Peter said, "Ananias, why has Satan filled your heart to lie to the Holy Spirit and to keep back for yourself part of the proceeds of the land? While it remained unsold, did it not remain your own? And after it was sold, was it not at your disposal? Why is it that you have contrived this deed in your heart? You have not lied to man but to God." | Petrus aber sprach: Hananias, warum hat der Satan dein Herz erfüllt, dass du den Heiligen Geist belogen und etwas vom Geld für den Acker zurückbehalten hast? Hättest du den Acker nicht behalten können, als du ihn hattest? Und konntest du nicht auch, als er verkauft war, noch tun, was du wolltest? Warum hast du dir dies in deinem Herzen vorgenommen? Du hast nicht Menschen, sondern Gott belogen. |
| And we are witnesses to these things, and so is the Holy Spirit, whom God has given to those who obey him. | Und wir sind Zeugen dieses Geschehens und mit uns der Heilige Geist, den Gott denen gegeben hat, die ihm gehorchen. |
| And every day, in the temple and from house to house, they did not cease teaching and preaching that the Christ is Jesus. | Und sie hörten nicht auf, alle Tage im Tempel und hier und dort in den Häusern zu lehren und zu predigen das Evangelium von Jesus Christus. |
Receive the Daily Bible Verse:
Get wisdom; get insight; do not forget, and do not turn away from the words of my mouth.