Bible Verses about Anger
«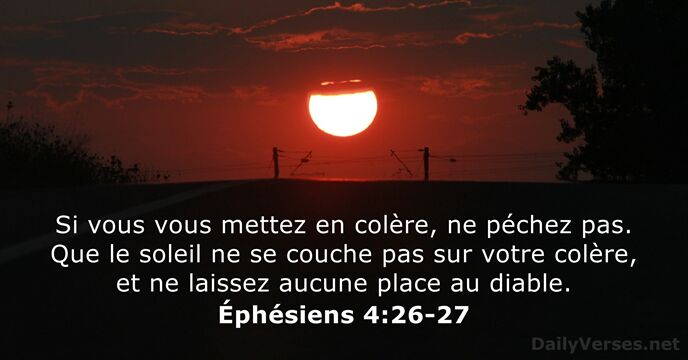 »
Be angry and do not sin; do not let the sun go down on your anger, and give no opportunity to the devil.

Si vous vous mettez en colère, ne péchez pas. Que le soleil ne se couche pas sur votre colère, et ne laissez aucune place au diable.

Love is patient and kind; love does not envy or boast; it is not arrogant or rude. It does not insist on its own way; it is not irritable or resentful.

L'amour est patient, il est plein de bonté; l'amour n'est pas envieux; l'amour ne se vante pas, il ne s'enfle pas d'orgueil, il ne fait rien de malhonnête, il ne cherche pas son intérêt, il ne s'irrite pas, il ne soupçonne pas le mal.

You shall not hate your brother in your heart, but you shall reason frankly with your neighbor, lest you incur sin because of him. You shall not take vengeance or bear a grudge against the sons of your own people, but you shall love your neighbor as yourself: I am the L

ord

.

Tu ne détesteras pas ton frère dans ton cœur, mais tu veilleras à reprendre ton prochain, ainsi tu ne te chargeras pas d'un péché à cause de lui. Tu ne te vengeras pas et tu ne garderas pas de rancune contre les membres de ton peuple. Tu aimeras ton prochain comme toi-même. Je suis l'Eternel.

Hatred stirs up strife, but love covers all offenses.

La haine fait surgir des conflits, alors que l'amour couvre toutes les fautes.

Know this, my beloved brothers: let every person be quick to hear, slow to speak, slow to anger.

Ainsi donc, mes frères et sœurs bien-aimés, que chacun soit prompt à écouter, lent à parler, lent à se mettre en colère.

A soft answer turns away wrath, but a harsh word stirs up anger.

Une réponse douce calme la fureur, tandis qu'une parole dure augmente la colère.

Whoever is slow to anger has great understanding, but he who has a hasty temper exalts folly.

Celui qui est lent à la colère fait preuve d'une grande intelligence, tandis que celui qui s'énerve facilement proclame sa folie.

And he said, "What comes out of a person is what defiles him. For from within, out of the heart of man, come evil thoughts, sexual immorality, theft, murder, adultery, coveting, wickedness, deceit, sensuality, envy, slander, pride, foolishness. All these evil things come from within, and they defile a person."

Il dit encore: «C'est ce qui sort de l'homme qui le rend impur. En effet, c'est de l'intérieur, c'est du cœur des hommes que sortent les mauvaises pensées, les adultères, l'immoralité sexuelle, les meurtres, les vols, la soif de posséder, les méchancetés, la fraude, la débauche, le regard envieux, la calomnie, l'orgueil, la folie. Toutes ces choses mauvaises sortent du dedans et rendent l'homme impur.»

A fool gives full vent to his spirit, but a wise man quietly holds it back.

L'homme stupide affiche toute sa passion, tandis que le sage y met un frein.

The vexation of a fool is known at once, but the prudent ignores an insult.

Un fou manifeste immédiatement sa colère, mais celui qui couvre un affront est un homme prudent.

By insolence comes nothing but strife, but with those who take advice is wisdom.

Ce n'est que par orgueil qu'on attise les querelles, mais la sagesse est avec ceux qui écoutent les conseils.

It is an honor for a man to keep aloof from strife, but every fool will be quarreling.

C'est une gloire pour l'homme d'éviter les disputes, mais un fou s'y engage.

Take care, brothers, lest there be in any of you an evil, unbelieving heart, leading you to fall away from the living God.

Faites attention, frères et sœurs: qu'aucun de vous n'ait un cœur mauvais et incrédule qui le détourne du Dieu vivant.

Return, faithless Israel, declares the L

ord

. I will not look on you in anger, for I am merciful, declares the L

ord

; I will not be angry forever.

Reviens, infidèle Israël! déclare l'Eternel. Je ne jetterai pas un regard sévère sur vous, car moi, je suis fidèle, déclare l'Eternel. Je ne garde pas ma colère pour toujours.
As for the one who is weak in faith, welcome him, but not to quarrel over opinions.
Personal Bible reading plan
Create an account to configure your Bible reading plan and you will see your progress and the next chapter to read here!
Read more...