Bible Verses about the Body
«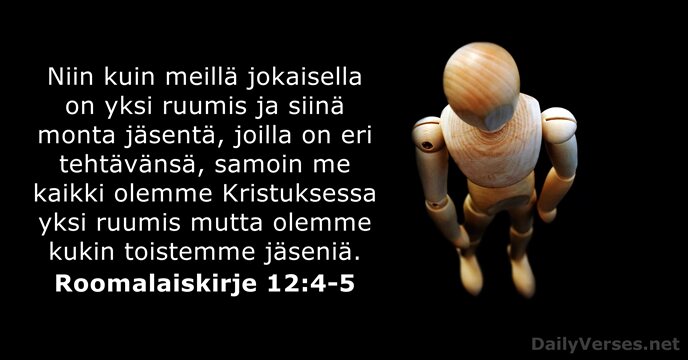 »
Or do you not know that your body is a temple of the Holy Spirit within you, whom you have from God? You are not your own, for you were bought with a price. So glorify God in your body.

Ettekö tiedä, että teidän ruumiinne on Pyhän Hengen temppeli? Tämän Hengen on Jumala antanut asumaan teissä. Te ette itse omista itseänne, sillä Jumala on ostanut teidät täydestä hinnasta. Tuottakaa siis ruumiillanne Jumalalle kunniaa!

For as in one body we have many members, and the members do not all have the same function, so we, though many, are one body in Christ, and individually members one of another.

Niin kuin meillä jokaisella on yksi ruumis ja siinä monta jäsentä, joilla on eri tehtävänsä, samoin me kaikki olemme Kristuksessa yksi ruumis mutta olemme kukin toistemme jäseniä.

For you formed my inward parts; you knitted me together in my mother's womb. I praise you, for I am fearfully and wonderfully made. Wonderful are your works; my soul knows it very well.

Sinä olet luonut minut sisintäni myöten, äitini kohdussa olet minut punonut. Minä olen ihme, suuri ihme, ja kiitän sinua siitä. Ihmeellisiä ovat sinun tekosi, minä tiedän sen.

My flesh and my heart may fail, but God is the strength of my heart and my portion forever.

Vaikka ruumiini ja sieluni nääntyy, Jumala on kallioni, minun osani iankaikkisesti.

Remove vexation from your heart, and put away pain from your body, for youth and the dawn of life are vanity.

Karkota suru sydämestäsi ja torju kärsimys ruumiistasi – silti myös nuoruus, elämän aamu, on turhuutta.

A joyful heart is good medicine, but a crushed spirit dries up the bones.

Iloinen sydän pitää ihmisen terveenä, synkkä mieli kuihduttaa ruumiin.

And let the peace of Christ rule in your hearts, to which indeed you were called in one body. And be thankful.

Vallitkoon teidän sydämissänne Kristuksen rauha, johon teidät on yhden ja saman ruumiin jäseninä kutsuttu. Olkaa myös kiitollisia.

Gracious words are like a honeycomb, sweetness to the soul and health to the body.

Ystävän sanat ovat nuorta hunajaa: makeat mielelle, virvoittavat ruumiille.

Be not wise in your own eyes; fear the L

ord

, and turn away from evil. It will be healing to your flesh and refreshment to your bones.

Älä luulottele olevasi viisas; pelkää Herraa ja karta pahaa. Siinä on sinulle lääke, joka pitää koko ruumiisi terveenä.

Watch and pray that you may not enter into temptation. The spirit indeed is willing, but the flesh is weak.

Valvokaa ja rukoilkaa, ettette joutuisi kiusaukseen. Tahtoa ihmisellä on, mutta luonto on heikko.

Therefore I tell you, do not be anxious about your life, what you will eat or what you will drink, nor about your body, what you will put on. Is not life more than food, and the body more than clothing?

Sen tähden minä sanon teille: älkää huolehtiko hengestänne, siitä mitä söisitte tai joisitte, älkää ruumiistanne, siitä millä sen vaatettaisitte. Eikö henki ole enemmän kuin ruoka ja ruumis enemmän kuin vaatteet?

For while bodily training is of some value, godliness is of value in every way, as it holds promise for the present life and also for the life to come.

Ruumiin harjoittamisesta on vain vähän hyötyä, mutta oikeasta uskosta on hyötyä kaikkeen, sillä siihen liittyy lupaus sekä nykyisestä että tulevasta elämästä.

So we do not lose heart. Though our outer self is wasting away, our inner self is being renewed day by day.

Sen tähden me emme lannistu. Vaikka ulkonainen ihmisemme murtuukin, niin sisäinen ihmisemme uudistuu päivä päivältä.

And the rib that the L

ord

God had taken from the man he made into a woman and brought her to the man. Then the man said, "This at last is bone of my bones and flesh of my flesh; she shall be called Woman, because she was taken out of Man." Therefore a man shall leave his father and his mother and hold fast to his wife, and they shall become one flesh.

Herra Jumala teki tästä kylkiluusta naisen ja toi hänet miehen luo. Ja mies sanoi: – Tämä se on! Tämä on luu minun luustani ja liha minun lihastani. Naiseksi häntä sanottakoon: miehestä hänet on otettu. Siksi mies jättää isänsä ja äitinsä ja liittyy vaimoonsa, niin että he tulevat yhdeksi lihaksi.

But I discipline my body and keep it under control, lest after preaching to others I myself should be disqualified.

Kohdistan iskut omaan ruumiiseeni ja pakotan sen tottelemaan, jottei itseäni lopulta hylättäisi, minua, joka olen kutsunut muita kilpailuun.

There is one body and one Spirit—just as you were called to the one hope that belongs to your call.

On vain yksi ruumis ja yksi Henki, niin kuin myös se toivo, johon teidät on kutsuttu, on yksi.

O God, you are my God; earnestly I seek you; my soul thirsts for you; my flesh faints for you, as in a dry and weary land where there is no water.

Jumala, minun Jumalani, sinua minä odotan. Sieluni janoaa sinua, ruumiini ikävöi sinua ja uupuu autiomaassa ilman vettä.

And do not fear those who kill the body but cannot kill the soul. Rather fear him who can destroy both soul and body in hell.

Älkää pelätkö niitä, jotka tappavat ruumiin mutta eivät kykene tappamaan sielua. Pelätkää sen sijaan häntä, joka voi sekä sielun että ruumiin hukuttaa helvettiin.

Do not be anxious about your life, what you will eat, nor about your body, what you will put on. For life is more than food, and the body more than clothing.

Älkää kantako huolta hengestänne, siitä mitä söisitte, älkää ruumiistanne, siitä millä sen vaatettaisitte. Onhan henki enemmän kuin ruoka ja ruumis enemmän kuin vaatteet.

For we all stumble in many ways. And if anyone does not stumble in what he says, he is a perfect man, able also to bridle his whole body.

Kaikkihan me hairahdumme monin tavoin. Täydellinen on se, joka ei hairahdu puheissaan: hän kykenee hallitsemaan koko ruumiinsa.

If your right eye causes you to sin, tear it out and throw it away. For it is better that you lose one of your members than that your whole body be thrown into hell.

Jos oikea silmäsi viettelee sinua, repäise se irti ja heitä pois. Onhan sinulle parempi, että menetät vain yhden osan ruumiistasi, kuin että koko ruumiisi joutuu helvettiin.

For in one Spirit we were all baptized into one body—Jews or Greeks, slaves or free—and all were made to drink of one Spirit.

Meidät kaikki, olimmepa juutalaisia tai kreikkalaisia, orjia tai vapaita, on kastettu yhdeksi ruumiiksi. Yksi ja sama Henki on yhdistänyt meidät, kaikki me olemme saaneet juoda samaa Henkeä.

If I give away all I have, and if I deliver up my body to be burned, but have not love, I gain nothing.

Vaikka jakaisin kaiken omaisuuteni nälkää näkeville ja vaikka antaisin polttaa itseni tulessa mutta minulta puuttuisi rakkaus, en sillä mitään voittaisi.

Wives, submit to your own husbands, as to the Lord. For the husband is the head of the wife even as Christ is the head of the church, his body, and is himself its Savior.

Vaimot, suostukaa miehenne tahtoon niin kuin Herran tahtoon, sillä mies on vaimonsa pää, niin kuin Kristus on seurakunnan pää; onhan hän seurakunnan, oman ruumiinsa, pelastaja.

For we know that if the tent that is our earthly home is destroyed, we have a building from God, a house not made with hands, eternal in the heavens.

Me tiedämme, että vaikka tämä meidän maallinen telttamajamme puretaankin, Jumalalla on taivaassa meitä varten ikuinen asunto, joka ei ole ihmiskätten työtä.
Be not wise in your own eyes; fear the Lord, and turn away from evil. It will be healing to your flesh and refreshment to your bones.
Personal Bible reading plan
Create an account to configure your Bible reading plan and you will see your progress and the next chapter to read here!
Read more...