Bible Verses about the Body
«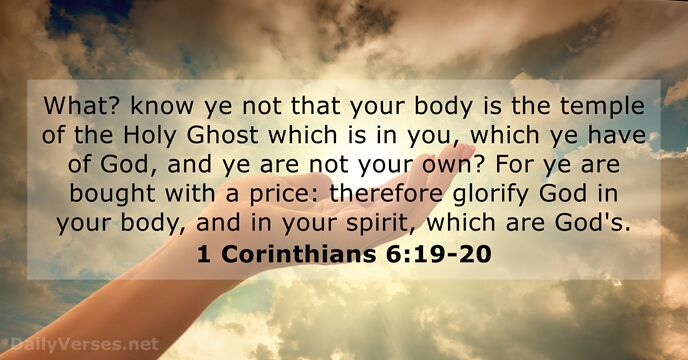 »
What? know ye not that your body is the temple of the Holy Ghost which is in you, which ye have of God, and ye are not your own? For ye are bought with a price: therefore glorify God in your body, and in your spirit, which are God's.

Oder wisst ihr nicht, dass euer Leib ein Tempel des Heiligen Geistes ist, der in euch ist und den ihr von Gott habt, und dass ihr nicht euch selbst gehört? Denn ihr seid teuer erkauft; darum preist Gott mit eurem Leibe.

For as we have many members in one body, and all members have not the same office: So we, being many, are one body in Christ, and every one members one of another.

Denn wie wir an einem Leib viele Glieder haben, aber nicht alle Glieder dieselbe Aufgabe haben, so sind wir, die vielen, ein Leib in Christus, aber untereinander ist einer des andern Glied.

For thou hast possessed my reins: thou hast covered me in my mother's womb. I will praise thee; for I am fearfully and wonderfully made: marvellous are thy works; and that my soul knoweth right well.

Denn du hast meine Nieren bereitet und hast mich gebildet im Mutterleibe. Ich danke dir dafür, dass ich wunderbar gemacht bin; wunderbar sind deine Werke; das erkennt meine Seele.

My flesh and my heart faileth: but God is the strength of my heart, and my portion for ever.

Wenn mir gleich Leib und Seele verschmachtet, so bist du doch, Gott, allezeit meines Herzens Trost und mein Teil.

Therefore remove sorrow from thy heart, and put away evil from thy flesh: for childhood and youth are vanity.

Lass Unmut fern sein von deinem Herzen und halte das Übel fern von deinem Leibe; denn Jugend und dunkles Haar sind eitel.

A merry heart doeth good like a medicine: but a broken spirit drieth the bones.

Ein fröhliches Herz tut dem Leibe wohl; aber ein betrübtes Gemüt lässt das Gebein verdorren.

And let the peace of God rule in your hearts, to the which also ye are called in one body; and be ye thankful.

Und der Friede Christi, zu dem ihr berufen seid in einem Leibe, regiere in euren Herzen; und seid dankbar.

Pleasant words are as an honeycomb, sweet to the soul, and health to the bones.

Freundliche Reden sind Honigseim, süß für die Seele und heilsam für die Glieder.

Watch and pray, that ye enter not into temptation: the spirit indeed is willing, but the flesh is weak.

Wachet und betet, dass ihr nicht in Anfechtung fallt! Der Geist ist willig; aber das Fleisch ist schwach.

Be not wise in thine own eyes: fear the L

ord

, and depart from evil. It shall be health to thy navel, and marrow to thy bones.
Dünke dich nicht, weise zu sein, sondern fürchte den

HERRN

und weiche vom Bösen. Das wird deinem Leibe heilsam sein und deine Gebeine erquicken.

Therefore I say unto you, Take no thought for your life, what ye shall eat, or what ye shall drink; nor yet for your body, what ye shall put on. Is not the life more than meat, and the body than raiment?

Darum sage ich euch: Sorgt euch nicht um euer Leben, was ihr essen und trinken werdet; auch nicht um euren Leib, was ihr anziehen werdet. Ist nicht das Leben mehr als die Nahrung und der Leib mehr als die Kleidung?

For bodily exercise profiteth little: but godliness is profitable unto all things, having promise of the life that now is, and of that which is to come.

Denn die leibliche Übung ist wenig nütze; aber die Frömmigkeit ist zu allen Dingen nütze und hat die Verheißung dieses und des zukünftigen Lebens.

For which cause we faint not; but though our outward man perish, yet the inward man is renewed day by day.

Darum werden wir nicht müde; sondern wenn auch unser äußerer Mensch verfällt, so wird doch der innere von Tag zu Tag erneuert.

And the rib, which the L

ord

God had taken from man, made he a woman, and brought her unto the man. And Adam said, This is now bone of my bones, and flesh of my flesh: she shall be called Woman, because she was taken out of Man. Therefore shall a man leave his father and his mother, and shall cleave unto his wife: and they shall be one flesh.
Und Gott der

HERR

baute eine Frau aus der Rippe, die er von dem Menschen nahm, und brachte sie zu ihm. Da sprach der Mensch: Die ist nun Bein von meinem Bein und Fleisch von meinem Fleisch; man wird sie Männin nennen, weil sie vom Manne genommen ist. Darum wird ein Mann seinen Vater und seine Mutter verlassen und seiner Frau anhangen, und sie werden sein ein Fleisch.

But I keep under my body, and bring it into subjection: lest that by any means, when I have preached to others, I myself should be a castaway.

Sondern ich schinde meinen Leib und bezwinge ihn, dass ich nicht andern predige und selbst verwerflich werde.

O God, thou art my God; early will I seek thee: my soul thirsteth for thee, my flesh longeth for thee in a dry and thirsty land, where no water is.

Gott, du bist mein Gott, den ich suche. Es dürstet meine Seele nach dir, mein Leib verlangt nach dir aus trockenem, dürrem Land, wo kein Wasser ist.

There is one body, and one Spirit, even as ye are called in one hope of your calling.

Ein Leib und ein Geist, wie ihr auch berufen seid zu einer Hoffnung eurer Berufung.

And fear not them which kill the body, but are not able to kill the soul: but rather fear him which is able to destroy both soul and body in hell.

Und fürchtet euch nicht vor denen, die den Leib töten, doch die Seele nicht töten können; fürchtet viel mehr den, der Leib und Seele verderben kann in der Hölle.

Take no thought for your life, what ye shall eat; neither for the body, what ye shall put on. The life is more than meat, and the body is more than raiment.

Sorgt euch nicht um das Leben, was ihr essen sollt, auch nicht um den Leib, was ihr anziehen sollt. Denn das Leben ist mehr als die Nahrung und der Leib mehr als die Kleidung.

For in many things we offend all. If any man offend not in word, the same is a perfect man, and able also to bridle the whole body.

Denn wir verfehlen uns alle mannigfaltig. Wer sich aber im Wort nicht verfehlt, der ist ein vollkommener Mensch und kann auch den ganzen Leib im Zaum halten.

And if thy right eye offend thee, pluck it out, and cast it from thee: for it is profitable for thee that one of thy members should perish, and not that thy whole body should be cast into hell.

Wenn dich aber dein rechtes Auge verführt, so reiß es aus und wirf's von dir. Es ist besser für dich, dass eins deiner Glieder verderbe und nicht der ganze Leib in die Hölle geworfen werde.

For by one Spirit are we all baptized into one body, whether we be Jews or Gentiles, whether we be bond or free; and have been all made to drink into one Spirit.

Denn wir sind durch einen Geist alle zu einem Leib getauft, wir seien Juden oder Griechen, Sklaven oder Freie, und sind alle mit einem Geist getränkt.

Wives, submit yourselves unto your own husbands, as unto the Lord. For the husband is the head of the wife, even as Christ is the head of the church: and he is the saviour of the body.

Ihr Frauen, ordnet euch euren Männern unter wie dem Herrn. Denn der Mann ist das Haupt der Frau, wie auch Christus das Haupt der Gemeinde ist – er hat sie als seinen Leib gerettet.

And though I bestow all my goods to feed the poor, and though I give my body to be burned, and have not charity, it profiteth me nothing.

Und wenn ich alle meine Habe den Armen gäbe und meinen Leib dahingäbe, mich zu rühmen, und hätte der Liebe nicht, so wäre mir's nichts nütze.

For we know that if our earthly house of this tabernacle were dissolved, we have a building of God, an house not made with hands, eternal in the heavens.

Denn wir wissen: Wenn unser irdisches Haus, diese Hütte, abgebrochen wird, so haben wir einen Bau, von Gott erbaut, ein Haus, nicht mit Händen gemacht, das ewig ist im Himmel.
Stand fast therefore in the liberty wherewith Christ hath made us free, and be not entangled again with the yoke of bondage.
Personal Bible reading plan
Create an account to configure your Bible reading plan and you will see your progress and the next chapter to read here!
Read more...