Bible Verses about Bread
«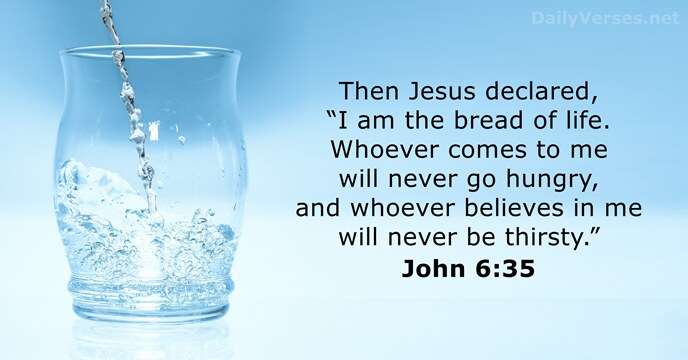 »
Then Jesus declared, "I am the bread of life. Whoever comes to me will never go hungry, and whoever believes in me will never be thirsty."

Jeesus sanoi: »Minä olen elämän leipä. Joka tulee minun luokseni, ei koskaan ole nälissään, ja joka uskoo minuun, ei enää koskaan ole janoissaan.»

Jesus answered, "It is written: 'Man shall not live on bread alone, but on every word that comes from the mouth of God.'"

Mutta Jeesus vastasi: »On kirjoitettu: 'Ei ihminen elä ainoastaan leivästä, vaan jokaisesta sanasta, joka lähtee Jumalan suusta.'»

Now he who supplies seed to the sower and bread for food will also supply and increase your store of seed and will enlarge the harvest of your righteousness.

Hän, joka antaa kylväjälle siemenen ja suo ravinnoksi leivän, antaa teillekin siemenen ja moninkertaistaa sen, ja hän sallii teidän hyvyytenne sadon karttua.

Go, eat your food with gladness, and drink your wine with a joyful heart, for God has already approved what you do.

Syö siis leipäsi iloiten ja juo viinisi hyvillä mielin, sillä jo kauan sitten Jumala on hyväksynyt nuo tekosi.

And he took bread, gave thanks and broke it, and gave it to them, saying, "This is my body given for you; do this in remembrance of me."

Sitten hän otti leivän, siunasi, mursi ja antoi sen opetuslapsilleen sanoen: »Tämä on minun ruumiini, joka annetaan teidän puolestanne. Tehkää tämä minun muistokseni.»

Every day they continued to meet together in the temple courts. They broke bread in their homes and ate together with glad and sincere hearts, praising God and enjoying the favor of all the people. And the Lord added to their number daily those who were being saved.

Joka päivä he uskollisesti kokoontuivat temppeliin, ja kodeissaan he yhdessä mursivat leipää ja aterioivat riemullisin ja vilpittömin mielin. He ylistivät Jumalaa ja olivat koko kansan suosiossa, ja päivä päivältä Herra liitti heidän joukkoonsa niitä jotka pelastuivat.

Taking the five loaves and the two fish and looking up to heaven, he gave thanks and broke them. Then he gave them to the disciples to distribute to the people. They all ate and were satisfied, and the disciples picked up twelve basketfuls of broken pieces that were left over.

Sitten Jeesus otti ne viisi leipää ja kaksi kalaa, katsoi ylös taivaaseen ja lausui niistä kiitoksen. Hän mursi leivät ja antoi palat opetuslapsilleen kansalle tarjottaviksi. Kaikki söivät kyllikseen, ja tähteeksi jääneitä paloja kerättiin kaksitoista korillista.

Give us today our daily bread.

Anna meille tänä päivänä jokapäiväinen leipämme.

I am the living bread that came down from heaven. Whoever eats this bread will live forever. This bread is my flesh, which I will give for the life of the world.

Minä olen tämä elävä leipä, joka on tullut taivaasta, ja se, joka syö tätä leipää, elää ikuisesti. Leipä, jonka minä annan, on minun ruumiini. Minä annan sen, että maailma saisi elää.

They devoted themselves to the apostles' teaching and to fellowship, to the breaking of bread and to prayer.

Seurakunta kuunteli ja noudatti uskollisesti apostolien opetusta. Uskovat elivät keskinäisessä yhteydessä, mursivat yhdessä leipää ja rukoilivat.

He humbled you, causing you to hunger and then feeding you with manna, which neither you nor your ancestors had known, to teach you that man does not live on bread alone but on every word that comes from the mouth of the L

ord

.

Tehdäkseen teidät nöyriksi hän piti teitä nälässä ja ruokki teitä sitten mannalla, jota ette olleet ennen maistaneet, eivät myöskään teidän isänne. Hän halusi osoittaa teille, ettei ihminen elä ainoastaan leivästä, vaan kaikesta mitä Herra sanoo.

One Sabbath Jesus was going through the grainfields, and as his disciples walked along, they began to pick some heads of grain. The Pharisees said to him, "Look, why are they doing what is unlawful on the Sabbath?" He answered, "Have you never read what David did when he and his companions were hungry and in need? In the days of Abiathar the high priest, he entered the house of God and ate the consecrated bread, which is lawful only for priests to eat. And he also gave some to his companions." Then he said to them, "The Sabbath was made for man, not man for the Sabbath. So the Son of Man is Lord even of the Sabbath."

Jeesus kulki kerran sapattina viljapellon laitaa, ja hänen opetuslapsensa alkoivat kulkiessaan katkoa tähkäpäitä. Silloin fariseukset sanoivat hänelle: »Katso nyt! Miksi opetuslapsesi tekevät sellaista, mitä sapattina ei ole lupa tehdä?» Mutta Jeesus vastasi heille: »Ettekö ole koskaan lukeneet, mitä Daavid teki, kun hänen ja hänen miestensä tuli nälkä eikä heillä ollut ruokaa? Hän meni, Abjatarin ollessa ylipappina, Jumalan huoneeseen ja otti uhrileivät, söi ja antoi miehilleenkin, vaikka niiden syöminen on sallittua ainoastaan papeille.» Ja Jeesus sanoi heille: »Sapatti on ihmistä varten eikä ihminen sapattia varten. Niinpä Ihmisen Poika on myös sapatin herra.»

Moses was there with the L

ord

forty days and forty nights without eating bread or drinking water. And he wrote on the tablets the words of the covenant—the Ten Commandments.

Mooses viipyi vuorella Herran luona neljäkymmentä päivää ja neljäkymmentä yötä syömättä ja juomatta. Ja hän kirjoitti tauluihin liiton ehdot, nuo kymmenen käskyä.
For in Christ Jesus neither circumcision nor uncircumcision has any value. The only thing that counts is faith expressing itself through love.
Personal Bible reading plan
Create an account to configure your Bible reading plan and you will see your progress and the next chapter to read here!
Read more...