13 Bible Verses about Bread
«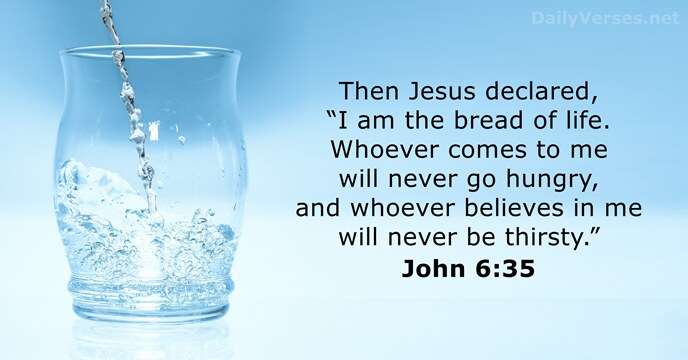 »
Then Jesus declared, "I am the bread of life. Whoever comes to me will never go hungry, and whoever believes in me will never be thirsty."

Yo soy el pan de vida —declaró Jesús—. El que a mí viene nunca pasará hambre, y el que en mí cree nunca más volverá a tener sed.

Now he who supplies seed to the sower and bread for food will also supply and increase your store of seed and will enlarge the harvest of your righteousness.

El que le suple semilla al que siembra también le suplirá pan para que coma, aumentará los cultivos y hará que ustedes produzcan una abundante cosecha de justicia.

Jesus answered, "It is written: 'Man shall not live on bread alone, but on every word that comes from the mouth of God.'"

Jesús le respondió: —Escrito está: "No sólo de pan vive el hombre, sino de toda palabra que sale de la boca de Dios."

Every day they continued to meet together in the temple courts. They broke bread in their homes and ate together with glad and sincere hearts, praising God and enjoying the favor of all the people. And the Lord added to their number daily those who were being saved.

No dejaban de reunirse en el templo ni un solo día. De casa en casa partían el pan y compartían la comida con alegría y generosidad, alabando a Dios y disfrutando de la estimación general del pueblo. Y cada día el Señor añadía al grupo los que iban siendo salvos.

Go, eat your food with gladness, and drink your wine with a joyful heart, for God has already approved what you do.

¡Anda, come tu pan con alegría! ¡Bebe tu vino con buen ánimo, que Dios ya se ha agradado de tus obras!

And he took bread, gave thanks and broke it, and gave it to them, saying, "This is my body given for you; do this in remembrance of me."

También tomó pan y, después de dar gracias, lo partió, se lo dio a ellos y dijo: —Este pan es mi cuerpo, entregado por ustedes; hagan esto en memoria de mí.

Taking the five loaves and the two fish and looking up to heaven, he gave thanks and broke them. Then he gave them to the disciples to distribute to the people. They all ate and were satisfied, and the disciples picked up twelve basketfuls of broken pieces that were left over.

Entonces Jesús tomó los cinco panes y los dos pescados, y mirando al cielo, los bendijo. Luego los partió y se los dio a los discípulos para que se los repartieran a la gente. Todos comieron hasta quedar satisfechos, y de los pedazos que sobraron se recogieron doce canastas.

He humbled you, causing you to hunger and then feeding you with manna, which neither you nor your ancestors had known, to teach you that man does not live on bread alone but on every word that comes from the mouth of the L

ord

.
Te humilló y te hizo pasar hambre, pero luego te alimentó con maná, comida que ni tú ni tus antepasados habían conocido, con lo que te enseñó que no solo de pan vive el hombre, sino de todo lo que sale de la boca del S

eñor

.

One Sabbath Jesus was going through the grainfields, and as his disciples walked along, they began to pick some heads of grain. The Pharisees said to him, "Look, why are they doing what is unlawful on the Sabbath?" He answered, "Have you never read what David did when he and his companions were hungry and in need? In the days of Abiathar the high priest, he entered the house of God and ate the consecrated bread, which is lawful only for priests to eat. And he also gave some to his companions." Then he said to them, "The Sabbath was made for man, not man for the Sabbath. So the Son of Man is Lord even of the Sabbath."

Un sábado, al cruzar Jesús los sembrados, sus discípulos comenzaron a arrancar a su paso unas espigas de trigo. —Mira —le preguntaron los fariseos—, ¿por qué hacen ellos lo que está prohibido hacer en sábado? Él les contestó: —¿Nunca han leído lo que hizo David en aquella ocasión, cuando él y sus compañeros tuvieron hambre y pasaron necesidad? Entró en la casa de Dios cuando Abiatar era el sumo sacerdote, y comió los panes consagrados a Dios, que sólo a los sacerdotes les es permitido comer. Y dio también a sus compañeros. El sábado se hizo para el hombre, y no el hombre para el sábado —añadió—. Así que el Hijo del hombre es Señor incluso del sábado.

They devoted themselves to the apostles' teaching and to fellowship, to the breaking of bread and to prayer.

Se mantenían firmes en la enseñanza de los apóstoles, en la comunión, en el partimiento del pan y en la oración.

Moses was there with the L

ord

forty days and forty nights without eating bread or drinking water. And he wrote on the tablets the words of the covenant—the Ten Commandments.
Y Moisés se quedó en el monte, con el S

eñor

, cuarenta días y cuarenta noches, sin comer ni beber nada. Allí, en las tablas, escribió los términos del pacto, es decir, los diez mandamientos.

I am the living bread that came down from heaven. Whoever eats this bread will live forever. This bread is my flesh, which I will give for the life of the world.

Yo soy el pan vivo que bajó del cielo. Si alguno come de este pan, vivirá para siempre. Este pan es mi carne, que daré para que el mundo viva.

Give us today our daily bread.

Danos hoy nuestro pan cotidiano.
I spread out my hands to you;
I thirst for you like a parched land.
But you, man of God, flee from all this, and pursue righteousness, godliness, faith, love, endurance and gentleness.
Read more
I spread out my hands to you; I thirst for you like a parched land.
Personal Bible reading plan
Create an account to configure your Bible reading plan and you will see your progress and the next chapter to read here!
Read more...