Bible Verses about Bread
«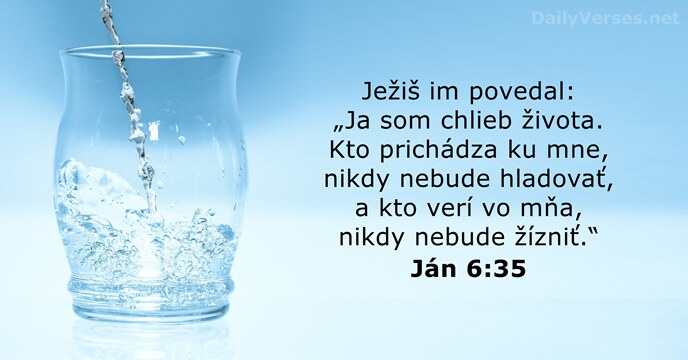 »
And Jesus said to them, "I am the bread of life. He who comes to Me shall never hunger, and he who believes in Me shall never thirst."

Ježiš im povedal: "Ja som chlieb života. Kto prichádza ku mne, nikdy nebude hladovať, a kto verí vo mňa, nikdy nebude žízniť."

But He answered and said, "It is written, 'Man shall not live by bread alone, but by every word that proceeds from the mouth of God.' "

On odvetil: "Napísané je: »Nielen z chleba žije človek, ale z každého slova, ktoré vychádza z Božích úst.«"

Go, eat your bread with joy, And drink your wine with a merry heart; For God has already accepted your works.

Nuž, hore sa! S radosťou požívaj chlieb a popíjaj víno pri dobrej nálade, lebo Boh mal už dávno radosť z tvojich diel.

Now may He who supplies seed to the sower, and bread for food, supply and multiply the seed you have sown and increase the fruits of your righteousness.

Ten, čo dáva rozsievačovi semeno a chlieb na jedenie, dá a rozmnoží vaše osivo a dá vzrast plodom vašej spravodlivosti.

And He took bread, gave thanks and broke it, and gave it to them, saying, "This is My body which is given for you; do this in remembrance of Me."

Potom vzal chlieb a vzdával vďaky, lámal ho a dával im, hovoriac: "Toto je moje telo, ktoré sa dáva za vás. Toto robte na moju pamiatku."

Give us this day our daily bread.

Chlieb náš každodenný daj nám dnes.

So continuing daily with one accord in the temple, and breaking bread from house to house, they ate their food with gladness and simplicity of heart, praising God and having favor with all the people. And the Lord added to the church daily those who were being saved.

Deň čo deň svorne zotrvávali v chráme, po domoch lámali chlieb a s radosťou a úprimným srdcom požívali pokrm. Chválili Boha a boli milí všetkému ľudu. A Pán každý deň rozmnožoval tých, čo mali byť spasení.

Then He took the five loaves and the two fish, and looking up to heaven, He blessed and broke them, and gave them to the disciples to set before the multitude. So they all ate and were filled, and twelve baskets of the leftover fragments were taken up by them.

Potom vzal päť chlebov a dve ryby, pozdvihol oči k nebu, dobrorečil nad nimi, lámal ich a dával svojim učeníkom, aby ich predkladali zástupu. I jedli a všetci sa nasýtili, ba ešte sa nazbieralo dvanásť košov odrobín, čo po nich zostali.

I am the living bread which came down from heaven. If anyone eats of this bread, he will live forever; and the bread that I shall give is My flesh, which I shall give for the life of the world.

Ja som živý chlieb, ktorý zostúpil z neba. Kto bude jesť z tohto chleba, bude žiť naveky. A chlieb, ktorý ja dám, je moje telo za život sveta.

And they continued steadfastly in the apostles' doctrine and fellowship, in the breaking of bread, and in prayers.

Vytrvalo sa zúčastňovali na učení apoštolov a na bratskom spoločenstve, na lámaní chleba a na modlitbách.

So He humbled you, allowed you to hunger, and fed you with manna which you did not know nor did your fathers know, that He might make you know that man shall not live by bread alone; but man lives by every word that proceeds from the mouth of the L

ord

.

Pokoril ťa a dal ti hladovať; potom ťa kŕmil mannou, ktorú si nepoznal ani ty, ani tvoji otcovia, aby ti ukázal, že človek nežije len z chleba, ale že človek môže byť živý zo všetkého, čo vychádza z Božích úst.

Now it happened that He went through the grainfields on the Sabbath; and as they went His disciples began to pluck the heads of grain. And the Pharisees said to Him, "Look, why do they do what is not lawful on the Sabbath?" But He said to them, "Have you never read what David did when he was in need and hungry, he and those with him: how he went into the house of God in the days of Abiathar the high priest, and ate the showbread, which is not lawful to eat except for the priests, and also gave some to those who were with him?" And He said to them, "The Sabbath was made for man, and not man for the Sabbath. Therefore the Son of Man is also Lord of the Sabbath."

V istú sobotu kráčal cez obilné pole. Jeho učeníci cestou začali trhať klasy. Farizeji mu povedali: "Pozri, prečo robia v sobotu, čo neslobodno?" On im odvetil: "Nikdy ste nečítali, čo urobil Dávid, keď bol v núdzi a keď bol hladný on i jeho družina? Ako vošiel za veľkňaza Abiatara do Božieho domu a jedol obetované chleby, ktoré nesmel jesť nik, iba kňazi, a dal aj tým, čo boli s ním?" I povedal im: "Sobota bola ustanovená pre človeka, a nie človek pre sobotu. A tak je Syn človeka pánom aj nad sobotou."

So he was there with the L

ord

forty days and forty nights; he neither ate bread nor drank water. And He wrote on the tablets the words of the covenant, the Ten Commandments.

A ostal tam s Pánom štyridsať dní a štyridsať nocí. Nejedol chlieb a nepil vodu. Potom Pán napísal na tabule príkazy zmluvy, desatoro prikázaní.
Look at the birds of the air, for they neither sow nor reap nor gather into barns; yet your heavenly Father feeds them. Are you not of more value than they?
Personal Bible reading plan
Create an account to configure your Bible reading plan and you will see your progress and the next chapter to read here!
Read more...