Bible Verses about Conversion
«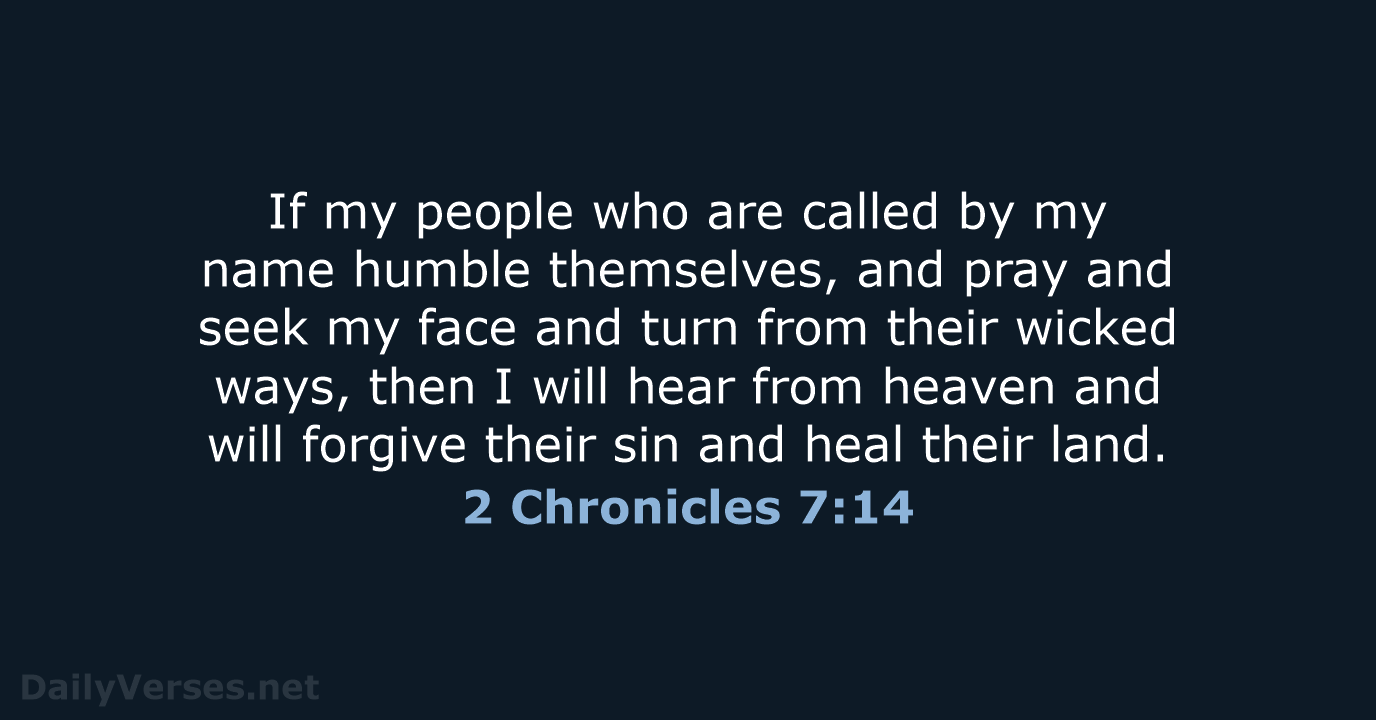 »
If my people who are called by my name humble themselves, and pray and seek my face and turn from their wicked ways, then I will hear from heaven and will forgive their sin and heal their land.

Als de mensen van mijn volk dan laten zien dat ze spijt hebben, dan zal ik vanuit de hemel naar hen luisteren. Ik zal naar hen luisteren als ze tot mij bidden en mij zoeken. Als ze weer gaan leven zoals ik het wil. Dan zal ik hun zonden vergeven en hun land weer vruchtbaar maken.

For the L

ord

your God is gracious and merciful and will not turn away his face from you, if you return to him.

Als jullie weer trouw zijn aan de Heer, jullie God, dan zal hij ook trouw zijn aan jullie. Dan zal hij ervoor zorgen dat de Assyriërs medelijden krijgen met de Israëlieten die zij gevangengenomen hebben. En dan zullen die Israëlieten weer naar Israël mogen teruggaan. Want de Heer is goed, en vol liefde.

Put to death therefore what is earthly in you: sexual immorality, impurity, passion, evil desire, and covetousness, which is idolatry.

Laat je niet langer leiden door slechte verlangens. Verlang er niet naar om vreemd te gaan. Verlang niet naar verboden seks, of naar ander verkeerd gedrag op seksueel gebied. Verlang ook niet naar veel geld, want geld is een afgod.

The Lord is not slow to fulfill his promise as some count slowness, but is patient toward you, not wishing that any should perish, but that all should reach repentance.

De Heer houdt zich echt aan zijn belofte, ook al beweren sommige mensen van niet. Hij wacht omdat hij geduld heeft met jullie! Hij geeft iedereen de kans om een nieuw leven te beginnen. Want hij wil dat iedereen gered wordt.

For I have no pleasure in the death of anyone, declares the Lord G

od

; so turn, and live.

Want de dood van een mens maakt mij niet blij. Ga dus op een goede manier leven, zodat jullie in leven blijven!

Repent therefore, and turn back, that your sins may be blotted out.

Nu moeten jullie je leven veranderen en weer doen wat God wil. Dan zal hij jullie alles vergeven wat jullie verkeerd gedaan hebben.

And rend your hearts and not your garments. Return to the L

ord

your God, for he is gracious and merciful, slow to anger, and abounding in steadfast love; and he relents over disaster.

Jullie moeten naar mij luisteren. Dat moeten jullie niet alleen beloven, maar ook echt doen. Misschien krijg ik medelijden, en zal ik mijn plan veranderen. Dan zal ik weer iets op het land laten groeien, en dan hebben jullie weer graan en wijn om te offeren. Want ik ben een goede God. Ik ben vol liefde en geduld. Ik ben trouw, en ik houd er niet van om mensen te straffen.

And Peter said to them, "Repent and be baptized every one of you in the name of Jesus Christ for the forgiveness of your sins, and you will receive the gift of the Holy Spirit."

Petrus zei: 'Jullie moeten allemaal je leven veranderen, en je laten dopen in de naam van Jezus Christus. Dan zal de Heer, onze God, jullie zonden vergeven. En hij zal de heilige Geest aan jullie geven.'

Bear fruit in keeping with repentance.

Jullie moeten goede dingen doen. Dan zullen jullie lijken op een boom met goede vruchten.

Just so, I tell you, there will be more joy in heaven over one sinner who repents than over ninety-nine righteous persons who need no repentance.

Luister naar mijn woorden: Zo is het ook met God in de hemel. Hij is heel blij met één slecht mens die zijn leven verandert. Meer nog dan met 99 goede mensen die hun leven niet hoeven te veranderen.

Therefore put away all filthiness and rampant wickedness and receive with meekness the implanted word, which is able to save your souls.

Nee, blijf altijd vriendelijk. Doe alles weg wat slecht is! Doe geen verkeerde dingen meer, maar doe wat God van je vraagt. Jullie kennen Gods boodschap, en jullie weten dat je daardoor gered kunt worden.

From that time Jesus began to preach, saying, "Repent, for the kingdom of heaven is at hand."

Vanaf dat moment begon Jezus het goede nieuws te vertellen aan de mensen. Hij zei: 'Dit is het moment om je leven te veranderen, want Gods nieuwe wereld is dichtbij.'

I have not come to call the righteous but sinners to repentance.

Met mij is het net zo. Ik ben er niet voor goede mensen. Ik ben juist gekomen om slechte mensen te vertellen dat ze een nieuw leven moeten beginnen.

I have blotted out your transgressions like a cloud and your sins like mist; return to me, for I have redeemed you.

Ik heb je al je misdaden vergeven. Ze zijn verdwenen, zoals de wolken verdwijnen door de zon. Israël, kom bij mij terug. Ik zal je bevrijden.

Let the wicked forsake his way, and the unrighteous man his thoughts; let him return to the L

ord

, that he may have compassion on him, and to our God, for he will abundantly pardon.

Slechte mensen moeten stoppen met hun verkeerde leven, oneerlijke mensen moeten niet langer slechte plannen maken. Ze moeten terugkomen bij de Heer, onze God. Hij zal hun alles vergeven, en hij zal weer voor hen zorgen.

The time is fulfilled, and the kingdom of God is at hand; repent and believe in the gospel.

Gods nieuwe wereld is dichtbij. Geloof dat goede nieuws! Dit is het moment om je leven te veranderen.

"Yet even now," declares the L

ord

, "return to me with all your heart, with fasting, with weeping, and with mourning."

De Heer zegt: 'Ik wil dat jullie mij weer gehoorzamen. Ga vasten, en laat je verdriet en je tranen aan mij zien.'

Return to me, says the L

ord

of hosts, and I will return to you, says the L

ord

of hosts.

Maar nu moet jij namens mij tegen het volk zeggen: 'Ik ben de machtige Heer. Jullie moeten weer gaan leven zoals ik het wil. Dan zal ik bij jullie terugkomen.'

Those whom I love, I reprove and discipline, so be zealous and repent.

Ik houd van jullie, en daarom straf ik jullie. Zo wil ik jullie leren goed te leven. Dus ga je best doen en verander je leven!

But if a wicked person turns away from all his sins that he has committed and keeps all my statutes and does what is just and right, he shall surely live; he shall not die.

Stel dat iemand verkeerde dingen doet. Maar hij krijgt spijt, en stopt met zijn verkeerde gedrag. Hij gaat zich aan mijn regels houden en zich goed en eerlijk gedragen. Dan zal hij zeker in leven blijven. Hij hoeft niet te sterven.

Just so, I tell you, there is joy before the angels of God over one sinner who repents.

Luister naar mijn woorden: Als één slecht mens zijn leven verandert, zijn de engelen van God net zo blij als die vrouw.

Do not present your members to sin as instruments for unrighteousness, but present yourselves to God as those who have been brought from death to life, and your members to God as instruments for righteousness.

Wij zijn vanuit de dood naar het leven gegaan. Doe daarom geen verkeerde dingen meer. Want daarmee leef je in dienst van de zonde. Maar doe het goede, want alleen dan leef je in dienst van God.

Repent and turn from all your transgressions, lest iniquity be your ruin.

Maak daarom een einde aan het kwaad dat jullie doen! Zorg ervoor dat jullie niet voor je fouten gestraft worden.

The times of ignorance God overlooked, but now he commands all people everywhere to repent.

Paulus eindigde zijn toespraak met deze woorden: 'Lange tijd leefden de mensen zonder God te kennen. God heeft hen daar niet voor gestraft. Maar nu wil God dat alle mensen gaan doen wat hij wil. Iedereen moet een nieuw leven beginnen.'

Brothers, if anyone is caught in any transgression, you who are spiritual should restore him in a spirit of gentleness. Keep watch on yourself, lest you too be tempted.

Vrienden, jullie laten je leiden door de heilige Geest. Maar stel dat iemand van jullie toch iets verkeerds doet. Dan moeten jullie hem op een vriendelijke manier helpen om weer het goede te doen. Pas ook op dat je zelf geen verkeerde keuzes maakt.
And forgive us our debts, as we also have forgiven our debtors.
Personal Bible reading plan
Create an account to configure your Bible reading plan and you will see your progress and the next chapter to read here!
Read more...