Bible Verses about Creation
«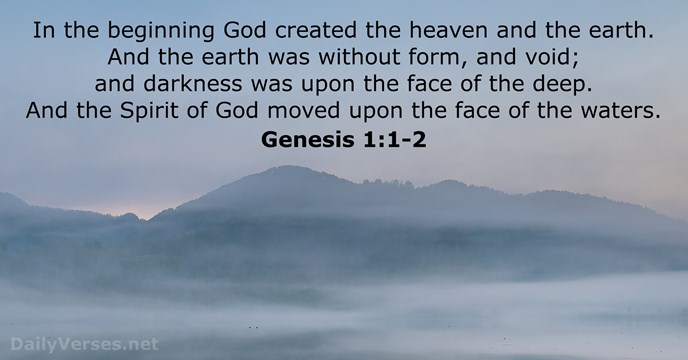 »
In the beginning God created the heaven and the earth. And the earth was without form, and void; and darkness was upon the face of the deep. And the Spirit of God moved upon the face of the waters.

Dios, en el principio, creó los cielos y la tierra. La tierra era un caos total, las tinieblas cubrían el abismo, y el Espíritu de Dios se movía sobre la superficie de las aguas.

For thou hast possessed my reins: thou hast covered me in my mother's womb. I will praise thee; for I am fearfully and wonderfully made: marvellous are thy works; and that my soul knoweth right well.

Tú creaste mis entrañas; me formaste en el vientre de mi madre. ¡Te alabo porque soy una creación admirable! ¡Tus obras son maravillosas, y esto lo sé muy bien!

For every house is builded by some man; but he that built all things is God.

Porque toda casa tiene su constructor, pero el constructor de todo es Dios.

For the invisible things of him from the creation of the world are clearly seen, being understood by the things that are made, even his eternal power and Godhead; so that they are without excuse.

Porque desde la creación del mundo las cualidades invisibles de Dios, es decir, su eterno poder y su naturaleza divina, se perciben claramente a través de lo que él creó, de modo que nadie tiene excusa.

And God blessed the seventh day, and sanctified it: because that in it he had rested from all his work which God created and made.

Dios bendijo el séptimo día, y lo santificó, porque en ese día descansó de toda su obra creadora.

Ah Lord G

od

! behold, thou hast made the heaven and the earth by thy great power and stretched out arm, and there is nothing too hard for thee.
¡Ah, S

eñor

mi Dios! Tú, con tu gran fuerza y tu brazo poderoso, has hecho los cielos y la tierra. Para ti no hay nada imposible.

For of him, and through him, and to him, are all things: to whom be glory for ever. Amen.

Porque todas las cosas proceden de él, y existen por él y para él. ¡A él sea la gloria por siempre! Amén.

I will lift up mine eyes unto the hills, from whence cometh my help. My help cometh from the L

ord

, which made heaven and earth.
A las montañas levanto mis ojos; ¿de dónde ha de venir mi ayuda? Mi ayuda proviene del S

eñor

, creador del cielo y de la tierra.

For we are his workmanship, created in Christ Jesus unto good works, which God hath before ordained that we should walk in them.

Porque somos hechura de Dios, creados en Cristo Jesús para buenas obras, las cuales Dios dispuso de antemano a fin de que las pongamos en práctica.

So God created man in his own image, in the image of God created he him; male and female created he them.

Y Dios creó al ser humano a su imagen; lo creó a imagen de Dios. Hombre y mujer los creó.

Hast thou not known? hast thou not heard, that the everlasting God, the L

ord

, the Creator of the ends of the earth, fainteth not, neither is weary? there is no searching of his understanding.
¿Acaso no lo sabes? ¿Acaso no te has enterado? El S

eñor

es el Dios eterno, creador de los confines de la tierra. No se cansa ni se fatiga, y su inteligencia es insondable.
By the word of the L

ord

were the heavens made; and all the host of them by the breath of his mouth.
Por la palabra del S

eñor

fueron creados los cielos, y por el soplo de su boca, las estrellas.

Before the mountains were brought forth, or ever thou hadst formed the earth and the world, even from everlasting to everlasting, thou art God.

Desde antes que nacieran los montes y que crearas la tierra y el mundo, desde los tiempos antiguos y hasta los tiempos postreros, tú eres Dios.

For the earnest expectation of the creature waiteth for the manifestation of the sons of God.

La creación aguarda con ansiedad la revelación de los hijos de Dios.

And God said, Let us make man in our image, after our likeness: and let them have dominion over the fish of the sea, and over the fowl of the air, and over the cattle, and over all the earth, and over every creeping thing that creepeth upon the earth.

Y dijo: «Hagamos al ser humano a nuestra imagen y semejanza. Que tenga dominio sobre los peces del mar, y sobre las aves del cielo; sobre los animales domésticos, sobre los animales salvajes, y sobre todos los reptiles que se arrastran por el suelo».

This is the day which the L

ord

hath made; we will rejoice and be glad in it.
Este es el día en que el S

eñor

actuó; regocijémonos y alegrémonos en él.
It is he that buildeth his stories in the heaven, and hath founded his troop in the earth; he that calleth for the waters of the sea, and poureth them out upon the face of the earth: The L

ord

is his name.
Dios construye su excelso palacio en el cielo y pone su cimiento en la tierra, llama a las aguas del mar y las derrama sobre la superficie de la tierra: su nombre es el S

eñor

.

Therefore if any man be in Christ, he is a new creature: old things are passed away; behold, all things are become new.

Por lo tanto, si alguno está en Cristo, es una nueva creación. ¡Lo viejo ha pasado, ha llegado ya lo nuevo!

He hath made every thing beautiful in his time: also he hath set the world in their heart, so that no man can find out the work that God maketh from the beginning to the end.

Dios hizo todo hermoso en su momento, y puso en la mente humana el sentido del tiempo, aun cuando el hombre no alcanza a comprender la obra que Dios realiza de principio a fin.

Our help is in the name of the L

ord

, who made heaven and earth.
Nuestra ayuda está en el nombre del S

eñor

, creador del cielo y de la tierra.

And every creature which is in heaven, and on the earth, and under the earth, and such as are in the sea, and all that are in them, heard I saying, Blessing, and honour, and glory, and power, be unto him that sitteth upon the throne, and unto the Lamb for ever and ever.

Y oí a cuanta criatura hay en el cielo, y en la tierra, y debajo de la tierra y en el mar, a todos en la creación, que cantaban: «¡Al que está sentado en el trono y al Cordero, sean la alabanza y la honra, la gloria y el poder, por los siglos de los siglos!»

Of his own will begat he us with the word of truth, that we should be a kind of firstfruits of his creatures.

Por su propia voluntad nos hizo nacer mediante la palabra de verdad, para que fuéramos como los primeros y mejores frutos de su creación.

For in him we live, and move, and have our being; as certain also of your own poets have said, For we are also his offspring.

"Puesto que en él vivimos, nos movemos y existimos". Como algunos de sus propios poetas griegos han dicho: "De él somos descendientes".

And the L

ord

God said, It is not good that the man should be alone; I will make him an help meet for him.
Luego Dios el S

eñor

dijo: «No es bueno que el hombre esté solo. Voy a hacerle una ayuda adecuada».

Woe unto him that striveth with his Maker! Let the potsherd strive with the potsherds of the earth. Shall the clay say to him that fashioneth it, What makest thou? or thy work, He hath no hands?

¡Ay del que contiende con su Hacedor! ¡Ay del que no es más que un tiesto entre los tiestos de la tierra! ¿Acaso el barro le reclama al alfarero: «¡Fíjate en lo que haces! ¡Tu vasija no tiene agarraderas!»?
Defend the poor and fatherless: do justice to the afflicted and needy.
Personal Bible reading plan
Create an account to configure your Bible reading plan and you will see your progress and the next chapter to read here!
Read more...