Bible Verses about Death
«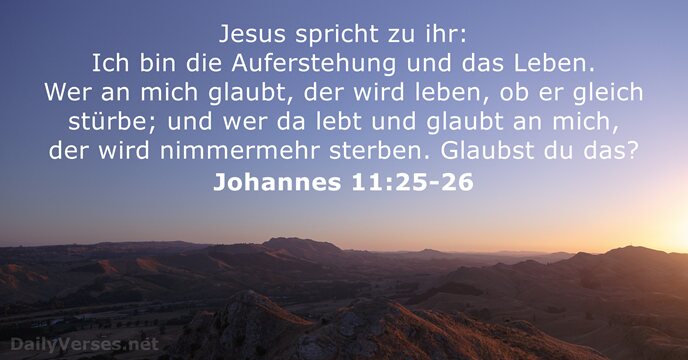 »
Jesus said to her, "I am the resurrection and the life. Whoever believes in me, though he die, yet shall he live, and everyone who lives and believes in me shall never die. Do you believe this?"

Jesus spricht zu ihr: Ich bin die Auferstehung und das Leben. Wer an mich glaubt, der wird leben, ob er gleich stürbe; und wer da lebt und glaubt an mich, der wird nimmermehr sterben. Glaubst du das?

For if we live, we live to the Lord, and if we die, we die to the Lord. So then, whether we live or whether we die, we are the Lord's.

Leben wir, so leben wir dem Herrn; sterben wir, so sterben wir dem Herrn. Darum: wir leben oder sterben, so sind wir des Herrn.

For the Lord himself will descend from heaven with a cry of command, with the voice of an archangel, and with the sound of the trumpet of God. And the dead in Christ will rise first. Then we who are alive, who are left, will be caught up together with them in the clouds to meet the Lord in the air, and so we will always be with the Lord.

Denn er selbst, der Herr, wird, wenn der Ruf ertönt, wenn die Stimme des Erzengels und die Posaune Gottes erschallen, herabkommen vom Himmel, und die Toten werden in Christus auferstehen zuerst. Danach werden wir, die wir leben und übrig bleiben, zugleich mit ihnen entrückt werden auf den Wolken, dem Herrn entgegen in die Luft. Und so werden wir beim Herrn sein allezeit.

Even though I walk through the valley of the shadow of death, I will fear no evil, for you are with me; your rod and your staff, they comfort me.

Und ob ich schon wanderte im finstern Tal, fürchte ich kein Unglück; denn du bist bei mir, dein Stecken und Stab trösten mich.

For to me to live is Christ, and to die is gain.

Denn Christus ist mein Leben, und Sterben ist mein Gewinn.

The saying is trustworthy, for: If we have died with him, we will also live with him.

Das ist gewisslich wahr: Sind wir mit gestorben, so werden wir mit leben.

Set me as a seal upon your heart, as a seal upon your arm, for love is strong as death, jealousy is fierce as the grave. Its flashes are flashes of fire, the very flame of the L

ord

.

Lege mich wie ein Siegel auf dein Herz, wie ein Siegel auf deinen Arm. Denn Liebe ist stark wie der Tod und Leidenschaft unwiderstehlich wie das Totenreich. Ihre Glut ist feurig und eine gewaltige Flamme.

For I am sure that neither death nor life, nor angels nor rulers, nor things present nor things to come, nor powers, nor height nor depth, nor anything else in all creation, will be able to separate us from the love of God in Christ Jesus our Lord.

Denn ich bin gewiss, dass weder Tod noch Leben, weder Engel noch Mächte noch Gewalten, weder Gegenwärtiges noch Zukünftiges, weder Hohes noch Tiefes noch irgendeine andere Kreatur uns scheiden kann von der Liebe Gottes, die in Christus Jesus ist, unserm Herrn.

For as in Adam all die, so also in Christ shall all be made alive.

Denn wie in Adam alle sterben, so werden in Christus alle lebendig gemacht werden.

For I have no pleasure in the death of anyone, declares the Lord G

od

; so turn, and live.
Denn ich habe kein Gefallen am Tod dessen, der sterben müsste, spricht Gott der

HERR

. Darum bekehrt euch, so werdet ihr leben.

And I heard a loud voice from the throne saying, "Behold, the dwelling place of God is with man. He will dwell with them, and they will be his people, and God himself will be with them as their God. He will wipe away every tear from their eyes, and death shall be no more, neither shall there be mourning, nor crying, nor pain anymore, for the former things have passed away."

Und ich hörte eine große Stimme von dem Thron her, die sprach: Siehe da, die Hütte Gottes bei den Menschen! Und er wird bei ihnen wohnen, und sie werden seine Völker sein, und er selbst, Gott mit ihnen, wird ihr Gott sein; und Gott wird abwischen alle Tränen von ihren Augen, und der Tod wird nicht mehr sein, noch Leid noch Geschrei noch Schmerz wird mehr sein; denn das Erste ist vergangen.

I am hard pressed between the two. My desire is to depart and be with Christ, for that is far better. But to remain in the flesh is more necessary on your account.

Denn es setzt mir beides hart zu: Ich habe Lust, aus der Welt zu scheiden und bei Christus zu sein, was auch viel besser wäre; aber es ist nötiger, im Fleisch zu bleiben um euretwillen.

For as by a man came death, by a man has come also the resurrection of the dead.

Denn da durch einen Menschen der Tod gekommen ist, so kommt auch durch einen Menschen die Auferstehung der Toten.

For whoever would save his life will lose it, but whoever loses his life for my sake will find it.

Denn wer sein Leben erhalten will, der wird's verlieren; wer aber sein Leben verliert um meinetwillen, der wird's finden.

Where shall I go from your Spirit? Or where shall I flee from your presence? If I ascend to heaven, you are there! If I make my bed in Sheol, you are there!

Wohin soll ich gehen vor deinem Geist, und wohin soll ich fliehen vor deinem Angesicht? Führe ich gen Himmel, so bist du da; bettete ich mich bei den Toten, siehe, so bist du auch da.

Then Jesus, calling out with a loud voice, said, "Father, into your hands I commit my spirit!" And having said this he breathed his last.

Und Jesus rief laut: Vater, ich befehle meinen Geist in deine Hände! Und als er das gesagt hatte, verschied er.

And in Hades, being in torment, he lifted up his eyes and saw Abraham far off and Lazarus at his side. And he called out, 'Father Abraham, have mercy on me, and send Lazarus to dip the end of his finger in water and cool my tongue, for I am in anguish in this flame.'

Als er nun in der Hölle war, hob er seine Augen auf in seiner Qual und sah Abraham von ferne und Lazarus in seinem Schoß. Und er rief und sprach: Vater Abraham, erbarme dich meiner und sende Lazarus, damit er die Spitze seines Fingers ins Wasser tauche und kühle meine Zunge; denn ich leide Pein in dieser Flamme.

And do not fear those who kill the body but cannot kill the soul. Rather fear him who can destroy both soul and body in hell.

Und fürchtet euch nicht vor denen, die den Leib töten, doch die Seele nicht töten können; fürchtet viel mehr den, der Leib und Seele verderben kann in der Hölle.

For one will scarcely die for a righteous person—though perhaps for a good person one would dare even to die— but God shows his love for us in that while we were still sinners, Christ died for us.

Nun stirbt kaum jemand um eines Gerechten willen; um des Guten willen wagt er vielleicht sein Leben. Gott aber erweist seine Liebe zu uns darin, dass Christus für uns gestorben ist, als wir noch Sünder waren.

For we know that if the tent that is our earthly home is destroyed, we have a building from God, a house not made with hands, eternal in the heavens.

Denn wir wissen: Wenn unser irdisches Haus, diese Hütte, abgebrochen wird, so haben wir einen Bau, von Gott erbaut, ein Haus, nicht mit Händen gemacht, das ewig ist im Himmel.

Blessed and holy is the one who shares in the first resurrection! Over such the second death has no power, but they will be priests of God and of Christ, and they will reign with him for a thousand years.

Selig ist der und heilig, der teilhat an der ersten Auferstehung. Über diese hat der zweite Tod keine Macht; sondern sie werden Priester Gottes und Christi sein und mit ihm regieren tausend Jahre.

And now I am about to go the way of all the earth, and you know in your hearts and souls, all of you, that not one word has failed of all the good things that the L

ord

your God promised concerning you. All have come to pass for you; not one of them has failed.
Siehe, ich gehe heute dahin wie alle Welt; und ihr sollt wissen von ganzem Herzen und von ganzer Seele, dass nichts dahingefallen ist von all den guten Worten, die der

HERR

, euer Gott, euch zugesagt hat. Es ist alles gekommen und nichts dahingefallen.

You are of your father the devil, and your will is to do your father's desires. He was a murderer from the beginning, and does not stand in the truth, because there is no truth in him. When he lies, he speaks out of his own character, for he is a liar and the father of lies.

Ihr habt den Teufel zum Vater, und nach eures Vaters Begierden wollt ihr tun. Der ist ein Mörder von Anfang an und steht nicht in der Wahrheit, denn die Wahrheit ist nicht in ihm. Wenn er die Lüge redet, so redet er aus dem Eigenen; denn er ist ein Lügner und der Vater der Lüge.
Now faith is the assurance of things hoped for, the conviction of things not seen.
No weapon that is fashioned against you shall succeed,
and you shall refute every tongue that rises against you in judgment.
This is the heritage of the servants of the L

ord


and their vindication from me, declares the L

ord

.
Read more
Now faith is the assurance of things hoped for, the conviction of things not seen.
Personal Bible reading plan
Create an account to configure your Bible reading plan and you will see your progress and the next chapter to read here!
Read more...