Bible Verses about Death
«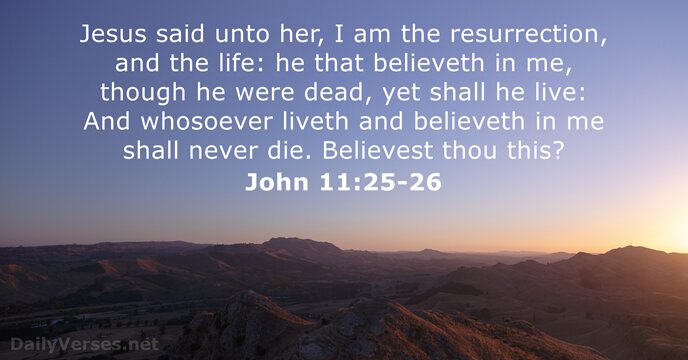 »
Jesus said unto her, I am the resurrection, and the life: he that believeth in me, though he were dead, yet shall he live: And whosoever liveth and believeth in me shall never die. Believest thou this?

Jeesus sanoi: »Minä olen ylösnousemus ja elämä. Joka uskoo minuun, saa elää, vaikka kuoleekin, eikä yksikään, joka elää ja uskoo minuun, ikinä kuole. Uskotko tämän?»

For whether we live, we live unto the Lord; and whether we die, we die unto the Lord: whether we live therefore, or die, we are the Lord's.

Jos elämme, elämme Herran omina, ja jos kuolemme, kuolemme Herran omina. Elämmepä siis tai kuolemme, me kuulumme Herralle.

For the Lord himself shall descend from heaven with a shout, with the voice of the archangel, and with the trump of God: and the dead in Christ shall rise first: Then we which are alive and remain shall be caught up together with them in the clouds, to meet the Lord in the air: and so shall we ever be with the Lord.

Itse Herra laskeutuu taivaasta ylienkelin käskyhuudon kuuluessa ja Jumalan pasuunan kaikuessa, ja ensin nousevat ylös ne, jotka ovat kuolleet Kristukseen uskovina. Meidät, jotka olemme vielä elossa ja täällä jäljellä, temmataan sitten yhdessä heidän kanssaan pilvissä yläilmoihin Herraa vastaan. Näin saamme olla aina Herran kanssa.

Yea, though I walk through the valley of the shadow of death, I will fear no evil: for thou art with me; thy rod and thy staff they comfort me.

Vaikka minä kulkisin pimeässä laaksossa, en pelkäisi mitään pahaa, sillä sinä olet minun kanssani. Sinä suojelet minua kädelläsi, johdatat paimensauvallasi.

For to me to live is Christ, and to die is gain.

Minulle elämä on Kristus ja kuolema on voitto.

It is a faithful saying: For if we be dead with him, we shall also live with him.

Tämä sana on varma: – Jos olemme hänen kanssaan kuolleet, saamme hänen kanssaan myös elää.

Set me as a seal upon thine heart, as a seal upon thine arm: for love is strong as death; jealousy is cruel as the grave: the coals thereof are coals of fire, which hath a most vehement flame.

Paina minut sinetiksi sydäntäsi vasten, pane sinetiksi ranteesi nauhaan. Rakkaus on väkevä kuin kuolema, kiivas ja kyltymätön kuin tuonela. Sen hehku on tulen hehkua, sen liekki on Herran liekki.

For I am persuaded, that neither death, nor life, nor angels, nor principalities, nor powers, nor things present, nor things to come, Nor height, nor depth, nor any other creature, shall be able to separate us from the love of God, which is in Christ Jesus our Lord.

Olen varma siitä, ettei kuolema eikä elämä, eivät enkelit, eivät henkivallat, ei mikään nykyinen eikä mikään tuleva eivätkä mitkään voimat, ei korkeus eikä syvyys, ei mikään luotu voi erottaa meitä Jumalan rakkaudesta, joka on tullut ilmi Kristuksessa Jeesuksessa, meidän Herrassamme.

For as in Adam all die, even so in Christ shall all be made alive.

Sillä niin kuin kaikki ihmiset Aadamista osallisina kuolevat, niin myös kaikki Kristuksesta osallisina tehdään eläviksi.

For I have no pleasure in the death of him that dieth, saith the Lord G

od

: wherefore turn yourselves, and live ye.

En minä tahdo kenenkään kuolemaa – näin sanoo Herra Jumala. Kääntykää, niin saatte elää!

And I heard a great voice out of heaven saying, Behold, the tabernacle of God is with men, and he will dwell with them, and they shall be his people, and God himself shall be with them, and be their God. And God shall wipe away all tears from their eyes; and there shall be no more death, neither sorrow, nor crying, neither shall there be any more pain: for the former things are passed away.

Ja minä kuulin valtaistuimen luota voimakkaan äänen, joka sanoi: »Katso, Jumalan asuinsija ihmisten keskellä! Hän asuu heidän luonaan, ja heistä tulee hänen kansansa. Jumala itse on heidän luonaan, ja hän pyyhkii heidän silmistään joka ainoan kyyneleen. Kuolemaa ei enää ole, ei murhetta, valitusta eikä vaivaa, sillä kaikki entinen on kadonnut.»

For I am in a strait betwixt two, having a desire to depart, and to be with Christ; which is far better: Nevertheless to abide in the flesh is more needful for you.

Olen kahden vaiheilla. Haluaisin lähteä täältä ja päästä Kristuksen luo, sillä se olisi kaikkein parasta. Teidän vuoksenne on kuitenkin parempi, että jään eloon.

For since by man came death, by man came also the resurrection of the dead.

Kun kerran kuolema sai alkunsa ihmisestä, samoin kuolleiden ylösnousemus on alkanut ihmisestä.

For whosoever will save his life shall lose it: and whosoever will lose his life for my sake shall find it.

Sillä se, joka tahtoo pelastaa elämänsä, kadottaa sen, mutta joka elämänsä minun tähteni kadottaa, on sen löytävä.

Whither shall I go from thy spirit? or whither shall I flee from thy presence? If I ascend up into heaven, thou art there: if I make my bed in hell, behold, thou art there.

Minne voisin mennä sinun henkesi ulottuvilta, minne voisin paeta sinun edestäsi? Vaikka nousisin taivaaseen, sinä olet siellä, vaikka tekisin vuoteeni tuonelaan, sielläkin sinä olet.

And in hell he lift up his eyes, being in torments, and seeth Abraham afar off, and Lazarus in his bosom. And he cried and said, Father Abraham, have mercy on me, and send Lazarus, that he may dip the tip of his finger in water, and cool my tongue; for I am tormented in this flame.

Kun hän tuonelan tuskissa kohotti katseensa, hän näki kaukana Abrahamin ja Lasaruksen hänen rintaansa vasten. Silloin hän huusi: 'Isä Abraham, armahda minua! Lähetä Lasarus tänne, että hän kastaisi sormenpäänsä veteen ja vilvoittaisi kieltäni. Näissä liekeissä on kauhea olla.'

And when Jesus had cried with a loud voice, he said, Father, into thy hands I commend my spirit: and having said thus, he gave up the ghost.

Ja Jeesus huusi kovalla äänellä: »Isä, sinun käsiisi minä uskon henkeni.» Tämän sanottuaan hän henkäisi viimeisen kerran.

For we know that if our earthly house of this tabernacle were dissolved, we have a building of God, an house not made with hands, eternal in the heavens.

Me tiedämme, että vaikka tämä meidän maallinen telttamajamme puretaankin, Jumalalla on taivaassa meitä varten ikuinen asunto, joka ei ole ihmiskätten työtä.

And fear not them which kill the body, but are not able to kill the soul: but rather fear him which is able to destroy both soul and body in hell.

Älkää pelätkö niitä, jotka tappavat ruumiin mutta eivät kykene tappamaan sielua. Pelätkää sen sijaan häntä, joka voi sekä sielun että ruumiin hukuttaa helvettiin.

Blessed and holy is he that hath part in the first resurrection: on such the second death hath no power, but they shall be priests of God and of Christ, and shall reign with him a thousand years.

Autuaita ja pyhiä ovat ne, jotka pääsevät osallisiksi ensimmäisestä ylösnousemuksesta! Heihin ei toisella kuolemalla ole valtaa, vaan he ovat Jumalan ja Kristuksen pappeja ja hallitsevat Kristuksen kanssa tuhat vuotta.

For scarcely for a righteous man will one die: yet peradventure for a good man some would even dare to die. But God commendeth his love toward us, in that, while we were yet sinners, Christ died for us.

Tuskin kukaan haluaa kuolla edes nuhteettoman ihmisen puolesta; hyvän ihmisen puolesta joku ehkä on valmis antamaan henkensä. Mutta Jumala osoittaa rakkautensa meitä kohtaan siinä, että Kristus kuoli meidän puolestamme, kun vielä olimme syntisiä.

And, behold, this day I am going the way of all the earth: and ye know in all your hearts and in all your souls, that not one thing hath failed of all the good things which the L

ord

your God spake concerning you; all are come to pass unto you, and not one thing hath failed thereof.

Minun lähtöni hetki on lähellä. Minä olen nyt menossa sitä tietä, jota meidän kaikkien on mentävä. Älkää koskaan unohtako, että Herra, teidän Jumalanne, ei ole jättänyt täyttämättä ainoatakaan teille antamaansa lupausta. Ne ovat kaikki täyttyneet.

Ye are of your father the devil, and the lusts of your father ye will do. He was a murderer from the beginning, and abode not in the truth, because there is no truth in him. When he speaketh a lie, he speaketh of his own: for he is a liar, and the father of it.

Te olette lähtöisin Saatanasta. Hän on teidän isänne, ja hänen halunsa te tahdotte tyydyttää. Saatana on ollut murhaaja alusta asti. Hän on kaukana totuudesta, se on hänelle vieras. Kun hän valehtelee, hän todella puhuu omiaan, sillä hän on valehtelija ja valheen isä.
Humble yourselves therefore under the mighty hand of God, that he may exalt you in due time.
Personal Bible reading plan
Create an account to configure your Bible reading plan and you will see your progress and the next chapter to read here!
Read more...