Bible Verses about Death
«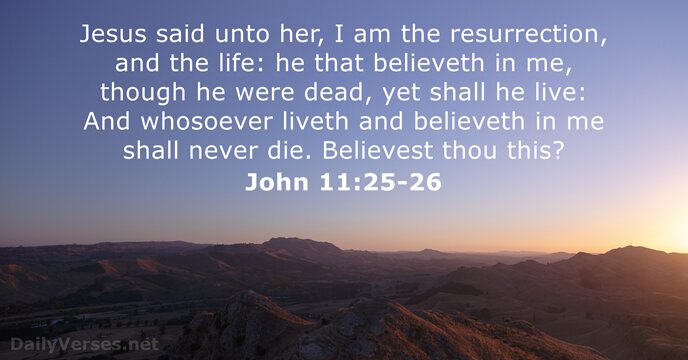 »
Jesus said unto her, I am the resurrection, and the life: he that believeth in me, though he were dead, yet shall he live: And whosoever liveth and believeth in me shall never die. Believest thou this?

Jezus zeide tot haar: Ik ben de opstanding en het leven; wie in Mij gelooft, zal leven, ook al is hij gestorven, en een ieder, die leeft en in Mij gelooft, zal in eeuwigheid niet sterven; gelooft gij dat?

For whether we live, we live unto the Lord; and whether we die, we die unto the Lord: whether we live therefore, or die, we are the Lord's.

Want als wij leven, het is voor de Here, en als wij sterven, het is voor de Here. Hetzij wij dan leven, hetzij wij sterven, wij zijn des Heren.

For the Lord himself shall descend from heaven with a shout, with the voice of the archangel, and with the trump of God: and the dead in Christ shall rise first: Then we which are alive and remain shall be caught up together with them in the clouds, to meet the Lord in the air: and so shall we ever be with the Lord.

Want de Here zelf zal op een teken, bij het roepen van een aartsengel en bij het geklank ener bazuin Gods, nederdalen van de hemel, en zij, die in Christus gestorven zijn, zullen het eerst opstaan; daarna zullen wij, levenden, die achterbleven, samen met hen op de wolken in een oogwenk weggevoerd worden, de Here tegemoet in de lucht, en zó zullen wij altijd met de Here wezen.

Yea, though I walk through the valley of the shadow of death, I will fear no evil: for thou art with me; thy rod and thy staff they comfort me.

Zelfs al ga ik door een dal van diepe duisternis, ik vrees geen kwaad, want Gij zijt bij mij; uw stok en uw staf, die vertroosten mij.

For to me to live is Christ, and to die is gain.

Want het leven is mij Christus en het sterven gewin.

It is a faithful saying: For if we be dead with him, we shall also live with him.

Het woord is betrouwbaar: immers, indien wij met Hem gestorven zijn, zullen wij ook met Hem leven.

Set me as a seal upon thine heart, as a seal upon thine arm: for love is strong as death; jealousy is cruel as the grave: the coals thereof are coals of fire, which hath a most vehement flame.

Leg mij als een zegel aan uw hart als een zegel aan uw arm. Want sterk als de dood is de liefde onverbiddelijk als het rijk van de doden de hartstocht, haar vlammen zijn vuurvlammen, een vuurgloed des H

eren

.

For as in Adam all die, even so in Christ shall all be made alive.

Want evenals in Adam allen sterven, zo zullen ook in Christus allen levend gemaakt worden.

For I am persuaded, that neither death, nor life, nor angels, nor principalities, nor powers, nor things present, nor things to come, Nor height, nor depth, nor any other creature, shall be able to separate us from the love of God, which is in Christ Jesus our Lord.

Want ik ben verzekerd, dat noch dood noch leven, noch engelen noch machten, noch heden noch toekomst, noch krachten, noch hoogte noch diepte, noch enig ander schepsel ons zal kunnen scheiden van de liefde Gods, welke is in Christus Jezus, onze Here.

For I have no pleasure in the death of him that dieth, saith the Lord G

od

: wherefore turn yourselves, and live ye.
Want Ik heb geen welgevallen aan de dood van wie sterven moet, luidt het woord van de Here H

ere

; daarom bekeert u, opdat gij leeft.

And I heard a great voice out of heaven saying, Behold, the tabernacle of God is with men, and he will dwell with them, and they shall be his people, and God himself shall be with them, and be their God. And God shall wipe away all tears from their eyes; and there shall be no more death, neither sorrow, nor crying, neither shall there be any more pain: for the former things are passed away.

En ik hoorde een luide stem van de troon zeggen: Zie, de tent van God is bij de mensen en Hij zal bij hen wonen, en zij zullen zijn volken zijn en God zelf zal bij hen zijn, en Hij zal alle tranen van hun ogen afwissen, en de dood zal niet meer zijn, noch rouw, noch geklaag, noch moeite zal er meer zijn, want de eerste dingen zijn voorbijgegaan.

For I am in a strait betwixt two, having a desire to depart, and to be with Christ; which is far better: Nevertheless to abide in the flesh is more needful for you.

Van beide zijden word ik gedrongen: ik verlang heen te gaan en met Christus te zijn, want dit is verreweg het beste; maar nog in het vlees te blijven is nodiger om uwentwil.

For since by man came death, by man came also the resurrection of the dead.

Want, dewijl de dood er is door een mens, is ook de opstanding der doden door een mens.

For whosoever will save his life shall lose it: and whosoever will lose his life for my sake shall find it.

Want ieder, die zijn leven zal willen behouden, die zal het verliezen; maar ieder, die zijn leven verloren heeft om Mijnentwil, die zal het vinden.

Whither shall I go from thy spirit? or whither shall I flee from thy presence? If I ascend up into heaven, thou art there: if I make my bed in hell, behold, thou art there.

Waarheen zou ik gaan voor uw Geest, waarheen vlieden voor uw aangezicht? Steeg ik ten hemel – Gij zijt daar, of maakte ik het dodenrijk tot mijn sponde – Gij zijt er.

And in hell he lift up his eyes, being in torments, and seeth Abraham afar off, and Lazarus in his bosom. And he cried and said, Father Abraham, have mercy on me, and send Lazarus, that he may dip the tip of his finger in water, and cool my tongue; for I am tormented in this flame.

Ook de rijke stierf en hij werd begraven. En toen hij in het dodenrijk zijn ogen opsloeg onder de pijnigingen, zag hij Abraham van verre en Lazarus in zijn schoot. En hij riep en zeide: Vader Abraham, heb medelijden met mij en zend Lazarus, opdat hij de top van zijn vinger in water dope en mijn tong verkoele, want ik lijd pijn in deze vlam.

And when Jesus had cried with a loud voice, he said, Father, into thy hands I commend my spirit: and having said thus, he gave up the ghost.

En Jezus riep met luider stem: Vader, in uw handen beveel Ik mijn geest. En toen Hij dat gezegd had, gaf Hij de geest.

And fear not them which kill the body, but are not able to kill the soul: but rather fear him which is able to destroy both soul and body in hell.

En weest niet bevreesd voor hen, die wèl het lichaam doden, maar de ziel niet kunnen doden; weest veeleer bevreesd voor Hem, die beide, ziel en lichaam, kan verderven in de hel.

For we know that if our earthly house of this tabernacle were dissolved, we have a building of God, an house not made with hands, eternal in the heavens.

Want wij weten, dat, indien de aardse tent, waarin wij wonen, wordt afgebroken, wij een gebouw van God hebben, in de hemelen, niet met handen gemaakt, een eeuwig huis.

Blessed and holy is he that hath part in the first resurrection: on such the second death hath no power, but they shall be priests of God and of Christ, and shall reign with him a thousand years.

Zalig en heilig is hij, die deel heeft aan de eerste opstanding: over hen heeft de tweede dood geen macht, maar zij zullen priesters van God en van Christus zijn en zij zullen met Hem als koningen heersen, die duizend jaren.

For scarcely for a righteous man will one die: yet peradventure for a good man some would even dare to die. But God commendeth his love toward us, in that, while we were yet sinners, Christ died for us.

Want niet licht zal iemand voor een rechtvaardige sterven – maar misschien heeft iemand nog de moed voor een goede te sterven – God echter bewijst zijn liefde jegens ons, doordat Christus, toen wij nog zondaren waren, voor ons gestorven is.

And, behold, this day I am going the way of all the earth: and ye know in all your hearts and in all your souls, that not one thing hath failed of all the good things which the L

ord

your God spake concerning you; all are come to pass unto you, and not one thing hath failed thereof.
Zie, ik ga thans de weg van al het aardse; erkent nu met geheel uw hart en geheel uw ziel, dat niet één van alle goede beloften die de H

ere

, uw God, u gegeven heeft, onvervuld gebleven is. Alles is voor u uitgekomen. Zijnerzijds is niets onvervuld gebleven.

Ye are of your father the devil, and the lusts of your father ye will do. He was a murderer from the beginning, and abode not in the truth, because there is no truth in him. When he speaketh a lie, he speaketh of his own: for he is a liar, and the father of it.

Gij hebt de duivel tot vader en wilt de begeerten van uw vader doen. Die was een mensenmoorder van den beginne en staat niet in de waarheid, want er is in hem geen waarheid. Wanneer hij de leugen spreekt, spreekt hij naar zijn aard, want hij is een leugenaar en de vader der leugen.
For where your treasure is, there will your heart be also.
Personal Bible reading plan
Create an account to configure your Bible reading plan and you will see your progress and the next chapter to read here!
Read more...