Bible Verses about Death
«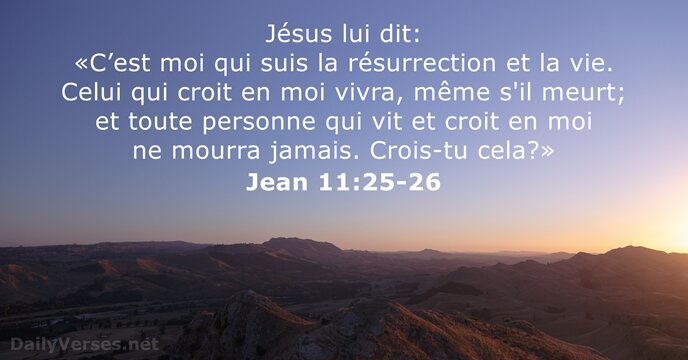 »
Jesus said to her, "I am the resurrection and the life. He who believes in Me, though he may die, he shall live. And whoever lives and believes in Me shall never die. Do you believe this?"

Jésus lui dit: «C'est moi qui suis la résurrection et la vie. Celui qui croit en moi vivra, même s'il meurt; et toute personne qui vit et croit en moi ne mourra jamais. Crois-tu cela?»

For if we live, we live to the Lord; and if we die, we die to the Lord. Therefore, whether we live or die, we are the Lord's.

Si nous vivons, c'est pour le Seigneur que nous vivons, et si nous mourons, c'est pour le Seigneur que nous mourons. Ainsi, soit que nous vivions, soit que nous mourions, nous appartenons au Seigneur.

For the Lord Himself will descend from heaven with a shout, with the voice of an archangel, and with the trumpet of God. And the dead in Christ will rise first. Then we who are alive and remain shall be caught up together with them in the clouds to meet the Lord in the air. And thus we shall always be with the Lord.

En effet, le Seigneur lui-même, à un signal donné, à la voix d'un archange et au son de la trompette de Dieu, descendra du ciel et ceux qui sont morts en Christ ressusciteront d'abord. Ensuite, nous qui serons encore en vie, nous serons tous ensemble enlevés avec eux sur des nuées à la rencontre du Seigneur dans les airs, et ainsi nous serons toujours avec le Seigneur.

For to me, to live is Christ, and to die is gain.

En effet, Christ est ma vie et mourir représente un gain.

Yea, though I walk through the valley of the shadow of death, I will fear no evil; For You are with me; Your rod and Your staff, they comfort me.

Même quand je marche dans la sombre vallée de la mort, je ne redoute aucun mal car tu es avec moi. Ta conduite et ton appui: voilà ce qui me réconforte.

This is a faithful saying: For if we died with Him, We shall also live with Him.

Cette parole est certaine: si nous sommes morts avec lui, nous vivrons aussi avec lui.

Set me as a seal upon your heart, As a seal upon your arm; For love is as strong as death, Jealousy as cruel as the grave; Its flames are flames of fire, A most vehement flame.

Fais de moi comme une empreinte sur ton cœur, comme une empreinte sur ton bras, car l'amour est aussi fort que la mort, la passion est aussi inflexible que le séjour des morts. Ses ardeurs sont des ardeurs de feu, une flamme de l'Eternel.

For I am persuaded that neither death nor life, nor angels nor principalities nor powers, nor things present nor things to come, nor height nor depth, nor any other created thing, shall be able to separate us from the love of God which is in Christ Jesus our Lord.

En effet, j'ai l'assurance que ni la mort ni la vie, ni les anges ni les dominations, ni le présent ni l'avenir, ni les puissances, ni la hauteur, ni la profondeur, ni aucune autre créature ne pourra nous séparer de l'amour de Dieu manifesté en Jésus-Christ notre Seigneur.

For as in Adam all die, even so in Christ all shall be made alive.

Et comme tous meurent en Adam, de même aussi tous revivront en Christ.

"For I have no pleasure in the death of one who dies," says the Lord G

od

. "Therefore turn and live!"

En effet, je ne prends pas plaisir à voir mourir quelqu'un, déclare le Seigneur, l'Eternel. Changez donc d'attitude et vivez!

And I heard a loud voice from heaven saying, "Behold, the tabernacle of God is with men, and He will dwell with them, and they shall be His people. God Himself will be with them and be their God. And God will wipe away every tear from their eyes; there shall be no more death, nor sorrow, nor crying. There shall be no more pain, for the former things have passed away."
J'entendis une voix forte venant du ciel qui disait: «Voici le tabernacle de Dieu parmi les hommes! Il habitera avec eux, ils seront son peuple et Dieu lui-même sera avec eux, il sera leur Dieu. Il essuiera toute larme de leurs yeux, la mort ne sera plus et il n'y aura plus ni deuil, ni cri, ni douleur, car ce qui existait avant a disparu.»
For I am hard-pressed between the two, having a desire to depart and be with Christ, which is far better. Nevertheless to remain in the flesh is more needful for you.

Je suis tiraillé des deux côtés: j'ai le désir de m'en aller et d'être avec Christ, ce qui est de beaucoup le meilleur, mais à cause de vous il est plus nécessaire que je continue à vivre ici-bas.

For since by man came death, by Man also came the resurrection of the dead.

En effet, puisque la mort est venue à travers un homme, c'est aussi à travers un homme qu'est venue la résurrection des morts.

And being in torments in Hades, he lifted up his eyes and saw Abraham afar off, and Lazarus in his bosom. "Then he cried and said, 'Father Abraham, have mercy on me, and send Lazarus that he may dip the tip of his finger in water and cool my tongue; for I am tormented in this flame.' "

Dans le séjour des morts, en proie à une grande souffrance il leva les yeux et vit de loin Abraham, avec Lazare à ses côtés. Il s'écria: 'Père Abraham, aie pitié de moi et envoie Lazare pour qu'il trempe le bout de son doigt dans l'eau afin de me rafraîchir la langue, car je souffre cruellement dans cette flamme.'

For whoever desires to save his life will lose it, but whoever loses his life for My sake will find it.

En effet, celui qui voudra sauver sa vie la perdra, mais celui qui la perdra à cause de moi la retrouvera.

For we know that if our earthly house, this tent, is destroyed, we have a building from God, a house not made with hands, eternal in the heavens.

Nous savons, en effet, que si notre habitation terrestre, qui n'est qu'une tente, est détruite, nous avons dans le ciel un édifice qui est l'œuvre de Dieu, une habitation éternelle qui n'est pas faite par la main de l'homme.

Where can I go from Your Spirit? Or where can I flee from Your presence? If I ascend into heaven, You are there; If I make my bed in hell, behold, You are there.

Où pourrais-je aller loin de ton Esprit, où pourrais-je fuir loin de ta présence? Si je monte au ciel, tu es là; si je me couche au séjour des morts, te voilà.

And when Jesus had cried out with a loud voice, He said, "Father, 'into Your hands I commit My spirit.' " Having said this, He breathed His last.

Jésus s'écria d'une voix forte: «Père, je remets mon esprit entre tes mains.» Après avoir dit ces paroles, il expira.

And do not fear those who kill the body but cannot kill the soul. But rather fear Him who is able to destroy both soul and body in hell.

Ne redoutez pas ceux qui tuent le corps mais qui ne peuvent pas tuer l'âme. Redoutez plutôt celui qui peut faire périr l'âme et le corps en enfer.

Blessed and holy is he who has part in the first resurrection. Over such the second death has no power, but they shall be priests of God and of Christ, and shall reign with Him a thousand years.

Heureux et saints ceux qui ont part à la première résurrection! La seconde mort n'a pas de pouvoir sur eux, mais ils seront prêtres de Dieu et de Christ et ils régneront avec lui pendant 1000 ans.

For scarcely for a righteous man will one die; yet perhaps for a good man someone would even dare to die. But God demonstrates His own love toward us, in that while we were still sinners, Christ died for us.

A peine mourrait-on pour un juste; peut-être accepterait-on de mourir pour quelqu'un de bien. Mais voici comment Dieu prouve son amour envers nous: alors que nous étions encore des pécheurs, Christ est mort pour nous.

Behold, this day I am going the way of all the earth. And you know in all your hearts and in all your souls that not one thing has failed of all the good things which the L

ord

your God spoke concerning you. All have come to pass for you; not one word of them has failed.

Je m'en vais maintenant par le chemin commun à toute la terre. Reconnaissez de tout votre cœur et de toute votre âme qu'aucune des bonnes paroles dites à votre sujet par l'Eternel, votre Dieu, n'est restée sans effet. Toutes se sont réalisées pour vous, aucune n'est restée sans effet.

You are of your father the devil, and the desires of your father you want to do. He was a murderer from the beginning, and does not stand in the truth, because there is no truth in him. When he speaks a lie, he speaks from his own resources, for he is a liar and the father of it.

Vous, vous avez pour père le diable et vous voulez accomplir les désirs de votre père. Il a été meurtrier dès le commencement et il ne s'est pas tenu dans la vérité parce qu'il n'y a pas de vérité en lui. Lorsqu'il profère le mensonge, il parle de son propre fond, car il est menteur et le père du mensonge.
Do not be overcome by evil, but overcome evil with good.
Personal Bible reading plan
Create an account to configure your Bible reading plan and you will see your progress and the next chapter to read here!
Read more...