Bible Verses about Desires
«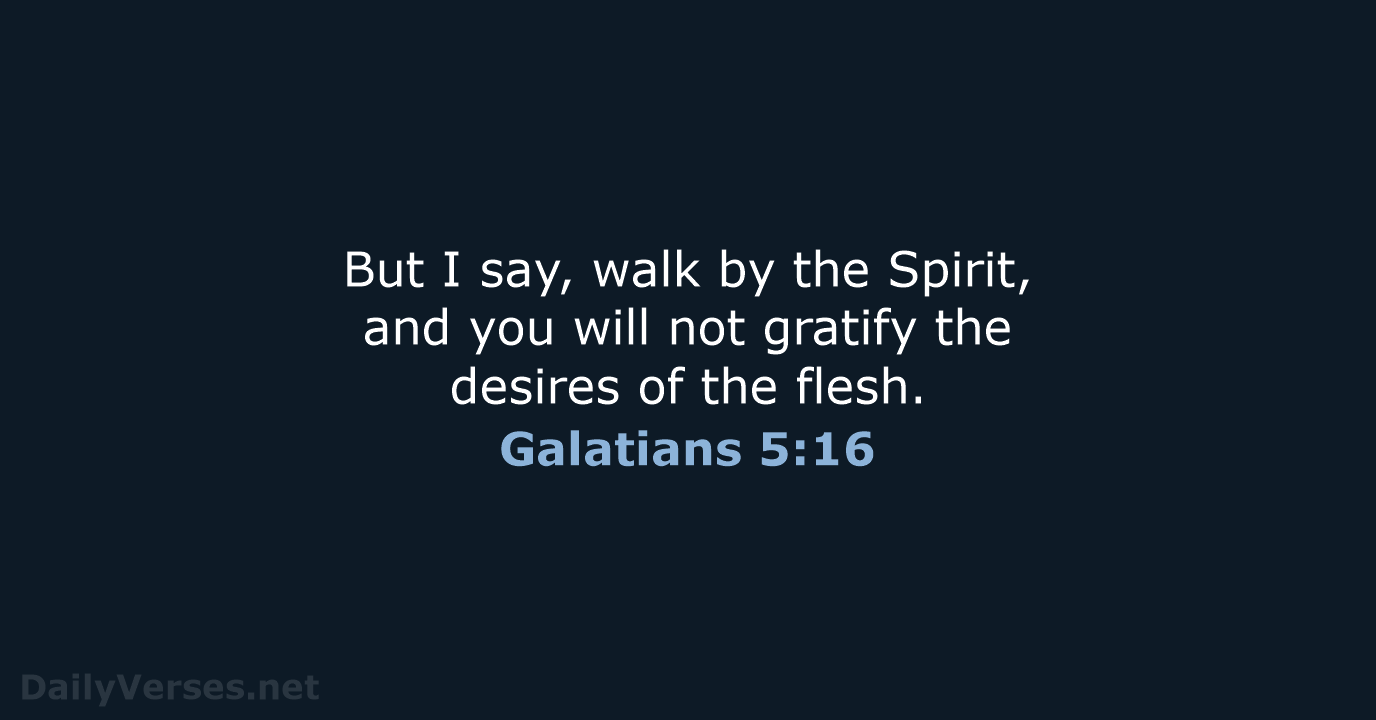 »
But I say, walk by the Spirit, and you will not gratify the desires of the flesh.

Ik bedoel dit: laat je leiden door de Geest en niet door je 'ik.'

Put to death therefore what is earthly in you: sexual immorality, impurity, passion, evil desire, and covetousness, which is idolatry.

Reken daarom af met je aardse verlangens. Je moet die doden! Ik bedoel dit: Ga niet meer met allerlei mannen of vrouwen naar bed. Doe geen andere verkeerde dingen op het gebied van seks. Wees niet langer hebzuchtig, want hebzucht is een afgod.

You desire and do not have, so you murder. You covet and cannot obtain, so you fight and quarrel. You do not have, because you do not ask.

Jullie willen van alles, maar jullie hebben niets. Jullie haten elkaar en zijn jaloers op elkaar, maar krijgen nog steeds niet wat jullie willen hebben. Jullie doen vreselijk je best om van alles te bereiken. Maar jullie bereiken niets, omdat jullie niet bidden.

Or can one walk on hot coals and his feet not be scorched?

Kun je op gloeiende kolen lopen, zonder dat je je voeten brandt?

And the world is passing away along with its desires, but whoever does the will of God abides forever.

En de wereld met alles wat ze belangrijk vindt, zal verdwijnen. Maar als je doet wat God wil, zul je eeuwig leven.

But because of the temptation to sexual immorality, each man should have his own wife and each woman her own husband.

Maar om te voorkomen dat jullie verkeerde dingen gaan doen, is het toch beter om te trouwen. Iedere man moet zijn eigen vrouw hebben en iedere vrouw haar eigen man.

For where your treasure is, there your heart will be also.

Onthoud goed: waar je rijkdommen zijn, daar zal ook je hart zijn.

"All things are lawful for me," but not all things are helpful. "All things are lawful for me," but I will not be dominated by anything.

Alles mag, maar niet alles is nuttig. Ik mag alles, maar ik mag nergens slaaf van worden.

I have made a covenant with my eyes; how then could I gaze at a virgin?

Ik had met mijn ogen een verbond gesloten: ik had plechtig besloten niet naar de meisjes te kijken.

Be sober-minded; be watchful. Your adversary the devil prowls around like a roaring lion, seeking someone to devour.

Wees verstandig en let goed op. Jullie vijand, de duivel, loopt rond als een brullende leeuw die een prooi zoekt. Hij zoekt wie hij kan verslinden.

Let marriage be held in honor among all, and let the marriage bed be undefiled, for God will judge the sexually immoral and adulterous.

Denk eraan dat het huwelijk iets heel kostbaars is. Ga hierin dus goed met elkaar om en wees niet ontrouw aan je eigen man of vrouw. Want God zal de mensen straffen die hierin verkeerde dingen doen.

For you were called to freedom, brothers. Only do not use your freedom as an opportunity for the flesh, but through love serve one another.

Broeders en zusters, jullie zijn door God geroepen om vrij te zijn. Maar jullie mogen die vrijheid niet gebruiken om maar te doen waar jullie zin in hebben. Nee, jullie moeten elkaar liefdevol dienen.

For all that is in the world—the desires of the flesh and the desires of the eyes and pride of life—is not from the Father but is from the world.

Want alles wat de ongelovige mensen doen en willen en verlangen en belangrijk vinden, is niet van de Vader, maar van de wereld.

No temptation has overtaken you that is not common to man. God is faithful, and he will not let you be tempted beyond your ability, but with the temptation he will also provide the way of escape, that you may be able to endure it.

Maar als je in de verleiding komt om iets verkeerds te doen, bedenk dan dit. Geen één verleiding is zó groot, dat je er niet tegenop zou kunnen. Want God laat je nooit in de steek. Hij zal niet toestaan dat je het zó moeilijk krijgt, dat je het niet meer aankan. Want Hij zal, als er verleidingen komen, ook voor de oplossing zorgen. Daardoor zul je sterk genoeg zijn om de juiste beslissingen te nemen.

As a deer pants for flowing streams, so pants my soul for you, O God.

Zoals een hert hevig verlangt naar water, zo verlang ik hevig naar U, God.

Watch and pray that you may not enter into temptation. The spirit indeed is willing, but the flesh is weak.

Blijf wakker en bid dat je niet verleid wordt om het verkeerde te doen. Je wíl wel graag het goede doen, maar dat is wel heel erg moeilijk.

Let no one say when he is tempted, "I am being tempted by God," for God cannot be tempted with evil, and he himself tempts no one.

Maar je mag nooit zeggen dat Gód jou op de proef stelt. Want God kan niet door het kwaad verleid worden om iets slechts te doen. En Hij doet Zelf ook niemand kwaad om iemands geloof op de proef te stellen.

In the path of your judgments, O L

ord

, we wait for you; your name and remembrance are the desire of our soul.

Ook als U rechtspreekt, vertrouwen wij op U, Heer. Wij verlangen met ons hele hart naar U en uw verbond.

By which he has granted to us his precious and very great promises, so that through them you may become partakers of the divine nature, having escaped from the corruption that is in the world because of sinful desire.

Hij heeft ons kostbare en grote beloften gedaan. Daardoor zijn we ontsnapt aan dood en bederf. Nu kunnen we nieuwe mensen zijn die op God lijken. De dood en het bederf heersen in de wereld door de verkeerde verlangens van de mensen.

For the love of money is a root of all kinds of evils. It is through this craving that some have wandered away from the faith and pierced themselves with many pangs.

Want het verlangen naar geld is de bron van al het kwaad. Sommige mensen zijn het geloof kwijtgeraakt en in allerlei ellende terecht gekomen, doordat ze zo graag rijk wilden worden.

All day long he craves and craves, but the righteous gives and does not hold back.

Sommige mensen willen altijd maar méér hebben. Maar goede mensen zijn gul en delen uit van wat ze hebben.

Brothers, if anyone is caught in any transgression, you who are spiritual should restore him in a spirit of gentleness. Keep watch on yourself, lest you too be tempted.

Broeders en zusters, stel dat jullie merken dat iemand in de gemeente iets slechts heeft gedaan. Dan moeten jullie je door de Geest laten leiden en hem weer op het rechte pad brengen. Doe dat op een vriendelijke manier. Doe niet alsof je beter bent dan hij. Je moet eraan denken dat je zelf óók in de verleiding kan komen om ongehoorzaam aan God te zijn.

Do not toil to acquire wealth; be discerning enough to desist. When your eyes light on it, it is gone, for suddenly it sprouts wings, flying like an eagle toward heaven.

Want plotseling zal je rijkdom vleugels krijgen en wegvliegen, verdwijnen als een wegschietende arend.

And lead us not into temptation, but deliver us from evil.

En stel ons niet op de proef, maar red ons van het kwaad. Want van U is het Koninkrijk en alle kracht en alle macht en alle hemelse majesteit, tot in eeuwigheid. Amen. Zo is het!

What then shall we say? That the law is sin? By no means! Yet if it had not been for the law, I would not have known sin. For I would not have known what it is to covet if the law had not said, "You shall not covet."

Hoe zit het dan? Is de wet dan iets slechts? Nee, helemaal niet. Want zonder de wet zou ik niet geweten hebben wat slecht is. Ik zou bijvoorbeeld niet geweten hebben dat jaloersheid verkeerd is, als de wet niet had gezegd dat je niet jaloers mag zijn.
If any of you lacks wisdom, let him ask God, who gives generously to all without reproach, and it will be given him.
Personal Bible reading plan
Create an account to configure your Bible reading plan and you will see your progress and the next chapter to read here!
Read more...