34 Bible Verses about Desires
«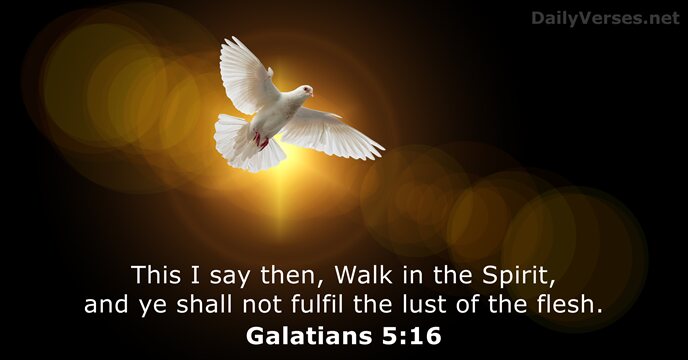 »
This I say then, Walk in the Spirit, and ye shall not fulfil the lust of the flesh.

Laat je leiden door de heilige Geest. Geef niet toe aan je eigen slechte verlangens.

Mortify therefore your members which are upon the earth; fornication, uncleanness, inordinate affection, evil concupiscence, and covetousness, which is idolatry.

Laat je niet langer leiden door slechte verlangens. Verlang er niet naar om vreemd te gaan. Verlang niet naar verboden seks, of naar ander verkeerd gedrag op seksueel gebied. Verlang ook niet naar veel geld, want geld is een afgod.

Ye lust, and have not: ye kill, and desire to have, and cannot obtain: ye fight and war, yet ye have not, because ye ask not.

Alles wat een ander heeft, willen jullie ook hebben. Jullie zijn jaloers, zo jaloers dat je die ander wel zou willen doden. Dan zoeken jullie ruzie en strijd. Maar het levert niets op, jullie krijgen niets. Want als je iets wilt hebben, moet je God erom vragen, en dat doen jullie niet.

Nevertheless, to avoid fornication, let every man have his own wife, and let every woman have her own husband.

Maar ik zeg: Nee, het is beter dat mensen wel getrouwd zijn. Anders gaan ze misschien verlangen naar verboden seks.

Can one go upon hot coals, and his feet not be burned?

Of wanneer je over gloeiende kolen loopt. Dan zullen je voeten helemaal verbranden!

And the world passeth away, and the lust thereof: but he that doeth the will of God abideth for ever.

De wereld gaat voorbij. En ook het verlangen naar dingen in de wereld gaat voorbij. Maar wie doet wat God wil, zal eeuwig leven.

For where your treasure is, there will your heart be also.

Laat de hemelse rijkdom het allerbelangrijkste voor je zijn.

I made a covenant with mine eyes; why then should I think upon a maid?

Ik heb nooit naar jonge vrouwen gekeken, dat had ik mezelf plechtig beloofd.

All things are lawful unto me, but all things are not expedient: all things are lawful for me, but I will not be brought under the power of any.

Jullie zeggen: 'Wij mogen doen wat we willen.' Maar ik zeg: Ja, maar niet alles is goed! Jullie zeggen: 'Wij mogen doen wat we willen.' Maar ik zeg: Laat je leven niet beheersen door slechte verlangens!

Marriage is honourable in all, and the bed undefiled: but whoremongers and adulterers God will judge.

Slaap alleen met de man of vrouw met wie je getrouwd bent. Wie verboden seks heeft of vreemdgaat, zal door God gestraft worden.

For, brethren, ye have been called unto liberty; only use not liberty for an occasion to the flesh, but by love serve one another.

Vrienden, God wil dat jullie als vrije mensen leven. Maar gebruik die vrijheid niet om toe te geven aan slechte verlangens. Gebruik die vrijheid om met liefde voor elkaar te zorgen.

Be sober, be vigilant; because your adversary the devil, as a roaring lion, walketh about, seeking whom he may devour.

De duivel is jullie vijand. Hij zoekt altijd iemand die hij kan vernietigen. Hij is op jacht, als een brullende leeuw. Wees dus verstandig en let goed op.

There hath no temptation taken you but such as is common to man: but God is faithful, who will not suffer you to be tempted above that ye are able; but will with the temptation also make a way to escape, that ye may be able to bear it.

Satan zal zeker proberen jullie te laten zondigen, net zoals hij dat bij alle mensen probeert. Maar God is trouw. Hij zal jullie altijd helpen. En hij zal ervoor zorgen dat jullie het kunnen volhouden, en dat jullie geen verkeerde keuzes maken.

For all that is in the world, the lust of the flesh, and the lust of the eyes, and the pride of life, is not of the Father, but is of the world.

In de wereld is het normaal om je eigen verlangens te volgen. Het is daar normaal om alles wat je ziet, te willen hebben, en om op te scheppen over je bezit. Zulk gedrag hoort bij de wereld, niet bij de Vader.

As the hart panteth after the water brooks, so panteth my soul after thee, O God.

God, ik verlang naar u, zoals een hert verlangt naar helder water.

Watch and pray, that ye enter not into temptation: the spirit indeed is willing, but the flesh is weak.

Blijf toch wakker! Bid God om kracht, zodat je geen verkeerde keuze maakt. Want jullie willen wel het goede kiezen, maar jullie zijn zwak.

Let no man say when he is tempted, I am tempted of God: for God cannot be tempted with evil, neither tempteth he any man.

Stel dat je verleid wordt om iets verkeerds te doen. Zeg dan nooit: 'God probeert mij te laten zondigen.' Want God zal nooit iemand verleiden om te zondigen, en God kan zelf ook nooit verleid worden om iets verkeerds te doen.

Yea, in the way of thy judgments, O L

ord

, have we waited for thee; the desire of our soul is to thy name, and to the remembrance of thee.

Wij vertrouwen op u, Heer, en we houden ons aan uw wet. Wij verlangen naar u, steeds noemen we uw naam.

For the love of money is the root of all evil: which while some coveted after, they have erred from the faith, and pierced themselves through with many sorrows.

Het verlangen naar geld is de oorzaak van alles wat slecht is. Sommige christenen wilden zo graag rijk worden, dat ze het geloof kwijtgeraakt zijn. En zo brengen ze zichzelf in grote problemen.

Whereby are given unto us exceeding great and precious promises: that by these ye might be partakers of the divine nature, having escaped the corruption that is in the world through lust.

God heeft iets beloofd dat heel bijzonder is: hij zal ervoor zorgen dat jullie zonder zonde gaan leven, en gaan lijken op God zelf. Jullie zullen ontsnappen aan alle slechtheid in de wereld. Die slechtheid is het gevolg van de verkeerde verlangens van de mensen.

He coveteth greedily all the day long: but the righteous giveth and spareth not.

Veel mensen willen steeds meer hebben, maar goede mensen geven alles weg.

And lead us not into temptation, but deliver us from evil: For thine is the kingdom, and the power, and the glory, for ever. Amen.

Help ons om nooit tegen u te kiezen. En bescherm ons tegen de macht van het kwaad. [Want u bent koning, u regeert met grote macht, voor altijd. Amen.]

Brethren, if a man be overtaken in a fault, ye which are spiritual, restore such an one in the spirit of meekness; considering thyself, lest thou also be tempted.

Vrienden, jullie laten je leiden door de heilige Geest. Maar stel dat iemand van jullie toch iets verkeerds doet. Dan moeten jullie hem op een vriendelijke manier helpen om weer het goede te doen. Pas ook op dat je zelf geen verkeerde keuzes maakt.

Wilt thou set thine eyes upon that which is not? for riches certainly make themselves wings; they fly away as an eagle toward heaven.

Want ineens kan je geld verdwijnen, net zoals een vogel die plotseling wegvliegt.

What shall we say then? Is the law sin? God forbid. Nay, I had not known sin, but by the law: for I had not known lust, except the law had said, Thou shalt not covet.

Moeten we de conclusie trekken dat de wet en de zonde hetzelfde zijn? Nee, natuurlijk niet! Maar het zit zo: Door de wet leerden de mensen wat zonde is. Want de wet verbiedt alle verkeerde verlangens. Zo leerden de mensen die verlangens kennen.
Beloved, if our heart condemn us not, then have we confidence toward God. And whatsoever we ask, we receive of him, because we keep his commandments, and do those things that are pleasing in his sight.
And Jesus said unto them, I am the bread of life: he that cometh to me shall never hunger; and he that believeth on me shall never thirst.
Read more
Beloved, if our heart condemn us not, then have we confidence toward God. And whatsoever we ask, we receive of him, because we keep his commandments, and do those things that are pleasing in his sight.
Personal Bible reading plan
Create an account to configure your Bible reading plan and you will see your progress and the next chapter to read here!
Read more...