Bible Verses about Desires
«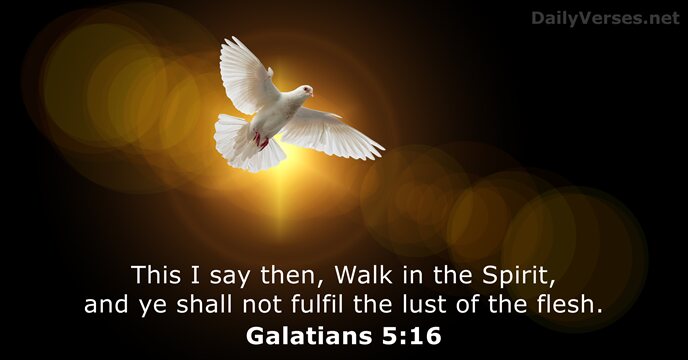 »
This I say then, Walk in the Spirit, and ye shall not fulfil the lust of the flesh.

Ich will damit nur sagen: Lasst den Geist Gottes euer Leben bestimmen, dann könnt ihr den Begierden in euch widerstehen.

Mortify therefore your members which are upon the earth; fornication, uncleanness, inordinate affection, evil concupiscence, and covetousness, which is idolatry.

Darum tötet alles, was zu eurer irdischen Natur gehört: sexuelle Unmoral, Schamlosigkeit, Leidenschaft, böse Lüste und Habgier, die Götzendienst ist.

Ye lust, and have not: ye kill, and desire to have, and cannot obtain: ye fight and war, yet ye have not, because ye ask not.

Ihr seid gierig und bekommt doch nichts. Ihr mordet und neidet und könnt auch so eure Wünsche nicht erfüllen. Ihr streitet und bekriegt euch - und habt nichts, weil ihr nicht darum bittet.

Can one go upon hot coals, and his feet not be burned?

Kann man über Kohlenglut laufen und versengt sich nicht die Füße dabei?

Nevertheless, to avoid fornication, let every man have his own wife, and let every woman have her own husband.

Meine Antwort ist: Um sexuelle Unmoral zu vermeiden, sollte jeder Mann seine Ehefrau haben und jede Frau ihren Ehemann.

And the world passeth away, and the lust thereof: but he that doeth the will of God abideth for ever.

Und diese Welt mit ihren Begierden wird verschwinden. Doch wer tut, was Gott will, bleibt und lebt in Ewigkeit.

For where your treasure is, there will your heart be also.

Denn wo dein Schatz ist, da wird auch dein Herz sein.

I made a covenant with mine eyes; why then should I think upon a maid?

Ich hatte einen Bund mit meinen Augen geschlossen. Wie sollte ich da lüstern auf Jungfrauen blicken?

All things are lawful unto me, but all things are not expedient: all things are lawful for me, but I will not be brought under the power of any.

Alles steht mir frei, aber nicht alles ist förderlich. Alles ist mir erlaubt, aber ich darf mich von nichts beherrschen lassen.

Marriage is honourable in all, and the bed undefiled: but whoremongers and adulterers God will judge.

Haltet die Ehe in Ehren und bleibt einander treu! Denn Menschen, die in sexueller Unmoral und fortwährendem Ehebruch leben, wird Gott richten.

Be sober, be vigilant; because your adversary the devil, as a roaring lion, walketh about, seeking whom he may devour.

Seid nüchtern und wachsam! Euer Todfeind, der Teufel, streicht wie ein brüllender Löwe herum und sucht nach einem Opfer, das er verschlingen kann.

For, brethren, ye have been called unto liberty; only use not liberty for an occasion to the flesh, but by love serve one another.

Ihr seid zur Freiheit berufen, liebe Geschwister! Nur benutzt die Freiheit nicht als Freibrief für das eigene Ich, sondern dient einander in Liebe!

For all that is in the world, the lust of the flesh, and the lust of the eyes, and the pride of life, is not of the Father, but is of the world.

Denn diese Welt wird von der Sucht nach körperlichem Genuss bestimmt, von gierigen Augen und einem unverschämten Geltungsdrang. Nichts davon kommt vom Vater. Es gehört alles zur Welt.

There hath no temptation taken you but such as is common to man: but God is faithful, who will not suffer you to be tempted above that ye are able; but will with the temptation also make a way to escape, that ye may be able to bear it.

Bisher ist noch keine Versuchung über euch gekommen, die einen Menschen überfordert. Und Gott ist treu; er wird nicht zulassen, dass die Prüfung über eure Kraft geht. Er wird euch bei allen Versuchungen den Weg zeigen, auf dem ihr sie bestehen könnt.

As the hart panteth after the water brooks, so panteth my soul after thee, O God.

Wie ein Hirsch nach klarem Wasser lechzt, so sehne ich mich nach dir, mein Gott.

Watch and pray, that ye enter not into temptation: the spirit indeed is willing, but the flesh is weak.

Seid wachsam und betet, damit ihr nicht in Versuchung kommt! Der Geist ist willig, aber der Körper ist schwach.

Let no man say when he is tempted, I am tempted of God: for God cannot be tempted with evil, neither tempteth he any man.

Wenn jemand in Versuchung gerät, soll er nicht sagen: "Gott hat mich in Versuchung geführt." Denn Gott kann nicht vom Bösen verführt werden und verführt auch selbst niemand dazu.

Yea, in the way of thy judgments, O L

ord

, have we waited for thee; the desire of our soul is to thy name, and to the remembrance of thee.

Selbst wenn du uns strafen musst, warten wir voll Hoffnung auf dich, Jahwe. Wir sehnen uns nach dir, nach deinem Namen, deinem Lob.

Whereby are given unto us exceeding great and precious promises: that by these ye might be partakers of the divine nature, having escaped the corruption that is in the world through lust.

So hat er uns das Größte und Wertvollste überhaupt geschenkt: Er hat versprochen, dass ihr Anteil an seiner göttlichen Natur bekommt. Denn ihr seid ja schon dem Verderben entkommen, dem diese Welt durch ihre Leidenschaften verfallen ist.

For the love of money is the root of all evil: which while some coveted after, they have erred from the faith, and pierced themselves through with many sorrows.

Denn die Liebe zum Geld ist eine Wurzel für alles Böse. Manche sind ihr so verfallen, dass sie vom Glauben abgeirrt sind und sich selbst die schlimmsten Qualen bereitet haben.

He coveteth greedily all the day long: but the righteous giveth and spareth not.

Es begehrt die Begierde den ganzen Tag, doch der Gerechte gibt und kann großzügig sein.

Wilt thou set thine eyes upon that which is not? for riches certainly make themselves wings; they fly away as an eagle toward heaven.

Müh dich nicht ab, es zu Reichtum zu bringen, aus eigener Einsicht lass die Finger davon! Denn eh du dich versiehst, hat er Flügel bekommen und fliegt wie ein Adler fort durch die Luft.

Brethren, if a man be overtaken in a fault, ye which are spiritual, restore such an one in the spirit of meekness; considering thyself, lest thou also be tempted.

Liebe Geschwister, wenn jemand von euch in eine Sünde hineinstolpert, dann müsst ihr, als vom Geist bestimmte Menschen, ihn verständnisvoll auf den rechten Weg zurückbringen. Du solltest dabei aber gut aufpassen, dass du nicht selbst zu Fall kommst!

And lead us not into temptation, but deliver us from evil: For thine is the kingdom, and the power, and the glory, for ever. Amen.

Und führe uns nicht in Versuchung, sondern befreie uns von dem Bösen!

What shall we say then? Is the law sin? God forbid. Nay, I had not known sin, but by the law: for I had not known lust, except the law had said, Thou shalt not covet.

Heißt das nun, dass das Gesetz Sünde ist? Auf keinen Fall! Aber ohne Gesetz hätte ich nie erkannt, was Sünde ist. Auch die Begierde wäre nie in mir erwacht, wenn das Gesetz nicht gesagt hätte: "Du sollst nicht begehren!"
He that keepeth his mouth keepeth his life: but he that openeth wide his lips shall have destruction.
Personal Bible reading plan
Create an account to configure your Bible reading plan and you will see your progress and the next chapter to read here!
Read more...