Bible Verses about Desires
«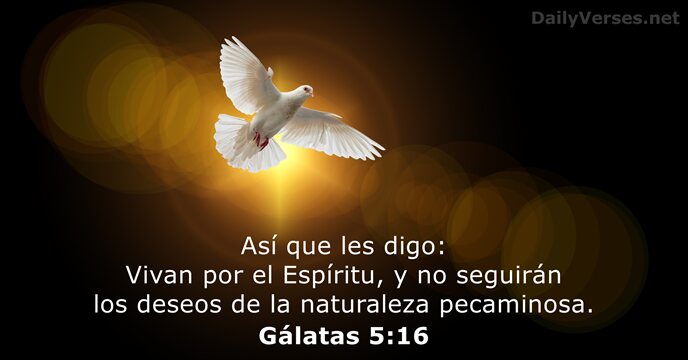 »
I say then: Walk in the Spirit, and you shall not fulfill the lust of the flesh.

Así que les digo: Vivan por el Espíritu, y no seguirán los deseos de la naturaleza pecaminosa.

Therefore put to death your members which are on the earth: fornication, uncleanness, passion, evil desire, and covetousness, which is idolatry.

Por tanto, hagan morir todo lo que es propio de la naturaleza terrenal: inmoralidad sexual, impureza, bajas pasiones, malos deseos y avaricia, la cual es idolatría.

You lust and do not have. You murder and covet and cannot obtain. You fight and war. Yet you do not have because you do not ask.

Desean algo y no lo consiguen. Matan y sienten envidia, y no pueden obtener lo que quieren. Riñen y se hacen la guerra. No tienen, porque no piden.

Can one walk on hot coals, And his feet not be seared?

¿Puede alguien caminar sobre las brasas sin quemarse los pies?

And the world is passing away, and the lust of it; but he who does the will of God abides forever.

El mundo se acaba con sus malos deseos, pero el que hace la voluntad de Dios permanece para siempre.

Nevertheless, because of sexual immorality, let each man have his own wife, and let each woman have her own husband.

Pero, en vista de tanta inmoralidad, cada hombre debe tener su propia esposa, y cada mujer su propio esposo.

For where your treasure is, there your heart will be also.

Porque donde esté tu tesoro, allí estará también tu corazón.

All things are lawful for me, but all things are not helpful. All things are lawful for me, but I will not be brought under the power of any.

«Todo me está permitido», pero no todo es para mi bien. «Todo me está permitido», pero no dejaré que nada me domine.

I have made a covenant with my eyes; Why then should I look upon a young woman?

Yo había convenido con mis ojos no mirar con lujuria a ninguna mujer.

Marriage is honorable among all, and the bed undefiled; but fornicators and adulterers God will judge.

Tengan todos en alta estima el matrimonio y la fidelidad conyugal, porque Dios juzgará a los adúlteros y a todos los que cometen inmoralidades sexuales.

Be sober, be vigilant; because your adversary the devil walks about like a roaring lion, seeking whom he may devour.

Practiquen el dominio propio y manténganse alerta. Su enemigo el diablo ronda como león rugiente, buscando a quién devorar.

For you, brethren, have been called to liberty; only do not use liberty as an opportunity for the flesh, but through love serve one another.

Les hablo así, hermanos, porque ustedes han sido llamados a ser libres; pero no se valgan de esa libertad para dar rienda suelta a sus pasiones. Más bien sírvanse unos a otros con amor.

For all that is in the world—the lust of the flesh, the lust of the eyes, and the pride of life—is not of the Father but is of the world.

Porque nada de lo que hay en el mundo —los malos deseos del cuerpo, la codicia de los ojos y la arrogancia de la vida— proviene del Padre, sino del mundo.

No temptation has overtaken you except such as is common to man; but God is faithful, who will not allow you to be tempted beyond what you are able, but with the temptation will also make the way of escape, that you may be able to bear it.

Ustedes no han sufrido ninguna tentación que no sea común al género humano. Pero Dios es fiel, y no permitirá que ustedes sean tentados más allá de lo que puedan aguantar. Más bien, cuando llegue la tentación, él les dará también una salida a fin de que puedan resistir.

As the deer pants for the water brooks, So pants my soul for You, O God.

Cual ciervo jadeante en busca del agua, así te busca, oh Dios, todo mi ser.

Watch and pray, lest you enter into temptation. The spirit indeed is willing, but the flesh is weak.

Estén alerta y oren para que no caigan en tentación. El espíritu está dispuesto, pero el cuerpo es débil.

Let no one say when he is tempted, "I am tempted by God"; for God cannot be tempted by evil, nor does He Himself tempt anyone.

Que nadie, al ser tentado, diga: «Es Dios quien me tienta». Porque Dios no puede ser tentado por el mal, ni tampoco tienta él a nadie.

Yes, in the way of Your judgments, O L

ord

, we have waited for You; The desire of our soul is for Your name And for the remembrance of You.
Sí, en ti esperamos, S

eñor

, y en la senda de tus juicios; tu nombre y tu memoria son el deseo de nuestra vida.
By which have been given to us exceedingly great and precious promises, that through these you may be partakers of the divine nature, having escaped the corruption that is in the world through lust.

Así Dios nos ha entregado sus preciosas y magníficas promesas para que ustedes, luego de escapar de la corrupción que hay en el mundo debido a los malos deseos, lleguen a tener parte en la naturaleza divina.

For the love of money is a root of all kinds of evil, for which some have strayed from the faith in their greediness, and pierced themselves through with many sorrows.

Porque el amor al dinero es la raíz de toda clase de males. Por codiciarlo, algunos se han desviado de la fe y se han causado muchísimos sinsabores.

He covets greedily all day long, But the righteous gives and does not spare.

Todo el día se lo pasa codiciando, pero el justo da con generosidad.

Will you set your eyes on that which is not? For riches certainly make themselves wings; They fly away like an eagle toward heaven.

¿Acaso has podido verlas? ¡No existen! Es como si les salieran alas, pues se van volando como las águilas.

Brethren, if a man is overtaken in any trespass, you who are spiritual restore such a one in a spirit of gentleness, considering yourself lest you also be tempted.

Hermanos, si alguien es sorprendido en pecado, ustedes que son espirituales deben restaurarlo con una actitud humilde. Pero cuídese cada uno, porque también puede ser tentado.

And do not lead us into temptation, But deliver us from the evil one. For Yours is the kingdom and the power and the glory forever. Amen.

Y no nos dejes caer en tentación, sino líbranos del maligno.

What shall we say then? Is the law sin? Certainly not! On the contrary, I would not have known sin except through the law. For I would not have known covetousness unless the law had said, "You shall not covet."

¿Qué concluiremos? ¿Que la ley es pecado? ¡De ninguna manera! Sin embargo, si no fuera por la ley, no me habría dado cuenta de lo que es el pecado. Por ejemplo, nunca habría sabido yo lo que es codiciar si la ley no hubiera dicho: «No codicies».
For if there is first a willing mind, it is accepted according to what one has, and not according to what he does not have.
Personal Bible reading plan
Create an account to configure your Bible reading plan and you will see your progress and the next chapter to read here!
Read more...