Bible Verses about the Devil
«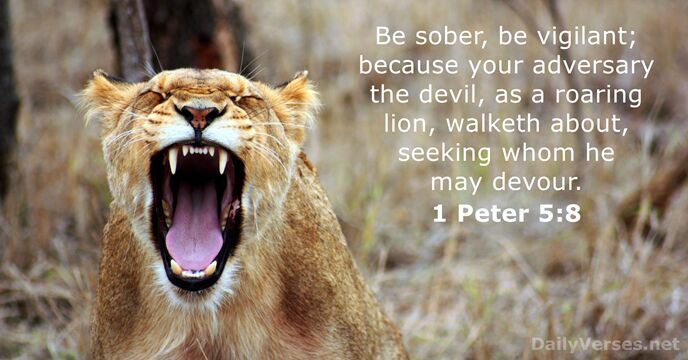 »
Be sober, be vigilant; because your adversary the devil, as a roaring lion, walketh about, seeking whom he may devour.

Wees verstandig en let goed op. Jullie vijand, de duivel, loopt rond als een brullende leeuw die een prooi zoekt. Hij zoekt wie hij kan verslinden.

Put on the whole armour of God, that ye may be able to stand against the wiles of the devil.

Doe de hele wapenrusting van God aan. Dan kan de duivel jullie met zijn sluwe streken geen kwaad doen.

But the Lord is faithful, who shall stablish you, and keep you from evil.

Maar de Heer is trouw. Hij zal jullie sterk maken en jullie beschermen tegen de duivel.

For we wrestle not against flesh and blood, but against principalities, against powers, against the rulers of the darkness of this world, against spiritual wickedness in high places.

Want we strijden niet tegen mensen, maar tegen de onzichtbare leiders, machten en heersers van deze donkere wereld. Dus tegen de duivelse geesten in de geestelijke wereld.

Be ye angry, and sin not: let not the sun go down upon your wrath: Neither give place to the devil.

Als je boos op iemand wordt, houd je boosheid dan niet vast, want dat is verkeerd. Zorg ervoor dat je vóór het eind van de dag je boosheid weer kwijt bent. Zo geef je de duivel geen kans.

Submit yourselves therefore to God. Resist the devil, and he will flee from you.

Wees dus gehoorzaam aan God, maar verzet je tegen de duivel. Dan zal de duivel van je wegvluchten.

He that committeth sin is of the devil; for the devil sinneth from the beginning. For this purpose the Son of God was manifested, that he might destroy the works of the devil.

Mensen die doorgaan met ongehoorzaam zijn aan God, horen bij de duivel. Want de duivel is al vanaf het begin ongehoorzaam aan God. Maar de Zoon van God is gekomen om het werk van de duivel te vernietigen.

There hath no temptation taken you but such as is common to man: but God is faithful, who will not suffer you to be tempted above that ye are able; but will with the temptation also make a way to escape, that ye may be able to bear it.

Maar als je in de verleiding komt om iets verkeerds te doen, bedenk dan dit. Geen één verleiding is zó groot, dat je er niet tegenop zou kunnen. Want God laat je nooit in de steek. Hij zal niet toestaan dat je het zó moeilijk krijgt, dat je het niet meer aankan. Want Hij zal, als er verleidingen komen, ook voor de oplossing zorgen. Daardoor zul je sterk genoeg zijn om de juiste beslissingen te nemen.

Order my steps in thy word: and let not any iniquity have dominion over me.

Zorg ervoor dat ik altijd het goede doe. Laat het kwaad geen macht over me krijgen.

Wherefore take unto you the whole armour of God, that ye may be able to withstand in the evil day, and having done all, to stand.

Doe daarom de hele wapenrusting van God aan. Dan kun je je verdedigen als het kwaad je aanvalt. En dan kun je ook blijven staan als je alles hebt gedaan wat je moest doen.

Ye are of your father the devil, and the lusts of your father ye will do. He was a murderer from the beginning, and abode not in the truth, because there is no truth in him. When he speaketh a lie, he speaketh of his own: for he is a liar, and the father of it.

De duivel is jullie vader en jullie doen dezelfde dingen als jullie vader. Hij is altijd een moordenaar geweest. Hij kan niets goeds doen, want er is helemaal geen waarheid in hem. Hij is een leugenaar en kan niets anders dan liegen. Hij is de bron van alle leugens.

And lead us not into temptation, but deliver us from evil: For thine is the kingdom, and the power, and the glory, for ever. Amen.

En stel ons niet op de proef, maar red ons van het kwaad. Want van U is het Koninkrijk en alle kracht en alle macht en alle hemelse majesteit, tot in eeuwigheid. Amen. Zo is het!

And the God of peace shall bruise Satan under your feet shortly. The grace of our Lord Jesus Christ be with you. Amen.

De God van vrede zal binnenkort de duivel onder jullie voeten vertrappen. Ik bid dat onze Heer Jezus in alles goed voor jullie zal zijn.

I pray not that thou shouldest take them out of the world, but that thou shouldest keep them from the evil.

Ik vraag U niet dat U hen uit de wereld weghaalt. Maar Ik vraag U dat U hen goed zal beschermen tegen de duivel.

Defraud ye not one the other, except it be with consent for a time, that ye may give yourselves to fasting and prayer; and come together again, that Satan tempt you not for your incontinency.

Het kan gebeuren dat je samen afspreekt om een poosje niet met elkaar naar bed te gaan. Bijvoorbeeld omdat je meer tijd wilt hebben om te bidden. Maar daarna ga je weer gewoon met elkaar naar bed. Anders krijgt de duivel de kans om je te verleiden tot verkeerde dingen, omdat je je niet kan beheersen.

Who hath delivered us from the power of darkness, and hath translated us into the kingdom of his dear Son: In whom we have redemption through his blood, even the forgiveness of sins.

Hij heeft ons gered uit de macht van de duisternis. En Hij heeft ons overgeplaatst in het Koninkrijk van zijn Zoon, van wie Hij heel veel houdt. Hij heeft ons gered door de dood van zijn Zoon. Want dankzij zijn dood heeft God ons al onze ongehoorzaamheid kunnen vergeven.

And the L

ord

said unto Satan, Behold, all that he hath is in thy power; only upon himself put not forth thine hand. So Satan went forth from the presence of the L

ord

.

Toen zei de Heer tegen de duivel: "Goed. Met alles wat Job heeft, mag je doen wat je wil. Maar Job zelf mag je niets aandoen." Toen ging de duivel bij de Heer weg.

And Jesus being full of the Holy Ghost returned from Jordan, and was led by the Spirit into the wilderness, Being forty days tempted of the devil. And in those days he did eat nothing: and when they were ended, he afterward hungered.

Vol van de Heilige Geest ging Jezus weg van de Jordaan. De Heilige Geest bracht Hem naar de woestijn. Daar werd Hij 40 dagen lang door de duivel uitgedaagd. Al die tijd at Hij niets. Toen er 40 dagen voorbij waren, had Hij honger.

But Peter said, Ananias, why hath Satan filled thine heart to lie to the Holy Ghost, and to keep back part of the price of the land? Whiles it remained, was it not thine own? and after it was sold, was it not in thine own power? why hast thou conceived this thing in thine heart? thou hast not lied unto men, but unto God.

Maar Petrus zei: "Ananias, waarom heb je je door de duivel laten opstoken om tegen de Heilige Geest te liegen? Want je hebt een deel van het geld voor jezelf gehouden. Toen je het land nog niet had verkocht, was het toch van jou? En toen je het had verkocht, mocht je met het geld toch doen wat je wilde? Waarom doe je dan alsof dit al het geld is? Je hebt niet tegen mensen gelogen, maar tegen God."
And though I have the gift of prophecy, and understand all mysteries, and all knowledge; and though I have all faith, so that I could remove mountains, and have not charity, I am nothing.
Personal Bible reading plan
Create an account to configure your Bible reading plan and you will see your progress and the next chapter to read here!
Read more...