Bible Verses about the Devil
«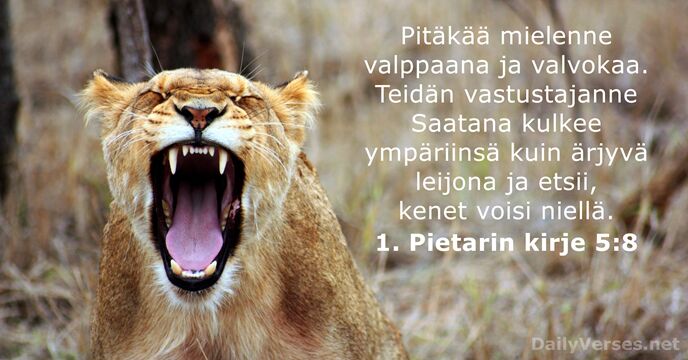 »
Be sober, be vigilant; because your adversary the devil walks about like a roaring lion, seeking whom he may devour.

Pitäkää mielenne valppaana ja valvokaa. Teidän vastustajanne Saatana kulkee ympäriinsä kuin ärjyvä leijona ja etsii, kenet voisi niellä.

For we do not wrestle against flesh and blood, but against principalities, against powers, against the rulers of the darkness of this age, against spiritual hosts of wickedness in the heavenly places.

Emmehän me taistele ihmisiä vastaan vaan henkivaltoja ja voimia vastaan, tämän pimeyden maailman hallitsijoita ja avaruuden pahoja henkiä vastaan.

Put on the whole armor of God, that you may be able to stand against the wiles of the devil.

Pukekaa yllenne Jumalan taisteluvarustus, jotta voisitte pitää puolianne Paholaisen juonia vastaan.

But the Lord is faithful, who will establish you and guard you from the evil one.

Mutta Herra on uskollinen, ja hän on vahvistava teitä ja varjeleva teitä pahalta.

Therefore submit to God. Resist the devil and he will flee from you.

Taipukaa siis Jumalan alaisuuteen, mutta vastustakaa Paholaista, niin se lakkaa ahdistamasta teitä.

"Be angry, and do not sin": do not let the sun go down on your wrath, nor give place to the devil.

Vaikka vihastuttekin, älkää tehkö syntiä. Sopikaa riitanne, ennen kuin aurinko laskee. Älkää antako Paholaiselle tilaisuutta.

He who sins is of the devil, for the devil has sinned from the beginning. For this purpose the Son of God was manifested, that He might destroy the works of the devil.

Joka tekee syntiä, on Paholaisesta, sillä Paholainen on tehnyt syntiä alusta asti. Juuri sitä varten Jumalan Poika tuli maailmaan, että hän tekisi tyhjäksi Paholaisen teot.

You are of your father the devil, and the desires of your father you want to do. He was a murderer from the beginning, and does not stand in the truth, because there is no truth in him. When he speaks a lie, he speaks from his own resources, for he is a liar and the father of it.

Te olette lähtöisin Saatanasta. Hän on teidän isänne, ja hänen halunsa te tahdotte tyydyttää. Saatana on ollut murhaaja alusta asti. Hän on kaukana totuudesta, se on hänelle vieras. Kun hän valehtelee, hän todella puhuu omiaan, sillä hän on valehtelija ja valheen isä.

No temptation has overtaken you except such as is common to man; but God is faithful, who will not allow you to be tempted beyond what you are able, but with the temptation will also make the way of escape, that you may be able to bear it.

Teitä kohdannut kiusaus ei ole mitenkään epätavallinen. Jumalaan voi luottaa. Hän ei salli kiusauksen käydä teille ylivoimaiseksi, vaan antaessaan teidän joutua koetukseen hän samalla valmistaa pääsyn siitä, niin että voitte sen kestää.

Direct my steps by Your word, And let no iniquity have dominion over me.

Tee kulkuni vakaaksi ohjeillasi, älä anna minkään vääryyden vallita minua.

And the God of peace will crush Satan under your feet shortly. The grace of our Lord Jesus Christ be with you. Amen.

Rauhan Jumala on pian murskaava Saatanan teidän jalkojenne alle. Herramme Jeesuksen armo olkoon teidän kanssanne.

And the L

ord

said to Satan, "Behold, all that he has is in your power; only do not lay a hand on his person." So Satan went out from the presence of the L

ord

.

Herra sanoi Saatanalle: »Hyvä on. Saat tehdä mitä haluat kaikelle mitä hänellä on. Mutta häneen itseensä et saa koskea.» Sitten Saatana lähti pois Herran edestä.

Therefore take up the whole armor of God, that you may be able to withstand in the evil day, and having done all, to stand.

Ottakaa siis yllenne Jumalan taisteluvarustus, niin että kykenette pahan päivän tullen tekemään vastarintaa ja selviytymään taistelusta pystyssä pysyen.

And do not lead us into temptation, But deliver us from the evil one. For Yours is the kingdom and the power and the glory forever. Amen.

Äläkä anna meidän joutua kiusaukseen, vaan päästä meidät pahasta.

I do not pray that You should take them out of the world, but that You should keep them from the evil one.

En kuitenkaan pyydä, että ottaisit heidät pois maailmasta, vaan että varjelisit heidät pahalta.

He has delivered us from the power of darkness and conveyed us into the kingdom of the Son of His love, in whom we have redemption through His blood, the forgiveness of sins.

Hän on pelastanut meidät pimeyden vallasta ja siirtänyt meidät rakkaan Poikansa valtakuntaan, hänen, joka on meidän lunastuksemme, syntiemme anteeksianto.

Do not deprive one another except with consent for a time, that you may give yourselves to fasting and prayer; and come together again so that Satan does not tempt you because of your lack of self-control.

Älkää keskeyttäkö yhdyselämäänne, paitsi ehkä yhteisestä sopimuksesta joksikin aikaa, jotta voitte keskittyä rukoukseen; palatkaa sitten taas yhteen. Muutenhan Saatana pääsee kiusaamaan teitä, kun ette kuitenkaan pysty hillitsemään itseänne.

But Peter said, "Ananias, why has Satan filled your heart to lie to the Holy Spirit and keep back part of the price of the land for yourself? While it remained, was it not your own? And after it was sold, was it not in your own control? Why have you conceived this thing in your heart? You have not lied to men but to God."

Silloin Pietari sanoi: »Ananias, miksi olet antanut sydämesi Saatanan valtaan? Miksi yritit pettää Pyhää Henkeä ja jättää maatilan hinnasta osan itsellesi? Tilahan oli sinun, kun et vielä ollut myynyt sitä, ja sinun olivat myös rahat, kun sen myit. Kuinka saatoit ryhtyä tällaiseen tekoon? Et sinä ole valehdellut ihmisille, vaan Jumalalle.»

Then Jesus, being filled with the Holy Spirit, returned from the Jordan and was led by the Spirit into the wilderness, being tempted for forty days by the devil. And in those days He ate nothing, and afterward, when they had ended, He was hungry.

Jeesus lähti Jordanilta Pyhää Henkeä täynnä. Hengen johdattamana hän kulki autiomaassa neljäkymmentä päivää, ja Paholainen kiusasi häntä. Hän ei syönyt noina päivinä mitään, ja kun tämä aika oli kulunut, hänen tuli nälkä.
Do not be overcome by evil, but overcome evil with good.
Personal Bible reading plan
Create an account to configure your Bible reading plan and you will see your progress and the next chapter to read here!
Read more...