Versículos de la Biblia sobre Alabanza
«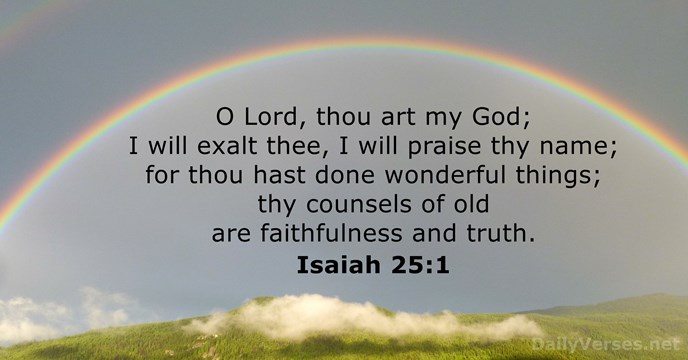 »
Jehová, tú eres mi Dios; te exaltaré, alabaré tu nombre, porque has hecho maravillas; tus consejos antiguos son verdad y firmeza.

O Lord, thou art my God; I will exalt thee, I will praise thy name; for thou hast done wonderful things; thy counsels of old are faithfulness and truth.

¡Todo lo que respira alabe a Jah! ¡Aleluya!

Let every thing that hath breath praise the L

ord

. Praise ye the L

ord

.

Bendice, alma mía, a Jehová, y bendiga todo mi ser su santo nombre.

Bless the L

ord

, O my soul: and all that is within me, bless his holy name.

Jehová es mi fortaleza y mi escudo; en él confió mi corazón y fui ayudado, por lo que se gozó mi corazón. Con mi cántico lo alabaré.

The L

ord

is my strength and my shield; my heart trusted in him, and I am helped: therefore my heart greatly rejoiceth; and with my song will I praise him.

Te alabaré, Jehová, con todo mi corazón. Contaré todas tus maravillas.

I will praise thee, O L

ord

, with my whole heart; I will shew forth all thy marvellous works.

Porque mejor es tu misericordia que la vida, mis labios te alabarán. Así te bendeciré en mi vida; en tu nombre alzaré mis manos.

Because thy lovingkindness is better than life, my lips shall praise thee. Thus will I bless thee while I live: I will lift up my hands in thy name.

Pero a medianoche, orando Pablo y Silas, cantaban himnos a Dios; y los presos los oían.

And at midnight Paul and Silas prayed, and sang praises unto God: and the prisoners heard them.

¿Por qué te abates, alma mía, y por qué te turbas dentro de mí? Espera en Dios, porque aún he de alabarlo, ¡salvación mía y Dios mío!

Why art thou cast down, O my soul? and why art thou disquieted within me? hope thou in God: for I shall yet praise him, who is the health of my countenance, and my God.

Tú formaste mis entrañas; me hiciste en el vientre de mi madre. Te alabaré, porque formidables y maravillosas son tus obras; estoy maravillado y mi alma lo sabe muy bien.

For thou hast possessed my reins: thou hast covered me in my mother's womb. I will praise thee; for I am fearfully and wonderfully made: marvellous are thy works; and that my soul knoweth right well.

Grande es Jehová y digno de suprema alabanza; su grandeza es insondable.

Great is the L

ord

, and greatly to be praised; and his greatness is unsearchable.

Sea llena mi boca de tu alabanza, de tu gloria todo el día.

Let my mouth be filled with thy praise and with thy honour all the day.

A todo lo creado que está en el cielo, sobre la tierra, debajo de la tierra y en el mar, y a todas las cosas que hay en ellos, oí decir: «Al que está sentado en el trono y al Cordero, sea la alabanza, la honra, la gloria y el poder, por los siglos de los siglos.»

And every creature which is in heaven, and on the earth, and under the earth, and such as are in the sea, and all that are in them, heard I saying, Blessing, and honour, and glory, and power, be unto him that sitteth upon the throne, and unto the Lamb for ever and ever.

Bendeciré a Jehová en todo tiempo; su alabanza estará de continuo en mi boca.

I will bless the L

ord

at all times: his praise shall continually be in my mouth.

La palabra de Cristo habite en abundancia en vosotros. Enseñaos y exhortaos unos a otros con toda sabiduría. Cantad con gracia en vuestros corazones al Señor, con salmos, himnos y cánticos espirituales.

Let the word of Christ dwell in you richly in all wisdom; teaching and admonishing one another in psalms and hymns and spiritual songs, singing with grace in your hearts to the Lord.

¡Alabad a Jehová, invocad su nombre, dad a conocer sus obras entre los pueblos!

O give thanks unto the L

ord

; call upon his name: make known his deeds among the people.

Por lo demás, hermanos, todo lo que es verdadero, todo lo honesto, todo lo justo, todo lo puro, todo lo amable, todo lo que es de buen nombre; si hay virtud alguna, si algo digno de alabanza, en esto pensad.

Finally, brethren, whatsoever things are true, whatsoever things are honest, whatsoever things are just, whatsoever things are pure, whatsoever things are lovely, whatsoever things are of good report; if there be any virtue, and if there be any praise, think on these things.

Pues escrito está: «Vivo yo, dice el Señor, que ante mí se doblará toda rodilla, y toda lengua confesará a Dios.»

For it is written, As I live, saith the Lord, every knee shall bow to me, and every tongue shall confess to God.

Te exaltaré, mi Dios, mi Rey, y bendeciré tu nombre eternamente y para siempre.

I will extol thee, my God, O king; and I will bless thy name for ever and ever.

En Dios, cuya palabra alabo, en Dios he confiado. No temeré. ¿Qué puede hacerme el hombre?

In God I will praise his word, in God I have put my trust; I will not fear what flesh can do unto me.

Y diréis en aquel día: «Cantad a Jehová, aclamad su nombre, haced célebres en los pueblos sus obras, recordad que su nombre es engrandecido.»

And in that day shall ye say, Praise the L

ord

, call upon his name, declare his doings among the people, make mention that his name is exalted.

Perseveraban unánimes cada día en el Templo, y partiendo el pan en las casas comían juntos con alegría y sencillez de corazón, alabando a Dios y teniendo favor con todo el pueblo. Y el Señor añadía cada día a la iglesia los que habían de ser salvos.

And they, continuing daily with one accord in the temple, and breaking bread from house to house, did eat their meat with gladness and singleness of heart, Praising God, and having favour with all the people. And the Lord added to the church daily such as should be saved.

Te alabaré con rectitud de corazón cuando aprenda tus justos juicios.

I will praise thee with uprightness of heart, when I shall have learned thy righteous judgments.

A él clamé con mi boca y fue exaltado con mi lengua.

I cried unto him with my mouth, and he was extolled with my tongue.

A ti, Dios de mis padres, te doy gracias y te alabo, porque me has dado sabiduría y fuerza, y ahora me has revelado lo que te pedimos, pues nos has dado a conocer el asunto del rey.

I thank thee, and praise thee, O thou God of my fathers, who hast given me wisdom and might, and hast made known unto me now what we desired of thee: for thou hast now made known unto us the king's matter.

Entonces Job se levantó, rasgó su manto y se rasuró la cabeza; luego, postrado en tierra, adoró y dijo: «Desnudo salí del vientre de mi madre y desnudo volveré allá. Jehová dio y Jehová quitó: ¡Bendito sea el nombre de Jehová!»

Then Job arose, and rent his mantle, and shaved his head, and fell down upon the ground, and worshipped, And said, Naked came I out of my mother's womb, and naked shall I return thither: the L

ord

gave, and the L

ord

hath taken away; blessed be the name of the L

ord

.
El que no escatimó ni a su propio Hijo, sino que lo entregó por todos nosotros, ¿cómo no nos dará también con él todas las cosas?
Plan de lectura de la Biblia
Registrar y configurar su plan de lectura de la Biblia que desea ver su progreso y el siguiente capítulo para leer aquí!