Versículos de la Biblia sobre la Amabilidad
«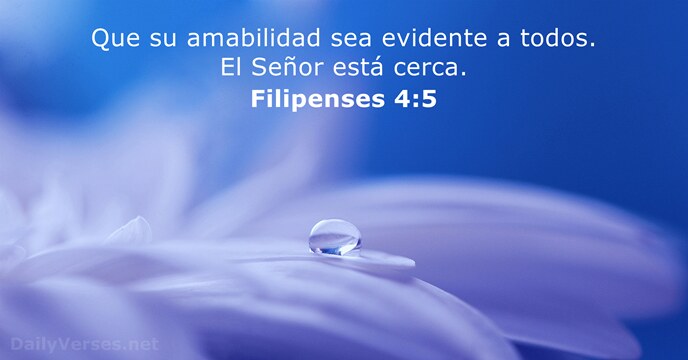 »
Que su amabilidad sea evidente a todos. El Señor está cerca.

Let your gentleness be evident to all. The Lord is near.

Por lo tanto, como escogidos de Dios, santos y amados, revístanse de afecto entrañable y de bondad, humildad, amabilidad y paciencia.

Therefore, as God's chosen people, holy and dearly loved, clothe yourselves with compassion, kindness, humility, gentleness and patience.

La respuesta amable calma el enojo, pero la agresiva echa leña al fuego.

A gentle answer turns away wrath, but a harsh word stirs up anger.

Compórtense sabiamente con los que no creen en Cristo, aprovechando al máximo cada momento oportuno. Que su conversación sea siempre amena y de buen gusto. Así sabrán cómo responder a cada uno.

Be wise in the way you act toward outsiders; make the most of every opportunity. Let your conversation be always full of grace, seasoned with salt, so that you may know how to answer everyone.

Panal de miel son las palabras amables: endulzan la vida y dan salud al cuerpo.

Gracious words are a honeycomb, sweet to the soul and healing to the bones.

En cambio, el fruto del Espíritu es amor, alegría, paz, paciencia, amabilidad, bondad, fidelidad, humildad y dominio propio. No hay ley que condene estas cosas.

But the fruit of the Spirit is love, joy, peace, forbearance, kindness, goodness, faithfulness, gentleness and self-control. Against such things there is no law.

No alimentes odios secretos contra tu hermano, sino reprende con franqueza a tu prójimo para que no sufras las consecuencias de su pecado. No seas vengativo con tu prójimo, ni le guardes rencor. Ama a tu prójimo como a ti mismo. Yo soy el S

eñor

.
Do not hate a fellow Israelite in your heart. Rebuke your neighbor frankly so you will not share in their guilt. Do not seek revenge or bear a grudge against anyone among your people, but love your neighbor as yourself. I am the L

ord

.

Por tanto, dejemos de juzgarnos unos a otros. Más bien, propónganse no poner tropiezos ni obstáculos al hermano.

Therefore let us stop passing judgment on one another. Instead, make up your mind not to put any stumbling block or obstacle in the way of a brother or sister.

Por lo tanto, siempre que tengamos la oportunidad, hagamos bien a todos, y en especial a los de la familia de la fe.

Therefore, as we have opportunity, let us do good to all people, especially to those who belong to the family of believers.

Sigan amándose unos a otros fraternalmente. No se olviden de practicar la hospitalidad, pues gracias a ella algunos, sin saberlo, hospedaron ángeles.

Keep on loving one another as brothers and sisters. Do not forget to show hospitality to strangers, for by so doing some people have shown hospitality to angels without knowing it.

Así dice el S

eñor

Todopoderoso: "Juzguen con verdadera justicia; muestren amor y compasión los unos por los otros. No opriman a las viudas ni a los huérfanos, ni a los extranjeros ni a los pobres. No maquinen el mal en su corazón los unos contra los otros".
This is what the L

ord

Almighty said: 'Administer true justice; show mercy and compassion to one another. Do not oppress the widow or the fatherless, the foreigner or the poor. Do not plot evil against each other.'

Ciertamente les aseguro que el que recibe al que yo envío me recibe a mí, y el que me recibe a mí recibe al que me envió.

Very truly I tell you, whoever accepts anyone I send accepts me; and whoever accepts me accepts the one who sent me.
Jesús dijo: «Dejen que los niños vengan a mí, y no se lo impidan, porque el reino de los cielos es de quienes son como ellos».
Plan de lectura de la Biblia
Registrar y configurar su plan de lectura de la Biblia que desea ver su progreso y el siguiente capítulo para leer aquí!