95 Versículos de la Biblia sobre Dios (2/4)
«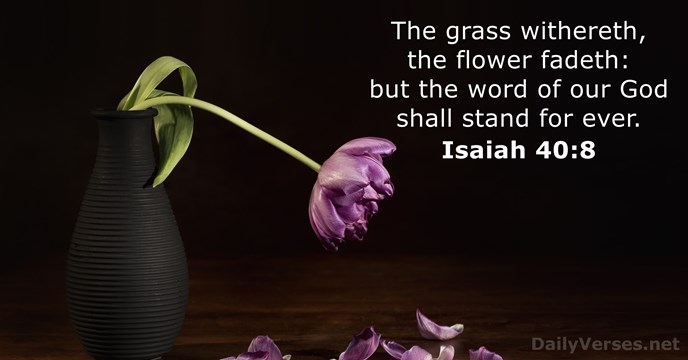 »
Sécase la hierba, marchítase la flor; mas la palabra del Dios nuestro permanece para siempre.

The grass withereth, the flower fadeth: but the word of our God shall stand for ever.

En Dios está mi salvación y mi gloria; En Dios está mi roca fuerte, y mi refugio.

In God is my salvation and my glory: the rock of my strength, and my refuge, is in God.

He aquí que yo soy Jehová, Dios de toda carne; ¿habrá algo que sea difícil para mí?

Behold, I am the L

ord

, the God of all flesh: is there any thing too hard for me?

Como tú no sabes cuál es el camino del viento, o cómo crecen los huesos en el vientre de la mujer encinta, así ignoras la obra de Dios, el cual hace todas las cosas.

As thou knowest not what is the way of the spirit, nor how the bones do grow in the womb of her that is with child: even so thou knowest not the works of God who maketh all.

Y amarás al Señor tu Dios con todo tu corazón, y con toda tu alma, y con toda tu mente y con todas tus fuerzas. Este es el principal mandamiento.

And thou shalt love the Lord thy God with all thy heart, and with all thy soul, and with all thy mind, and with all thy strength: this is the first commandment.

Porque todo lo que es nacido de Dios vence al mundo; y esta es la victoria que ha vencido al mundo, nuestra fe.

For whatsoever is born of God overcometh the world: and this is the victory that overcometh the world, even our faith.

Conoce, pues, que Jehová tu Dios es Dios, Dios fiel, que guarda el pacto y la misericordia a los que le aman y guardan sus mandamientos, hasta mil generaciones.

Know therefore that the L

ord

thy God, he is God, the faithful God, which keepeth covenant and mercy with them that love him and keep his commandments to a thousand generations.

Yo soy el Alfa y la Omega, principio y fin, dice el Señor, el que es y que era y que ha de venir, el Todopoderoso.

I am Alpha and Omega, the beginning and the ending, saith the Lord, which is, and which was, and which is to come, the Almighty.

En el principio era el Verbo, y el Verbo era con Dios, y el Verbo era Dios.

In the beginning was the Word, and the Word was with God, and the Word was God.

Jehová cumplirá su propósito en mí; Tu misericordia, oh Jehová, es para siempre; No desampares la obra de tus manos.

The L

ord

will perfect that which concerneth me: thy mercy, O L

ord

, endureth for ever: forsake not the works of thine own hands.

También esto salió de Jehová de los ejércitos, para hacer maravilloso el consejo y engrandecer la sabiduría.

This also cometh forth from the L

ord

of hosts, which is wonderful in counsel, and excellent in working.

¿Qué, pues, diremos a esto? Si Dios es por nosotros, ¿quién contra nosotros?

What shall we then say to these things? If God be for us, who can be against us?

Porque hay un solo Dios, y un solo mediador entre Dios y los hombres, Jesucristo hombre.

For there is one God, and one mediator between God and men, the man Christ Jesus.

Buscad a Jehová y su poder; Buscad siempre su rostro.

Seek the L

ord

, and his strength: seek his face evermore.

El que no ama, no ha conocido a Dios; porque Dios es amor.

He that loveth not knoweth not God; for God is love.

Una cosa he demandado a Jehová, ésta buscaré; Que esté yo en la casa de Jehová todos los días de mi vida, Para contemplar la hermosura de Jehová, y para inquirir en su templo.

One thing have I desired of the L

ord

, that will I seek after; that I may dwell in the house of the L

ord

all the days of my life, to behold the beauty of the L

ord

, and to enquire in his temple.

Y sabemos que a los que aman a Dios, todas las cosas les ayudan a bien, esto es, a los que conforme a su propósito son llamados.

And we know that all things work together for good to them that love God, to them who are the called according to his purpose.

Nuestro socorro está en el nombre de Jehová, Que hizo el cielo y la tierra.

Our help is in the name of the L

ord

, who made heaven and earth.

He aquí el ojo de Jehová sobre los que le temen, Sobre los que esperan en su misericordia.

Behold, the eye of the L

ord

is upon them that fear him, upon them that hope in his mercy.

En esto conocemos que permanecemos en él, y él en nosotros, en que nos ha dado de su Espíritu.

Hereby know we that we dwell in him, and he in us, because he hath given us of his Spirit.

Antes que naciesen los montes Y formases la tierra y el mundo, Desde el siglo y hasta el siglo, tú eres Dios.

Before the mountains were brought forth, or ever thou hadst formed the earth and the world, even from everlasting to everlasting, thou art God.

Y toda lengua confiese que Jesucristo es el Señor, para gloria de Dios Padre.

And that every tongue should confess that Jesus Christ is Lord, to the glory of God the Father.

Estad quietos, y conoced que yo soy Dios; Seré exaltado entre las naciones; enaltecido seré en la tierra.

Be still, and know that I am God: I will be exalted among the heathen, I will be exalted in the earth.

Vosotros pensasteis mal contra mí, mas Dios lo encaminó a bien, para hacer lo que vemos hoy, para mantener en vida a mucho pueblo.

But as for you, ye thought evil against me; but God meant it unto good, to bring to pass, as it is this day, to save much people alive.

Aprende pues, hoy, y reflexiona en tu corazón que Jehová es Dios arriba en el cielo y abajo en la tierra, y no hay otro.

Know therefore this day, and consider it in thine heart, that the L

ord

he is God in heaven above, and upon the earth beneath: there is none else.
Así que, según tengamos oportunidad, hagamos bien a todos, y mayormente a los de la familia de la fe.
Estas cosas os he hablado para que en mí tengáis paz. En el mundo tendréis aflicción; pero confiad, yo he vencido al mundo.
Así que, según tengamos oportunidad, hagamos bien a todos, y mayormente a los de la familia de la fe.
Plan de lectura de la Biblia
Registrar y configurar su plan de lectura de la Biblia que desea ver su progreso y el siguiente capítulo para leer aquí!