«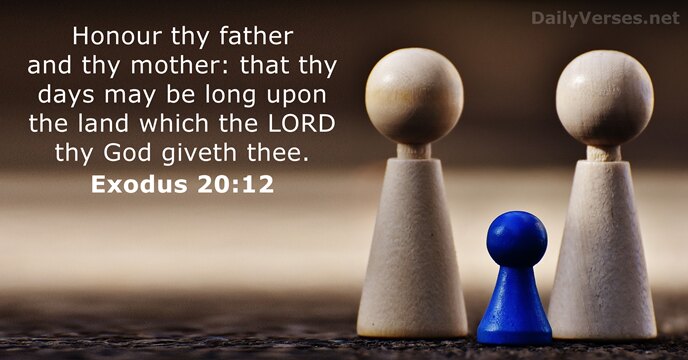 »
Remember the sabbath day, to keep it holy. Six days shalt thou labour, and do all thy work: But the seventh day is the sabbath of the L

ord

thy God: in it thou shalt not do any work, thou, nor thy son, nor thy daughter, thy manservant, nor thy maidservant, nor thy cattle, nor thy stranger that is within thy gates: For in six days the L

ord

made heaven and earth, the sea, and all that in them is, and rested the seventh day: wherefore the L

ord

blessed the sabbath day, and hallowed it.

Denk an den Sabbattag und überlass ihn Gott! Sechs Tage hast du, um all deine Arbeit zu tun, aber der siebte Tag ist Sabbat für Jahwe, deinen Gott. An diesem Tag sollst du nicht arbeiten, weder du noch dein Sohn oder deine Tochter, weder dein Sklave noch deine Sklavin, nicht einmal dein Vieh oder der Fremde, der in deinem Ort wohnt. Denn in sechs Tagen hat Jahwe den Himmel und die Erde gemacht, das Meer und alles, was dazugehört. Am siebten Tag aber ruhte er. Deshalb hat er den Sabbattag gesegnet und für sich bestimmt.

Honour thy father and thy mother: that thy days may be long upon the land which the L

ord

thy God giveth thee.

Ehre deinen Vater und deine Mutter! Dann wirst du lange in dem Land leben, das Jahwe, dein Gott, dir gibt.

Thou shalt not covet thy neighbour's house, thou shalt not covet thy neighbour's wife, nor his manservant, nor his maidservant, nor his ox, nor his ass, nor any thing that is thy neighbour's.

Begehre nichts, was zu deinem Mitmenschen gehört, weder seine Frau noch seinen Sklaven oder seine Sklavin, sein Rind oder seinen Esel oder sonst etwas, das ihm gehört!

Ye shall not make with me gods of silver, neither shall ye make unto you gods of gold.

Darum sollt ihr keine selbst gemachten Götter neben mich stellen, weder aus Silber noch aus Gold.
Great is the Lord, and greatly to be praised; and his greatness is unsearchable.
Personal Bible reading plan
Create an account to configure your Bible reading plan and you will see your progress and the next chapter to read here!
Read more...