«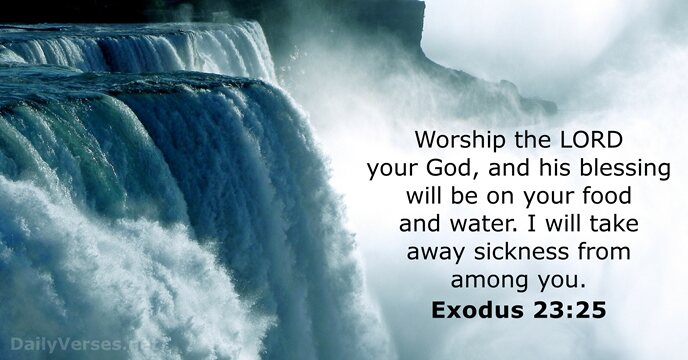 »
Worship the L

ord

your God, and his blessing will be on your food and water. I will take away sickness from among you.

Palvelkaa Herraa, Jumalaanne, niin hän siunaa teidän ruokanne ja juomanne. Minä, Herra, otan taudit pois teidän keskuudestanne.

The L

ord

will fight for you; you need only to be still.

Herra sotii teidän puolestanne, olkaa te hiljaa!

Honor your father and your mother, so that you may live long in the land the L

ord

your God is giving you.

Kunnioita isääsi ja äitiäsi, että saisit elää kauan siinä maassa, jonka Herra, sinun Jumalasi, sinulle antaa.

If you listen carefully to the L

ord

your God and do what is right in his eyes, if you pay attention to his commands and keep all his decrees, I will not bring on you any of the diseases I brought on the Egyptians, for I am the L

ord

, who heals you.

Herra sanoi: »Jos kuuntelet tarkasti, mitä minä puhun, ja teet sen, mikä on oikein minun silmissäni, jos muistat minun käskyni ja noudatat kaikkia minun lakejani, niin minä en pane sinun vaivaksesi mitään niistä sairauksista, joilla kuritin egyptiläisiä. Minä, Herra, olen sinun parantajasi.»

Remember the Sabbath day by keeping it holy. Six days you shall labor and do all your work, but the seventh day is a sabbath to the L

ord

your God. On it you shall not do any work, neither you, nor your son or daughter, nor your male or female servant, nor your animals, nor any foreigner residing in your towns. For in six days the L

ord

made the heavens and the earth, the sea, and all that is in them, but he rested on the seventh day. Therefore the L

ord

blessed the Sabbath day and made it holy.

Muista pyhittää lepopäivä. Kuutena päivänä tee työtä ja hoida kaikkia tehtäviäsi, mutta seitsemäs päivä on Herran, sinun Jumalasi, sapatti. Silloin et saa tehdä mitään työtä, et sinä eikä sinun poikasi eikä tyttäresi, orjasi eikä orjattaresi, ei juhtasi eikä yksikään muukalainen, joka asuu kaupungissasi. Sillä kuutena päivänä Herra teki taivaan ja maan ja meren ja kaiken, mitä niissä on, mutta seitsemännen päivän hän lepäsi. Sen vuoksi Herra siunasi lepopäivän ja pyhitti sen.

You shall not covet your neighbor's house. You shall not covet your neighbor's wife, or his male or female servant, his ox or donkey, or anything that belongs to your neighbor.

Älä tavoittele toisen taloa. Älä tavoittele hänen vaimoaan, älä orjaa tai orjatarta, älä hänen härkäänsä, älä hänen aasiaan äläkä mitään, mikä on hänen.

Moses was there with the L

ord

forty days and forty nights without eating bread or drinking water. And he wrote on the tablets the words of the covenant—the Ten Commandments.

Mooses viipyi vuorella Herran luona neljäkymmentä päivää ja neljäkymmentä yötä syömättä ja juomatta. Ja hän kirjoitti tauluihin liiton ehdot, nuo kymmenen käskyä.

Do not make any gods to be alongside me; do not make for yourselves gods of silver or gods of gold.

Älkää asettako mitään minun rinnalleni, älkää tehkö itsellenne jumalia hopeasta tai kullasta.

Now if you obey me fully and keep my covenant, then out of all nations you will be my treasured possession. Although the whole earth is mine.

Jos te nyt kuuntelette minua ja pidätte minun liittoni, niin te tulette olemaan kansojen joukossa minun oma kansani. Koko maailma on minun.

Do not take advantage of the widow or the fatherless. If you do and they cry out to me, I will certainly hear their cry. My anger will be aroused, and I will kill you with the sword; your wives will become widows and your children fatherless.

Älkää kohdelko huonosti leskiä älkääkä orpoja. Jos kohtelette heitä huonosti, minä kuulen heidän huutonsa, kun he huutavat minulta apua. Minun vihani syttyy, ja minä surmaan teidät sodalla, niin että teidän vaimoistanne tulee leskiä ja lapsistanne orpoja.
For the entire law is fulfilled in keeping this one command: "Love your neighbor as yourself."
Personal Bible reading plan
Create an account to configure your Bible reading plan and you will see your progress and the next chapter to read here!
Read more...