38 Bible Verses about Food
«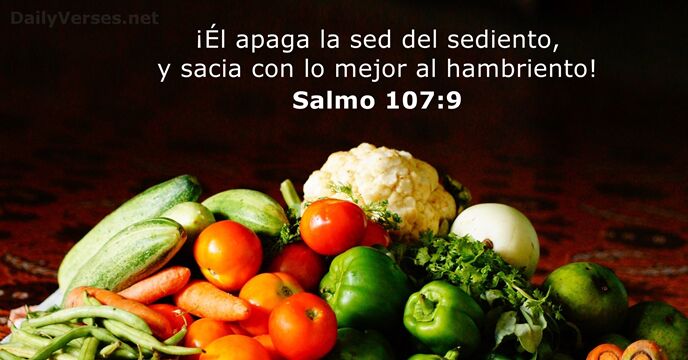 »
For he satisfies the longing soul, and the hungry soul he fills with good things.

¡Él apaga la sed del sediento, y sacia con lo mejor al hambriento!

Jesus said to them, "I am the bread of life; whoever comes to me shall not hunger, and whoever believes in me shall never thirst."

Yo soy el pan de vida —declaró Jesús—. El que a mí viene nunca pasará hambre, y el que en mí cree nunca más volverá a tener sed.

Let not the one who eats despise the one who abstains, and let not the one who abstains pass judgment on the one who eats, for God has welcomed him.

El que come de todo no debe menospreciar al que no come ciertas cosas, y el que no come de todo no debe condenar al que lo hace, pues Dios lo ha aceptado.

So, whether you eat or drink, or whatever you do, do all to the glory of God.

En conclusión, ya sea que coman o beban o hagan cualquier otra cosa, háganlo todo para la gloria de Dios.

Of all that are in the waters you may eat these: whatever has fins and scales you may eat. And whatever does not have fins and scales you shall not eat; it is unclean for you.

De todos los animales que viven en el agua podrás comer los que tienen aletas y escamas, pero no podrás comer los que no tienen aletas ni escamas, sino que los tendrás por animales impuros.

Whoever brings blessing will be enriched, and one who waters will himself be watered.

El que es generoso prospera; el que reanima será reanimado.

And God said, "Behold, I have given you every plant yielding seed that is on the face of all the earth, and every tree with seed in its fruit. You shall have them for food."

También les dijo: «Yo les doy de la tierra todas las plantas que producen semilla y todos los árboles que dan fruto con semilla; todo esto les servirá de alimento.»

But he answered, "It is written,'Man shall not live by bread alone, but by every word that comes from the mouth of God.'"

Jesús le respondió: —Escrito está: "No sólo de pan vive el hombre, sino de toda palabra que sale de la boca de Dios."

Every moving thing that lives shall be food for you. And as I gave you the green plants, I give you everything. But you shall not eat flesh with its life, that is, its blood.

Todo lo que se mueve y tiene vida, al igual que las verduras, les servirá de alimento. Yo les doy todo esto. Pero no deberán comer carne con su vida, es decir, con su sangre.

For we brought nothing into the world, and we cannot take anything out of the world. But if we have food and clothing, with these we will be content.

Porque nada trajimos a este mundo, y nada podemos llevarnos. Así que, si tenemos ropa y comida, contentémonos con eso.

And taking the five loaves and the two fish, he looked up to heaven and said a blessing over them. Then he broke the loaves and gave them to the disciples to set before the crowd. And they all ate and were satisfied. And what was left over was picked up, twelve baskets of broken pieces.

Entonces Jesús tomó los cinco panes y los dos pescados, y mirando al cielo, los bendijo. Luego los partió y se los dio a los discípulos para que se los repartieran a la gente. Todos comieron hasta quedar satisfechos, y de los pedazos que sobraron se recogieron doce canastas.

Therefore I tell you, do not be anxious about your life, what you will eat or what you will drink, nor about your body, what you will put on. Is not life more than food, and the body more than clothing?

Por eso les digo: No se preocupen por su vida, qué comerán o beberán; ni por su cuerpo, cómo se vestirán. ¿No tiene la vida más valor que la comida, y el cuerpo más que la ropa?

Behold, I stand at the door and knock. If anyone hears my voice and opens the door, I will come in to him and eat with him, and he with me.

Mira que estoy a la puerta y llamo. Si alguno oye mi voz y abre la puerta, entraré, y cenaré con él, y él conmigo.

Then he said to them, "Go your way. Eat the fat and drink sweet wine and send portions to anyone who has nothing ready, for this day is holy to our Lord. And do not be grieved, for the joy of the L

ord

is your strength."
Luego Nehemías añadió: «Ya pueden irse. Coman bien, tomen bebidas dulces y compartan su comida con quienes no tengan nada, porque este día ha sido consagrado a nuestro Señor. No estén tristes, pues el gozo del S

eñor

es nuestra fortaleza».

Therefore let no one pass judgment on you in questions of food and drink, or with regard to a festival or a new moon or a Sabbath. These are a shadow of the things to come, but the substance belongs to Christ.

Así que nadie los juzgue a ustedes por lo que comen o beben, o con respecto a días de fiesta religiosa, de luna nueva o de reposo. Todo esto es una sombra de las cosas que están por venir; la realidad se halla en Cristo.

Do not work for the food that perishes, but for the food that endures to eternal life, which the Son of Man will give to you. For on him God the Father has set his seal.

Trabajen, pero no por la comida que es perecedera, sino por la que permanece para vida eterna, la cual les dará el Hijo del hombre. Sobre éste ha puesto Dios el Padre su sello de aprobación.

Gracious words are like a honeycomb, sweetness to the soul and health to the body.

Panal de miel son las palabras amables: endulzan la vida y dan salud al cuerpo.

And day by day, attending the temple together and breaking bread in their homes, they received their food with glad and generous hearts, praising God and having favor with all the people. And the Lord added to their number day by day those who were being saved.

No dejaban de reunirse en el templo ni un solo día. De casa en casa partían el pan y compartían la comida con alegría y generosidad, alabando a Dios y disfrutando de la estimación general del pueblo. Y cada día el Señor añadía al grupo los que iban siendo salvos.

He who supplies seed to the sower and bread for food will supply and multiply your seed for sowing and increase the harvest of your righteousness.

El que le suple semilla al que siembra también le suplirá pan para que coma, aumentará los cultivos y hará que ustedes produzcan una abundante cosecha de justicia.

I ate no delicacies, no meat or wine entered my mouth, nor did I anoint myself at all, for the full three weeks.

En todo ese tiempo no comí nada especial, ni probé carne ni vino, ni usé ningún perfume.

Blessed are those who hunger and thirst for righteousness, for they shall be satisfied.

Dichosos los que tienen hambre y sed de justicia, porque serán saciados.

But seek first the kingdom of God and his righteousness, and all these things will be added to you.

Más bien, busquen primeramente el reino de Dios y su justicia, y todas estas cosas les serán añadidas.

Bring the full tithe into the storehouse, that there may be food in my house. And thereby put me to the test, says the L

ord

of hosts, if I will not open the windows of heaven for you and pour down for you a blessing until there is no more need.
Traigan íntegro el diezmo para los fondos del templo, y así habrá alimento en mi casa. Pruébenme en esto —dice el S

eñor

Todopoderoso—, y vean si no abro las compuertas del cielo y derramo sobre ustedes bendición hasta que sobreabunde.

Like newborn infants, long for the pure spiritual milk, that by it you may grow up into salvation.

Deseen con ansias la leche pura de la palabra, como niños recién nacidos. Así, por medio de ella, crecerán en su salvación.

And he humbled you and let you hunger and fed you with manna, which you did not know, nor did your fathers know, that he might make you know that man does not live by bread alone, but man lives by every word that comes from the mouth of the L

ord

.
Te humilló y te hizo pasar hambre, pero luego te alimentó con maná, comida que ni tú ni tus antepasados habían conocido, con lo que te enseñó que no solo de pan vive el hombre, sino de todo lo que sale de la boca del S

eñor

.
Since therefore Christ suffered in the flesh, arm yourselves with the same way of thinking, for whoever has suffered in the flesh has ceased from sin.
And let us consider how to stir up one another to love and good works, not neglecting to meet together, as is the habit of some, but encouraging one another, and all the more as you see the Day drawing near.
Read more
Since therefore Christ suffered in the flesh, arm yourselves with the same way of thinking, for whoever has suffered in the flesh has ceased from sin.
Personal Bible reading plan
Create an account to configure your Bible reading plan and you will see your progress and the next chapter to read here!
Read more...