<
Proverbes 14 - SG21 & NKJV
Lisez ce chapitre de la Bible en ligne,
cliquez ici
pour le lire.
Versets Biblique
«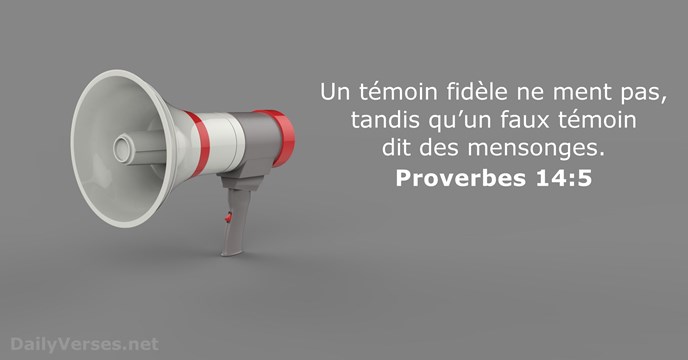 »
| | |
| --- | --- |
| Un témoin fidèle ne ment pas, tandis qu'un faux témoin dit des mensonges. | A faithful witness does not lie, But a false witness will utter lies. |
| La voie qui paraît droite à un homme peut finalement conduire à la mort. | There is a way that seems right to a man, But its end is the way of death. |
| Tout travail procure un profit, mais les paroles en l'air ne mènent qu'à la misère. | In all labor there is profit, But idle chatter leads only to poverty. |
| Celui qui est lent à la colère fait preuve d'une grande intelligence, tandis que celui qui s'énerve facilement proclame sa folie. | He who is slow to wrath has great understanding, But he who is impulsive exalts folly. |
| La justice fait la grandeur d'une nation, mais le péché est le déshonneur des peuples. | Righteousness exalts a nation, But sin is a reproach to any people. |
L'Eternel est une forteresse pour l'opprimé, une forteresse dans les moments de détresse.
Connectez-vous ou
inscrivez-vous
pour installer votre plan de lecture de la Bible. Ici, vous voyez vos progrès et le chapitre suivant à lire.