Bible Verses about Fruitfulness
«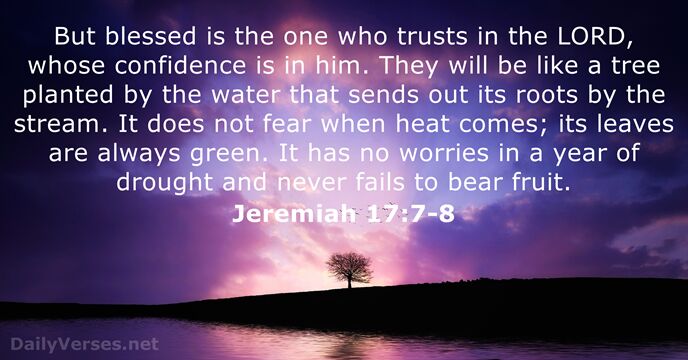 »
But blessed is the one who trusts in the L

ord

, whose confidence is in him. They will be like a tree planted by the water that sends out its roots by the stream. It does not fear when heat comes; its leaves are always green. It has no worries in a year of drought and never fails to bear fruit.

Siunattu on se mies, joka luottaa Herraan ja panee turvansa häneen! Hän on kuin puron partaalle istutettu puu, joka kurottaa juurensa veteen. Ei se pelkää helteen tuloa, sen lehvät pysyvät aina vihreinä. Vaikka tulee kuiva vuosi, ei sillä ole mitään hätää, silloinkin se kantaa hedelmää.

But the fruit of the Spirit is love, joy, peace, forbearance, kindness, goodness, faithfulness, gentleness and self-control. Against such things there is no law.

Hengen hedelmää taas ovat rakkaus, ilo, rauha, kärsivällisyys, ystävällisyys, hyvyys, uskollisuus, lempeys ja itsehillintä. Näitä vastaan ei ole laki.

You did not choose me, but I chose you and appointed you so that you might go and bear fruit—fruit that will last—and so that whatever you ask in my name the Father will give you.

Ette te valinneet minua, vaan minä valitsin teidät, ja minun tahtoni on, että te lähdette liikkeelle ja tuotatte hedelmää, sitä hedelmää joka pysyy. Kun niin teette, Isä antaa teille kaiken, mitä minun nimessäni häneltä pyydätte.

Produce fruit in keeping with repentance.

Tehkää hedelmää, jossa kääntymyksenne näkyy!

I am the vine; you are the branches. If you remain in me and I in you, you will bear much fruit; apart from me you can do nothing.

Minä olen viinipuu, te olette oksat. Se, joka pysyy minussa ja jossa minä pysyn, tuottaa paljon hedelmää. Ilman minua te ette saa aikaan mitään.

This is to my Father's glory, that you bear much fruit, showing yourselves to be my disciples.

Siinä minun Isäni kirkkaus tulee julki, että te tuotatte runsaasti hedelmää ja niin osoitatte olevanne opetuslapsiani.

Though the fig tree does not bud and there are no grapes on the vines, though the olive crop fails and the fields produce no food, though there are no sheep in the pen and no cattle in the stalls, yet I will rejoice in the L

ord

, I will be joyful in God my Savior.

Vielä ei viikunapuu ole kukassa, viiniköynnöksissä ei ole rypäleitä, vielä ei oliivipuu kanna hedelmää eikä pelloilla kypsy vilja, vielä ei aitauksessa ole lampaita eikä karjaa tarhassa. Mutta jo nyt minä riemuitsen Herrasta, iloitsen Jumalastani, joka pelastaa.

The tongue has the power of life and death, and those who love it will eat its fruit.

Kielen varassa on elämä ja kuolema – niin kuin kieltä vaalit, niin korjaat hedelmää.

Peacemakers who sow in peace reap a harvest of righteousness.

Vanhurskauden siemen kylvetään rauhan tekoina, ja se tuottaa hedelmän niille, jotka rauhaa rakentavat.

The seed falling among the thorns refers to someone who hears the word, but the worries of this life and the deceitfulness of wealth choke the word, making it unfruitful.

Kylvö ohdakkeisiin tarkoittaa ihmistä, joka kuulee sanan mutta jossa sana ei tuota satoa, koska tämän maailman huolet ja rikkauden viettelys tukahduttavat sen.

So is my word that goes out from my mouth: It will not return to me empty, but will accomplish what I desire and achieve the purpose for which I sent it.

Niin käy myös sanan, joka minun suustani lähtee: se ei tyhjänä palaa vaan täyttää tehtävän, jonka minä sille annan, ja saa menestymään kaiken, mitä varten sen lähetän.

No discipline seems pleasant at the time, but painful. Later on, however, it produces a harvest of righteousness and peace for those who have been trained by it.

Vaikka kuritus ei sitä vastaan otettaessa koskaan tunnu iloiselta vaan ikävältä asialta, se lopulta antaa näin valmennetuille hedelmänsä: rauhan ja vanhurskauden.

If you follow my decrees and are careful to obey my commands, I will send you rain in its season, and the ground will yield its crops and the trees their fruit.

Jos te elätte minun säädöksieni mukaan ja noudatatte minun käskyjäni, minä annan teille sateet ajallaan, ja maa tuottaa niin paljon satoa ja puut niin paljon hedelmää.

Have nothing to do with the fruitless deeds of darkness, but rather expose them. It is shameful even to mention what the disobedient do in secret.

Älkää osallistuko pimeyden töihin: ne eivät kanna hedelmää. Tuokaa ne päivänvaloon. Mitä sellaiset ihmiset salassa tekevät, on häpeällistä sanoakin.

God blessed them and said to them, "Be fruitful and increase in number; fill the earth and subdue it. Rule over the fish in the sea and the birds in the sky and over every living creature that moves on the ground."

Jumala siunasi heidät ja sanoi heille: »Olkaa hedelmälliset, lisääntykää ja täyttäkää maa ja ottakaa se valtaanne. Vallitkaa meren kaloja, taivaan lintuja ja kaikkea, mikä maan päällä elää ja liikkuu.»

Then God said, "I give you every seed-bearing plant on the face of the whole earth and every tree that has fruit with seed in it. They will be yours for food."

Jumala sanoi vielä: »Minä annan teille kaikki siementä tekevät kasvit, joita maan päällä on, ja kaikki puut, joissa on siementä kantavat hedelmät. Olkoot ne teidän ravintonanne.»

And by faith even Sarah, who was past childbearing age, was enabled to bear children because she considered him faithful who had made the promise.

Koska Abraham ja Saara uskoivat, he kykenivät saamaan jälkeläisen, vaikka Saara oli hedelmätön ja heidän aikansa jo oli ohi. Abraham piti lupauksen antajaa luotettavana.
I will exalt you, my God the King; I will praise your name for ever and ever.
Personal Bible reading plan
Create an account to configure your Bible reading plan and you will see your progress and the next chapter to read here!
Read more...