«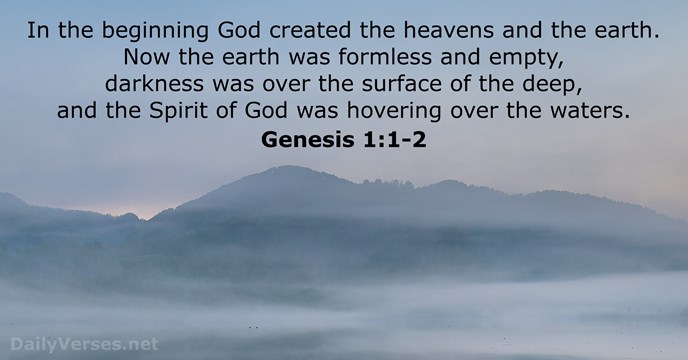 »
In the beginning God created the heavens and the earth. Now the earth was formless and empty, darkness was over the surface of the deep, and the Spirit of God was hovering over the waters.

Alussa Jumala loi taivaan ja maan. Maa oli autio ja tyhjä, pimeys peitti syvyydet, ja Jumalan henki liikkui vetten yllä.

Then God blessed the seventh day and made it holy, because on it he rested from all the work of creating that he had done.

Ja Jumala siunasi seitsemännen päivän ja pyhitti sen, koska hän sinä päivänä lepäsi kaikesta luomistyöstään.

The L

ord

God said, "It is not good for the man to be alone. I will make a helper suitable for him."

Herra Jumala sanoi: »Ei ole hyvä ihmisen olla yksinään. Minä teen hänelle kumppanin, joka sopii hänen avukseen.»

Then the L

ord

God made a woman from the rib he had taken out of the man, and he brought her to the man. The man said, "This is now bone of my bones and flesh of my flesh; she shall be called 'woman,' for she was taken out of man." That is why a man leaves his father and mother and is united to his wife, and they become one flesh.

Herra Jumala teki tästä kylkiluusta naisen ja toi hänet miehen luo. Ja mies sanoi: – Tämä se on! Tämä on luu minun luustani ja liha minun lihastani. Naiseksi häntä sanottakoon: miehestä hänet on otettu. Siksi mies jättää isänsä ja äitinsä ja liittyy vaimoonsa, niin että he tulevat yhdeksi lihaksi.

Then God said, "I give you every seed-bearing plant on the face of the whole earth and every tree that has fruit with seed in it. They will be yours for food."

Jumala sanoi vielä: »Minä annan teille kaikki siementä tekevät kasvit, joita maan päällä on, ja kaikki puut, joissa on siementä kantavat hedelmät. Olkoot ne teidän ravintonanne.»

So God created mankind in his own image, in the image of God he created them; male and female he created them.

Ja Jumala loi ihmisen kuvakseen, Jumalan kuvaksi hän hänet loi, mieheksi ja naiseksi hän loi heidät.

I have set my rainbow in the clouds, and it will be the sign of the covenant between me and the earth.

Minä asetan kaareni pilviin, ja se on oleva merkkinä minun ja maan välisestä liitosta.

Everything that lives and moves about will be food for you. Just as I gave you the green plants, I now give you everything. But you must not eat meat that has its lifeblood still in it.

Teidän ravintonanne olkoot kaikki olennot, jotka elävät ja liikkuvat. Ne kaikki minä annan nyt teille, niin kuin annoin teille vihreät kasvit. Mutta lihaa, jossa vielä on jäljellä sen elämänvoima, veri, te ette saa syödä.

Then God said, "Let us make mankind in our image, in our likeness, so that they may rule over the fish in the sea and the birds in the sky, over the livestock and all the wild animals, and over all the creatures that move along the ground."

Jumala sanoi: »Tehkäämme ihminen, tehkäämme hänet kuvaksemme, kaltaiseksemme, ja hallitkoon hän meren kaloja, taivaan lintuja, karjaeläimiä, maata ja kaikkia pikkueläimiä, joita maan päällä liikkuu.»

You intended to harm me, but God intended it for good to accomplish what is now being done, the saving of many lives.

Te kyllä tarkoititte minulle pahaa, mutta Jumala käänsi sen hyväksi. Hän antoi tämän kaiken tapahtua, jotta monet ihmiset saisivat jäädä henkiin.
I appeal to you, brothers and sisters, in the name of our Lord Jesus Christ, that all of you agree with one another in what you say and that there be no divisions among you, but that you be perfectly united in mind and thought.
Personal Bible reading plan
Create an account to configure your Bible reading plan and you will see your progress and the next chapter to read here!
Read more...