«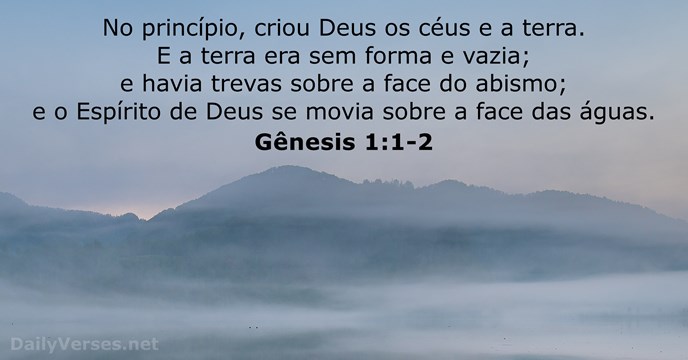 »
In the beginning God created the heavens and the earth. The earth was without form, and void; and darkness was on the face of the deep. And the Spirit of God was hovering over the face of the waters.
No princípio, criou Deus os céus e a terra. E a terra era sem forma e vazia; e havia trevas sobre a face do abismo; e o Espírito de Deus se movia sobre a face das águas.

Then God blessed the seventh day and sanctified it, because in it He rested from all His work which God had created and made.

E abençoou Deus o dia sétimo e o santificou; porque nele descansou de toda a sua obra, que Deus criara e fizera.

And the L

ord

God said, "It is not good that man should be alone; I will make him a helper comparable to him."
E disse o S

enhor

Deus: Não é bom que o homem esteja só; far-lhe-ei uma adjutora que esteja como diante dele.
So God created man in His own image; in the image of God He created him; male and female He created them.

E criou Deus o homem à sua imagem; à imagem de Deus o criou; macho e fêmea os criou.

I set My rainbow in the cloud, and it shall be for the sign of the covenant between Me and the earth.

O meu arco tenho posto na nuvem; este será por sinal do concerto entre mim e a terra.

Then the rib which the L

ord

God had taken from man He made into a woman, and He brought her to the man. And Adam said: "This is now bone of my bones And flesh of my flesh; She shall be called Woman, Because she was taken out of Man." Therefore a man shall leave his father and mother and be joined to his wife, and they shall become one flesh.
E da costela que o S

enhor

Deus tomou do homem formou uma mulher; e trouxe-a a Adão. E disse Adão: Esta é agora osso dos meus ossos e carne da minha carne; esta será chamada varoa, porquanto do varão foi tomada. Portanto, deixará o varão o seu pai e a sua mãe e apegar-se-á à sua mulher, e serão ambos uma carne.
And God said, "See, I have given you every herb that yields seed which is on the face of all the earth, and every tree whose fruit yields seed; to you it shall be for food."
E disse Deus: Eis que vos tenho dado toda erva que dá semente e que está sobre a face de toda a terra e toda árvore em que há fruto de árvore que dá semente; ser-vos-ão para mantimento.
Every moving thing that lives shall be food for you. I have given you all things, even as the green herbs. But you shall not eat flesh with its life, that is, its blood.

Tudo quanto se move, que é vivente, será para vosso mantimento; tudo vos tenho dado, como a erva verde. A carne, porém, com sua vida, isto é, com seu sangue, não comereis.

Then God said, "Let Us make man in Our image, according to Our likeness; let them have dominion over the fish of the sea, over the birds of the air, and over the cattle, over all the earth and over every creeping thing that creeps on the earth."

E disse Deus: Façamos o homem à nossa imagem, conforme a nossa semelhança; e domine sobre os peixes do mar, e sobre as aves dos céus, e sobre o gado, e sobre toda a terra, e sobre todo réptil que se move sobre a terra.

But as for you, you meant evil against me; but God meant it for good, in order to bring it about as it is this day, to save many people alive.
Vós bem intentastes mal contra mim, porém Deus o tornou em bem, para fazer como se vê neste dia, para conservar em vida a um povo grande.
"I am the Alpha and the Omega, the Beginning and the End," says the Lord, "who is and who was and who is to come, the Almighty."
Personal Bible reading plan
Create an account to configure your Bible reading plan and you will see your progress and the next chapter to read here!
Read more...