23 Bible Verses about Giving
«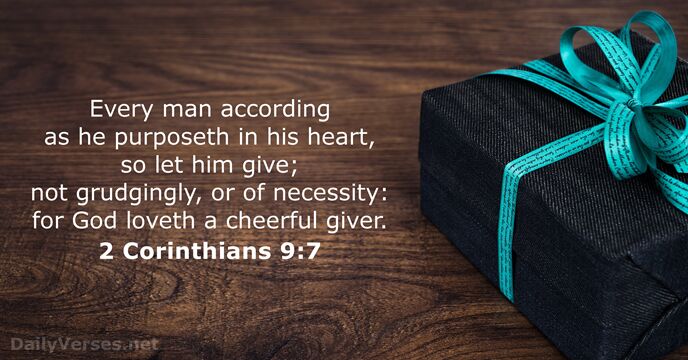 »
Every man according as he purposeth in his heart, so let him give; not grudgingly, or of necessity: for God loveth a cheerful giver.

Iedereen moet voor zichzelf besluiten hoeveel hij wil geven. Je moet van harte geven, en niet omdat het verplicht is. Want God houdt van mensen die met vreugde geven.

But who am I, and what is my people, that we should be able to offer so willingly after this sort? for all things come of thee, and of thine own have we given thee.

Mijn volk en ik hebben heel veel geschenken gegeven voor de tempel. Maar dat kon alleen door u! Alles wat wij voor uw tempel gegeven hebben, hebben we eerst van u gekregen.

A man's gift maketh room for him, and bringeth him before great men.

Mensen die geschenken uitdelen, krijgen daarmee aandacht van machtige mensen.

The liberal soul shall be made fat: and he that watereth shall be watered also himself.

Als je veel weggeeft, krijg je ook veel terug. Als je anderen te drinken geeft, zul je zelf geen dorst hebben.

For if there be first a willing mind, it is accepted according to that a man hath, and not according to that he hath not.

Als je het van harte geeft, dan is de Heer er blij mee. Maar je hoeft niet meer te geven dan je kunt missen.

Give, and it shall be given unto you; good measure, pressed down, and shaken together, and running over, shall men give into your bosom. For with the same measure that ye mete withal it shall be measured to you again.

Geef, en je zult krijgen, meer dan je vast kunt houden! Want zo veel als jij aan anderen geeft, zo veel geeft God aan jou.

Honour the L

ord

with thy substance, and with the firstfruits of all thine increase.

Je moet offers aan de Heer brengen, en hem het beste van je oogst geven.

Now he that ministereth seed to the sower both minister bread for your food, and multiply your seed sown, and increase the fruits of your righteousness.

Het is God die zorgt voor zaad om te zaaien en brood om te eten. Hij zal er ook voor zorgen dat jullie meer dan genoeg hebben. En dat jullie steeds meer goeddoen voor anderen.

And God is able to make all grace abound toward you; that ye, always having all sufficiency in all things, may abound to every good work.

God heeft de macht om jullie al het goede te schenken. Hij kan jullie alles geven wat je nodig hebt. Zelfs zo veel dat jullie altijd meer dan genoeg hebben, en veel overhouden om andere mensen te steunen.

Being enriched in every thing to all bountifulness, which causeth through us thanksgiving to God.

God heeft jullie op veel manieren rijk gemaakt. Nu moeten jullie ook klaarstaan om anderen te helpen. Dan zullen de christenen in Jeruzalem God danken voor de steun die ze via mij van jullie krijgen.

Withhold not good from them to whom it is due, when it is in the power of thine hand to do it.

Als je iemand ergens mee kunt helpen, doe dat dan ook. En geef hem waar hij recht op heeft.

Bring ye all the tithes into the storehouse, that there may be meat in mine house, and prove me now herewith, saith the L

ord

of hosts, if I will not open you the windows of heaven, and pour you out a blessing, that there shall not be room enough to receive it.

Jullie moeten het heel anders doen. Breng maar eens een tiende deel van jullie oogst naar de tempel, zodat de priesters weer te eten hebben. Dan zullen jullie zien dat ik jullie beloon! Dan zal ik weer water uit de hemel laten stromen. Ik zal jullie weer een grote oogst geven.

Therefore when thou doest thine alms, do not sound a trumpet before thee, as the hypocrites do in the synagogues and in the streets, that they may have glory of men. Verily I say unto you, They have their reward.

Als je arme mensen geld geeft, laat dat dan niet aan iedereen weten. Schijnheilige mensen doen dat wel. Zij vertellen aan iedereen in de synagoge en op straat hoe goed ze zijn. Want ze willen dat de mensen goede dingen over hen zeggen. Luister goed naar mijn woorden: Zij hebben hun beloning al gekregen.

Give to every man that asketh of thee; and of him that taketh away thy goods ask them not again.

Als iemand iets van je wil hebben, geef het hem dan. En als iemand iets van je pakt, vraag het dan niet terug.

Delight thyself also in the L

ord

: and he shall give thee the desires of thine heart.

Zoek je geluk bij de Heer, want hij zal je alles geven wat je vraagt.

He coveteth greedily all the day long: but the righteous giveth and spareth not.

Veel mensen willen steeds meer hebben, maar goede mensen geven alles weg.

Jesus said unto him, If thou wilt be perfect, go and sell that thou hast, and give to the poor, and thou shalt have treasure in heaven: and come and follow me.

Jezus zei tegen hem: 'Als je volmaakt wilt zijn, ga dan naar huis. Verkoop alles wat je hebt en geef het geld aan de armen. Dan zul je in de hemel een grote beloning krijgen. Als je alles weggegeven hebt, kom dan terug en ga met mij mee.'

And though I bestow all my goods to feed the poor, and though I give my body to be burned, and have not charity, it profiteth me nothing.

Als je geen liefde hebt voor anderen, dan is alles wat je doet, zinloos. Zelfs al verkoop je je bezit, en geef je het geld aan de armen. Zelfs al sterf je in het vuur, omdat je je leven geeft voor de goede zaak.

The wicked borroweth, and payeth not again: but the righteous sheweth mercy, and giveth.

Slechte mensen lenen dingen van anderen, maar ze geven nooit iets terug. Goede mensen geven graag dingen weg, zij weten wat liefde is.

Heal the sick, cleanse the lepers, raise the dead, cast out devils: freely ye have received, freely give.

Maak zieke mensen beter en maak dode mensen weer levend. Maak mensen met een huidziekte beter en jaag kwade geesten weg. Jullie krijgen die macht van God. Help daarmee andere mensen en vraag er niets voor terug.

Then he said unto them, Go your way, eat the fat, and drink the sweet, and send portions unto them for whom nothing is prepared: for this day is holy unto our L

ord

: neither be ye sorry; for the joy of the L

ord

is your strength.

'Ga thuis een feestelijke maaltijd klaarmaken met lekker eten en drinken. En deel je feestmaal met mensen die niets hebben. Want dit is een heilige dag, een dag ter ere van de Heer. Droog je tranen, en wees blij met wat de Heer voor jullie doet. Hij geeft jullie steeds nieuwe kracht!'

Open thy mouth, judge righteously, and plead the cause of the poor and needy.

Blijf niet zwijgen, geef een rechtvaardig oordeel, help arme mensen, help mensen die het moeilijk hebben.

But when thou doest alms, let not thy left hand know what thy right hand doeth: That thine alms may be in secret: and thy Father which seeth in secret himself shall reward thee openly.

Houd het geheim als je geld geeft aan arme mensen. Je linkerhand mag zelfs niet merken dat je rechterhand iets geeft. Je Vader ziet wat er in het geheim gebeurt. En hij zal je belonen.
He giveth power to the faint;
and to them that have no might he increaseth strength.
And I give unto them eternal life; and they shall never perish, neither shall any man pluck them out of my hand. My Father, which gave them me, is greater than all; and no man is able to pluck them out of my Father's hand. I and my Father are one.
Read more
He giveth power to the faint; and to them that have no might he increaseth strength.
Personal Bible reading plan
Create an account to configure your Bible reading plan and you will see your progress and the next chapter to read here!
Read more...