Bible Verses about Goodness
«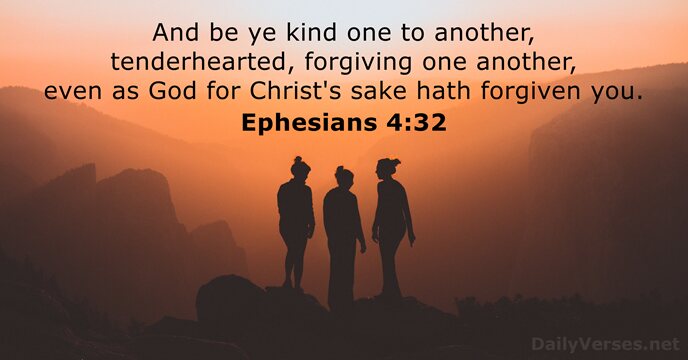 »
And be ye kind one to another, tenderhearted, forgiving one another, even as God for Christ's sake hath forgiven you.

Olkaa toisianne kohtaan ystävällisiä ja lempeitä ja antakaa toisillenne anteeksi, niin kuin Jumalakin on antanut teille anteeksi Kristuksen tähden.

As we have therefore opportunity, let us do good unto all men, especially unto them who are of the household of faith.

Kun meillä vielä on aikaa, meidän on siis tehtävä hyvää kaikille, mutta varsinkin niille, joita usko yhdistää meihin.

Be not overcome of evil, but overcome evil with good.

Älä anna pahan voittaa itseäsi, vaan voita sinä paha hyvällä.

The L

ord

is good, a strong hold in the day of trouble; and he knoweth them that trust in him.

Hyvä on Herra, turvapaikka hädän päivänä, hän tuntee ne, jotka luottavat häneen.

The L

ord

is righteous in all his ways, and holy in all his works.

Herra on kaikessa oikeamielinen, hän on uskollinen kaikissa teoissaan.

Let love be without dissimulation. Abhor that which is evil; cleave to that which is good.

Olkoon rakkautenne vilpitöntä. Vihatkaa pahaa, pysykää kiinni hyvässä.

But the fruit of the Spirit is love, joy, peace, longsuffering, gentleness, goodness, faith, Meekness, temperance: against such there is no law.

Hengen hedelmää taas ovat rakkaus, ilo, rauha, kärsivällisyys, ystävällisyys, hyvyys, uskollisuus, lempeys ja itsehillintä. Näitä vastaan ei ole laki.

All things are lawful for me, but all things are not expedient: all things are lawful for me, but all things edify not.

»Kaikki on luvallista» – mutta kaikki ei ole hyödyksi. »Kaikki on luvallista» – mutta kaikki ei ole rakentavaa.

Neither do men light a candle, and put it under a bushel, but on a candlestick; and it giveth light unto all that are in the house. Let your light so shine before men, that they may see your good works, and glorify your Father which is in heaven.

Eikä lamppua, kun se sytytetään, panna vakan alle, vaan lampunjalkaan. Siitä sen valo loistaa kaikille huoneessa oleville. Näin loistakoon teidänkin valonne ihmisille, jotta he näkisivät teidän hyvät tekonne ja ylistäisivät Isäänne, joka on taivaissa.

And beside this, giving all diligence, add to your faith virtue; and to virtue knowledge; And to knowledge temperance; and to temperance patience; and to patience godliness; And to godliness brotherly kindness; and to brotherly kindness charity.

Pyrkikää sen vuoksi osoittamaan uskossanne lujuutta, lujuudessa oikeaa tietoa, tiedossa itsehillintää, itsehillinnässä kestävyyttä, kestävyydessä jumalanpelkoa, jumalanpelossa keskinäistä kiintymystä, kiintymyksessä rakkautta.

Trust in the L

ord

, and do good; so shalt thou dwell in the land, and verily thou shalt be fed.

Luota Herraan ja tee hyvää, niin saat asua maassasi, turvallisilla laidunmailla.

And God is able to make all grace abound toward you; that ye, always having all sufficiency in all things, may abound to every good work.

Hänellä on teille annettavana runsaasti kaikkia lahjoja, niin että teillä on aina kaikki mitä tarvitsette ja voitte tehdä runsaasti kaikkea hyvää.

I had fainted, unless I had believed to see the goodness of the L

ord

in the land of the living.

Minä uskon, että saan yhä kokea Herran hyvyyttä elävien maassa.

The desire of a man is his kindness: and a poor man is better than a liar.

Uskollisuus on ihmisessä arvokkainta, parempi on köyhä kuin petollinen.

Depart from evil, and do good; seek peace, and pursue it.

Karta pahaa ja tee hyvää, pyri sopuun, rakenna rauhaa!

Let no corrupt communication proceed out of your mouth, but that which is good to the use of edifying, that it may minister grace unto the hearers.

Älkää päästäkö suustanne sopimatonta puhetta, vaan puhukaa sitä, mikä kulloinkin on hyvää ja hyödyllistä ja kuulijoille iloksi.

And who is he that will harm you, if ye be followers of that which is good?

Kuka voi tehdä teille pahaa, jos te kiihkeästi pyritte tekemään hyvää?

Thus saith the L

ord

, Stand ye in the ways, and see, and ask for the old paths, where is the good way, and walk therein, and ye shall find rest for your souls. But they said, We will not walk therein.

Näin sanoo Herra: – Pysähtykää ja katsokaa, minne olette menossa, ottakaa oppia menneistä ajoista! Valitkaa oikea tie ja kulkekaa sitä, niin löydätte rauhan. Näin sanoin, mutta te vastasitte: »Emme kulje!»

Be ye therefore merciful, as your Father also is merciful.

Olkaa valmiit armahtamaan, niin kuin teidän Isännekin armahtaa.

Remember, O L

ord

, thy tender mercies and thy lovingkindnesses; for they have been ever of old. Remember not the sins of my youth, nor my transgressions: according to thy mercy remember thou me for thy goodness' sake, O L

ord

.

Herra, sinä olet laupias, muista minua, osoita ikiaikaista hyvyyttäsi. Älä muista nuoruuteni syntejä, älä pahoja tekojani! Sinä, joka olet uskollinen ja hyvä, älä unohda minua!

Then shalt thou understand righteousness, and judgment, and equity; yea, every good path.

Silloin ymmärrät, mitä oikeus ja vanhurskaus on, pysyt alusta loppuun oikeamielisten tiellä.

Be not deceived: evil communications corrupt good manners.

Älkää eksykö! »Huono seura hyvät tavat turmelee.»

Who gave himself for us, that he might redeem us from all iniquity, and purify unto himself a peculiar people, zealous of good works.

Hän antoi itsensä alttiiksi meidän puolestamme lunastaakseen meidät vapaiksi kaikesta vääryydestä ja puhdistaakseen meidät omaksi kansakseen, joka kaikin voimin tekee hyvää.

In like manner also, that women adorn themselves in modest apparel, with shamefacedness and sobriety; not with broided hair, or gold, or pearls, or costly array; But (which becometh women professing godliness) with good works.

Samoin tahdon, että naisten kaunistuksena on hillitty esiintyminen, vaatimattomuus ja säädyllisyys – eivät tukkalaitteet, kultakorut, helmet tai kalliit vaatteet, vaan hyvät teot, niin kuin sopii naisille, jotka tunnustavat palvelevansa Jumalaa.
He that loveth not knoweth not God; for God is love.
Personal Bible reading plan
Create an account to configure your Bible reading plan and you will see your progress and the next chapter to read here!
Read more...