«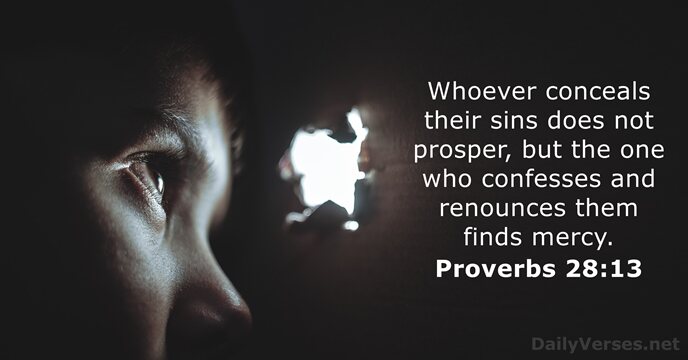 »
Whoever conceals their sins does not prosper, but the one who confesses and renounces them finds mercy.

Als je nooit je fouten toegeeft, zal het niet goed met je gaan. Maar als je ze hardop toegeeft en ze niet meer doet, zul je vergeving krijgen.

But grow in the grace and knowledge of our Lord and Savior Jesus Christ. To him be glory both now and forever! Amen.

Zorg ervoor dat jullie geestelijk groeien, en dat jullie onze Heer en Redder, Jezus Christus, steeds beter leren kennen. Dan kan de Heer altijd goed voor jullie zijn. Van Hem is alle macht en eer, nu en voor eeuwig.

You then, my son, be strong in the grace that is in Christ Jesus.

Timoteüs, mijn zoon, wees sterk door Jezus' liefde en kracht voor jou.

May the grace of the Lord Jesus Christ, and the love of God, and the fellowship of the Holy Spirit be with you all.

Ik bid dat de Heer Jezus Christus in alles goed voor jullie zal zijn. Ook dat jullie vol zullen zijn van de liefde van God en dat de Heilige Geest jullie in alles zal helpen.

The grace of the Lord Jesus Christ be with your spirit. Amen.

Ik bid dat de Heer Jezus Christus in alles goed voor jullie zal zijn.

What shall we say, then? Shall we go on sinning so that grace may increase? By no means! We are those who have died to sin; how can we live in it any longer?

Hoe zit het dan? Zullen we dan maar veel slechte dingen doen, zodat God ons veel kan vergeven? Nee, natuurlijk niet! Hoe zouden we op de oude manier verder kunnen leven? Ons oude, slechte 'ik' is toch dood?

For by the grace given me I say to every one of you: Do not think of yourself more highly than you ought, but rather think of yourself with sober judgment, in accordance with the faith God has distributed to each of you.

God heeft mij de taak gegeven om jullie geloof op te bouwen. Daarom zeg ik tegen jullie allemaal: vind jezelf niet belangrijker dan je bent. Wees bescheiden. Gedraag je op een manier die past bij de hoeveelheid geloof die God jou op dit moment heeft gegeven. Die hoeveelheid is bij iedereen verschillend.

But in your great mercy you did not put an end to them or abandon them, for you are a gracious and merciful God.

Maar omdat U van hen hield heeft U hen niet helemaal vernietigd. U heeft hen niet voorgoed verlaten. Want U bent een goede en liefdevolle God.

For it has been granted to you on behalf of Christ not only to believe in him, but also to suffer for him.

Want God is goed voor jullie geweest. Hij heeft jullie niet alleen de kracht gegeven om in Christus te kunnen geloven. Hij heeft jullie óók de kracht gegeven om voor Hem te kunnen lijden.

Let the wicked forsake their ways and the unrighteous their thoughts. Let them turn to the L

ord

, and he will have mercy on them, and to our God, for he will freely pardon.

Laten de mensen die zich niets van God aantrekken, een nieuw leven beginnen. En laten de slechte mensen van gedachten veranderen. Laten ze de Heer weer gaan dienen. Dan zal Hij goed voor hen zijn. Laten ze teruggaan naar onze God, want Hij vergeeft alles.

I do not set aside the grace of God, for if righteousness could be gained through the law, Christ died for nothing!

En ik zal niet doen alsof dat niet zo is. Want stel dat de mensen van hun schuld vrijgesproken hadden kunnen worden door zich aan de wet van Mozes te houden. Dan had Christus niet hoeven sterven! Dan zou Hij alles voor niets hebben gedaan.

What is mankind that you are mindful of them, human beings that you care for them?

Dan vraag ik mij af: "Hoe kan het dat U aan de mens denkt? Hoe kan het dat U Zich met hem bezighoudt?"

Then Peter came to Jesus and asked, "Lord, how many times shall I forgive my brother or sister who sins against me? Up to seven times?" Jesus answered, "I tell you, not seven times, but seventy-seven times."

Petrus kwam naar Jezus toe en vroeg: "Heer, hoe vaak moet ik iemand vergeven als hij iets verkeerds tegen mij doet? Zeven keer?" Jezus zei tegen hem: "Ik zeg je: niet zeven keer, maar 70 keer zeven keer."

Grace and peace to you from God our Father and from the Lord Jesus Christ.

Ik bid dat God de Vader in alles goed voor jullie zal zijn. En dat jullie vol zullen zijn van de vrede van God de Vader en van de Heer Jezus Christus.

Rend your heart and not your garments. Return to the L

ord

your God, for he is gracious and compassionate, slow to anger and abounding in love, and he relents from sending calamity.

Scheur maar niet je kleren als teken van verdriet. Scheur liever je hart! Kom terug bij jullie Heer God. Dan zal Hij medelijden met jullie hebben. Want Hij is geduldig, liefdevol en goed. Kom terug! Dan zal Hij zijn plannen misschien wel willen veranderen. Dan zal Hij jullie misschien niet straffen met de rampen waarover Hij heeft gesproken.

'Return, faithless Israel,' declares the L

ord

, 'I will frown on you no longer, for I am faithful,' declares the L

ord

, 'I will not be angry forever.'

Kom terug bij Mij, weggelopen Israël! De Heer zegt: Ik zal niet meer boos op je zijn. Ik houd van je. Ik zal niet voor altijd boos op je blijven.

Husbands, in the same way be considerate as you live with your wives, and treat them with respect as the weaker partner and as heirs with you of the gracious gift of life, so that nothing will hinder your prayers.

En mannen, daarom moeten jullie ook verstandig met je vrouw omgaan, zoals je voorzichtig bent met een breekbare kruik. Jullie moeten respect voor je vrouw hebben. Want ook de vrouwen zullen, samen met jullie, het eeuwige leven erven. Als jullie geen respect voor je vrouw hebben, zal God niet naar jullie gebeden luisteren.

The God of peace will soon crush Satan under your feet. The grace of our Lord Jesus be with you.

De God van vrede zal binnenkort de duivel onder jullie voeten vertrappen. Ik bid dat onze Heer Jezus in alles goed voor jullie zal zijn.

For I will forgive their wickedness and will remember their sins no more.

Ik zal al hun ongehoorzaamheid vergeven. Ik zal er zelfs niet meer aan denken.
Jesus looked at them and said, "With man this is impossible, but with God all things are possible."
Personal Bible reading plan
Create an account to configure your Bible reading plan and you will see your progress and the next chapter to read here!
Read more...