Bible Verses about Healing
«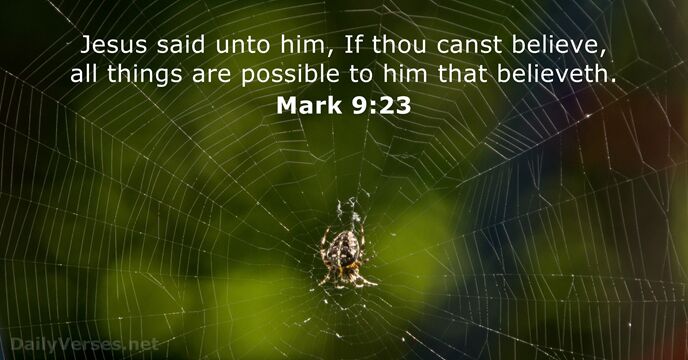 »
Jesus said unto him, If thou canst believe, all things are possible to him that believeth.

»Jos voit?» vastasi Jeesus. »Kaikki on mahdollista sille, joka uskoo.»

But when Jesus heard it, he answered him, saying, Fear not: believe only, and she shall be made whole.

Mutta kun Jeesus kuuli tämän, hän sanoi esimiehelle: »Älä pelkää. Usko, niin hän pelastuu.»

He healeth the broken in heart, and bindeth up their wounds.

Hän parantaa ne, joiden mieli on murtunut, hän sitoo heidän haavansa.

Is any sick among you? let him call for the elders of the church; and let them pray over him, anointing him with oil in the name of the Lord: And the prayer of faith shall save the sick, and the Lord shall raise him up; and if he have committed sins, they shall be forgiven him.

Jos joku teistä on sairaana, kutsukoon hän luokseen seurakunnan vanhimmat. Nämä voidelkoot hänet öljyllä Herran nimessä ja rukoilkoot hänen puolestaan, ja rukous, joka uskossa lausutaan, parantaa sairaan. Herra nostaa hänet jalkeille, ja jos hän on tehnyt syntiä, hän saa sen anteeksi.

And Jesus said unto him, Go thy way; thy faith hath made thee whole. And immediately he received his sight, and followed Jesus in the way.

Silloin Jeesus sanoi hänelle: »Mene, uskosi on parantanut sinut.» Samassa mies sai näkönsä takaisin, ja hän lähti kulkemaan Jeesuksen mukana.

Heal the sick, cleanse the lepers, raise the dead, cast out devils: freely ye have received, freely give.

Parantakaa sairaita, herättäkää kuolleita, puhdistakaa spitaalisia ja ajakaa pois pahoja henkiä. Lahjaksi olette saaneet, lahjaksi antakaa.

A merry heart doeth good like a medicine: but a broken spirit drieth the bones.

Iloinen sydän pitää ihmisen terveenä, synkkä mieli kuihduttaa ruumiin.

Confess your faults one to another, and pray one for another, that ye may be healed. The effectual fervent prayer of a righteous man availeth much.

Tunnustakaa siis syntinne toisillenne ja rukoilkaa toistenne puolesta, jotta parantuisitte. Vanhurskaan rukous on voimallinen ja saa paljon aikaan.

If my people, which are called by my name, shall humble themselves, and pray, and seek my face, and turn from their wicked ways; then will I hear from heaven, and will forgive their sin, and will heal their land.

Ja jos silloin kansani, jonka olen ottanut omakseni, nöyrtyy ja rukoilee, kääntyy minun puoleeni ja hylkää pahat tiensä, niin minä kuulen sitä taivaaseen, annan sen synnit anteeksi ja teen sen maan jälleen terveeksi.

But he was wounded for our transgressions, he was bruised for our iniquities: the chastisement of our peace was upon him; and with his stripes we are healed.

Vaikka meidän rikkomuksemme olivat hänet lävistäneet ja meidän pahat tekomme hänet ruhjoneet. Hän kärsi rangaistuksen, jotta meillä olisi rauha, hänen haavojensa hinnalla me olemme parantuneet.

But unto you that fear my name shall the Sun of righteousness arise with healing in his wings; and ye shall go forth, and grow up as calves of the stall.

Mutta teille, jotka pelkäätte minun nimeäni, on nouseva pelastuksen aurinko, ja te parannutte sen siipien alla. Te astutte ulos, hypitte riemusta kuin vasikat laitumella.

Who his own self bare our sins in his own body on the tree, that we, being dead to sins, should live unto righteousness: by whose stripes ye were healed.

Itse, omassa ruumiissaan, hän »kantoi meidän syntimme» ristinpuulle, jotta me kuolisimme pois synneistä ja eläisimme vanhurskaudelle. »Hänen haavansa ovat teidät parantaneet.»

Turn again, and tell Hezekiah the captain of my people, Thus saith the L

ord

, the God of David thy father, I have heard thy prayer, I have seen thy tears: behold, I will heal thee: on the third day thou shalt go up unto the house of the L

ord

.

Mene takaisin ja sano Hiskialle, kansani hallitsijalle: Näin sanoo Herra, isäsi Daavidin Jumala: 'Minä olen kuullut rukouksesi, olen nähnyt kyyneleesi. Minä parannan sinut. Kahden päivän päästä voit astua Herran temppeliin.'

And heal the sick that are therein, and say unto them, The kingdom of God is come nigh unto you.

Parantakaa kaupungin sairaat ja kertokaa kaikille: 'Jumalan valtakunta on tullut teitä lähelle.'

But when Jesus heard that, he said unto them, They that be whole need not a physician, but they that are sick.

Jeesus kuuli sen ja sanoi: »Eivät terveet tarvitse parantajaa, vaan sairaat.»

Heal me, O L

ord

, and I shall be healed; save me, and I shall be saved: for thou art my praise.

Paranna sinä minut, Herra, niin minä paranen. Auta minua, niin minä saan avun. Sinua yksin minä ylistän!

If thou wilt diligently hearken to the voice of the L

ord

thy God, and wilt do that which is right in his sight, and wilt give ear to his commandments, and keep all his statutes, I will put none of these diseases upon thee, which I have brought upon the Egyptians: for I am the L

ord

that healeth thee.

Herra sanoi: »Jos kuuntelet tarkasti, mitä minä puhun, ja teet sen, mikä on oikein minun silmissäni, jos muistat minun käskyni ja noudatat kaikkia minun lakejani, niin minä en pane sinun vaivaksesi mitään niistä sairauksista, joilla kuritin egyptiläisiä. Minä, Herra, olen sinun parantajasi.»

And he was teaching in one of the synagogues on the sabbath. And, behold, there was a woman which had a spirit of infirmity eighteen years, and was bowed together, and could in no wise lift up herself. And when Jesus saw her, he called her to him, and said unto her, Woman, thou art loosed from thine infirmity. And he laid his hands on her: and immediately she was made straight, and glorified God. And the ruler of the synagogue answered with indignation, because that Jesus had healed on the sabbath day, and said unto the people, There are six days in which men ought to work: in them therefore come and be healed, and not on the sabbath day. The Lord then answered him, and said, Thou hypocrite, doth not each one of you on the sabbath loose his ox or his ass from the stall, and lead him away to watering? And ought not this woman, being a daughter of Abraham, whom Satan hath bound, lo, these eighteen years, be loosed from this bond on the sabbath day? And when he had said these things, all his adversaries were ashamed: and all the people rejoiced for all the glorious things that were done by him.

Jeesus oli sapattina eräässä synagogassa opettamassa. Siellä oli nainen, jota kahdeksantoista vuotta oli vaivannut sairauden henki. Hänen selkänsä oli pahasti köyryssä, eikä hän kyennyt suoristamaan itseään. Nähdessään hänet Jeesus kutsui hänet luokseen ja sanoi: »Nainen, olet päässyt vaivastasi.» Hän pani kätensä naisen päälle, ja heti tämä oikaisi selkänsä ja ylisti Jumalaa. Kun synagogan esimies näki, että Jeesus paransi sairaan sapattina, hän suutuksissaan sanoi paikalla oleville: »Viikossa on kuusi päivää työtä varten, tulkaa silloin parannettaviksi älkääkä sapattina.» Herra vastasi: »Te tekopyhät! Jokainen teistä kyllä päästää sapattina härkänsä tai aasinsa kytkyestä ja vie sen juomaan. Tätä Abrahamin tytärtä on Saatana pitänyt siteissään jo kahdeksantoista vuotta. Eikö häntä olisi saanut päästää vapaaksi sapatinpäivänä?» Jeesuksen vastauksen kuullessaan kaikki hänen vastustajansa olivat häpeissään, mutta kansa iloitsi kaikista ihmeteltävistä teoista, joita hän teki.

The Spirit of the Lord is upon me, because he hath anointed me to preach the gospel to the poor; he hath sent me to heal the brokenhearted, to preach deliverance to the captives, and recovering of sight to the blind, to set at liberty them that are bruised.

Herran henki on minun ylläni, sillä hän on voidellut minut. Hän on lähettänyt minut ilmoittamaan köyhille hyvän sanoman, julistamaan vangituille vapautusta ja sokeille näkönsä saamista, päästämään sorretut vapauteen.

He sent his word, and healed them, and delivered them from their destructions.

Hän lähetti sanansa, ja se paransi heidät, haudan partaalta hän auttoi heidät turvaan.

The L

ord

openeth the eyes of the blind: the L

ord

raiseth them that are bowed down: the L

ord

loveth the righteous.

Hän antaa sokeille näön ja nostaa maahan painetut jaloilleen. Herra rakastaa oikeamielisiä.
Forbearing one another, and forgiving one another, if any man have a quarrel against any: even as Christ forgave you, so also do ye.
Personal Bible reading plan
Create an account to configure your Bible reading plan and you will see your progress and the next chapter to read here!
Read more...