Bible Verses about the Heart
«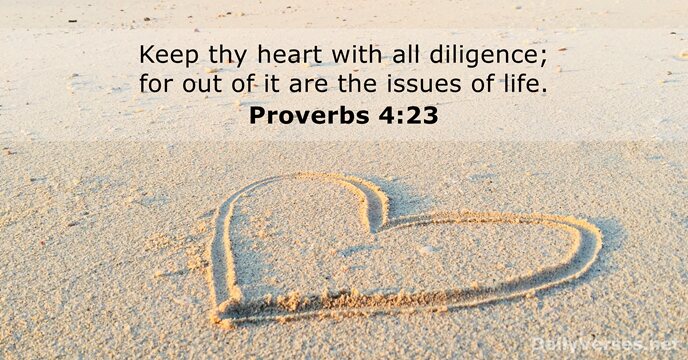 »
Keep thy heart with all diligence; for out of it are the issues of life.

Ennen muuta varjele sitä, mikä on sydämessäsi – siellä on koko elämäsi lähde.

As in water face answereth to face, so the heart of man to man.

Veden kalvossa näet kasvosi, lähimmäisessä näet sydämesi.

The heart is deceitful above all things, and desperately wicked: who can know it? I the L

ord

search the heart, I try the reins, even to give every man according to his ways, and according to the fruit of his doings.

Petollinen on ihmissydän, paha ja parantumaton vailla vertaa! Kuka sen tuntee? Minä, Herra, tutkin sydämet, tiedän salaisimmatkin ajatukset. Minä annan kullekin sen mukaan, miten hän elää ja millaisia ovat hänen tekojensa hedelmät.

Whose adorning let it not be that outward adorning of plaiting the hair, and of wearing of gold, or of putting on of apparel; But let it be the hidden man of the heart, in that which is not corruptible, even the ornament of a meek and quiet spirit, which is in the sight of God of great price.

Älkää pitäkö tärkeänä ulkonaista kaunistusta, älkää hiuslaitteita, kultakoruja tai hienoja vaatteita. Teidän kaunistuksenne olkoon katoamatonta: salassa oleva sydämen ihminen, lempeä ja sävyisä henki. Tämä on Jumalan silmissä kallisarvoista.

And ye shall seek me, and find me, when ye shall search for me with all your heart.

Te etsitte minua, ja te löydätte minut! Koko sydämestänne te minua etsitte, ja minä annan teidän löytää itseni.

Create in me a clean heart, O God; and renew a right spirit within me.

Jumala, luo minuun puhdas sydän ja uudista minut, anna vahva henki.

Grant thee according to thine own heart, and fulfil all thy counsel.

Täyttäköön hän hartaat toiveesi ja antakoon toimillesi menestyksen!

But the L

ord

said unto Samuel, Look not on his countenance, or on the height of his stature; because I have refused him: for the L

ord

seeth not as man seeth; for man looketh on the outward appearance, but the L

ord

looketh on the heart.

Mutta Herra sanoi Samuelille: »Älä katso hänen kokoaan ja komeuttaan, sillä minä en hänestä välitä. Herra ei katso kuten ihminen. Ihminen katsoo ulkokuorta, mutta Herra näkee sydämeen.»

Trust in the L

ord

with all thine heart; and lean not unto thine own understanding. In all thy ways acknowledge him, and he shall direct thy paths.

Älä jätä elämääsi oman ymmärryksesi varaan, vaan turvaa koko sydämestäsi Herraan. Missä kuljetkin, pidä hänet mielessäsi, hän viitoittaa sinulle oikean tien.

Let not mercy and truth forsake thee: bind them about thy neck; write them upon the table of thine heart: So shalt thou find favour and good understanding in the sight of God and man.

Älä unohda laupeutta, älä uskollisuutta – kiedo ne kaulaasi, kirjoita sydämesi tauluun, niin saat rakkautta ja kiitosta sekä Jumalalta että ihmisiltä.

Jesus said unto him, Thou shalt love the Lord thy God with all thy heart, and with all thy soul, and with all thy mind.

Jeesus vastasi: »Rakasta Herraa, Jumalaasi, koko sydämestäsi, koko sielustasi ja mielestäsi.»

For where your treasure is, there will your heart be also.

Missä on aarteesi, siellä on myös sydämesi.

Delight thyself also in the L

ord

: and he shall give thee the desires of thine heart.

Saat nauttia Herran hyvyyttä, hän antaa sinulle mitä sydämesi toivoo.

A merry heart doeth good like a medicine: but a broken spirit drieth the bones.

Iloinen sydän pitää ihmisen terveenä, synkkä mieli kuihduttaa ruumiin.

A new heart also will I give you, and a new spirit will I put within you: and I will take away the stony heart out of your flesh, and I will give you an heart of flesh.

Minä annan teille uuden sydämen ja teidän sisimpäänne uuden hengen. Minä otan teidän rinnastanne kivisydämen pois ja annan tilalle elävän sydämen.

My son, forget not my law; but let thine heart keep my commandments: For length of days, and long life, and peace, shall they add to thee.

Poikani, älä unohda sitä mitä opetan, pidä kaikki käskyni mielessäsi, sillä ne kartuttavat päiviesi määrää, antavat sinulle elinvuosia ja menestystä.

Every man according as he purposeth in his heart, so let him give; not grudgingly, or of necessity: for God loveth a cheerful giver.

Kukin antakoon sen mukaan kuin on mielessään päättänyt, ei vastahakoisesti eikä pakosta, sillä iloista antajaa Jumala rakastaa.

The wise in heart will receive commandments: but a prating fool shall fall.

Ymmärtäväinen ottaa ohjeet varteen, mutta mieletön etsii tuhoaan.

Be of good courage, and he shall strengthen your heart, all ye that hope in the L

ord

.

Rohkaiskaa mielenne, olkaa lujat, kaikki te, jotka panette toivonne Herraan!

With my whole heart have I sought thee: O let me not wander from thy commandments.

Koko sydämestäni minä kysyn sinun tahtoasi, älä anna minun eksyä käskyjesi tieltä.

He healeth the broken in heart, and bindeth up their wounds.

Hän parantaa ne, joiden mieli on murtunut, hän sitoo heidän haavansa.

So teach us to number our days, that we may apply our hearts unto wisdom.

Opeta meille, miten lyhyt on aikamme, että saisimme viisaan sydämen.

Let the words of my mouth, and the meditation of my heart, be acceptable in thy sight, O L

ord

, my strength, and my redeemer.

Ota sanani suopeasti vastaan, sanani ja sydämeni ajatukset, Herra, turvani ja lunastajani.

Blessed are they that keep his testimonies, and that seek him with the whole heart.

Onnellisia ne, jotka pitävät hänen liittonsa ja koko sydämestään kysyvät hänen tahtoaan.

For verily I say unto you, That whosoever shall say unto this mountain, Be thou removed, and be thou cast into the sea; and shall not doubt in his heart, but shall believe that those things which he saith shall come to pass; he shall have whatsoever he saith.

Totisesti: jos joku sanoo tälle vuorelle: 'Nouse paikaltasi ja paiskaudu mereen!', se myös tapahtuu, jos hän ei sydämessään epäile vaan uskoo, että niin käy kuin hän sanoo.
I will sing unto the Lord as long as I live: I will sing praise to my God while I have my being.
Personal Bible reading plan
Create an account to configure your Bible reading plan and you will see your progress and the next chapter to read here!
Read more...