Bible Verses about Heaven
«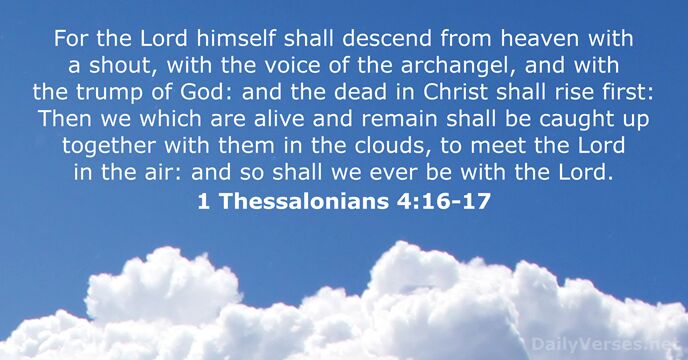 »
For the Lord himself shall descend from heaven with a shout, with the voice of the archangel, and with the trump of God: and the dead in Christ shall rise first: Then we which are alive and remain shall be caught up together with them in the clouds, to meet the Lord in the air: and so shall we ever be with the Lord.

Itse Herra laskeutuu taivaasta ylienkelin käskyhuudon kuuluessa ja Jumalan pasuunan kaikuessa, ja ensin nousevat ylös ne, jotka ovat kuolleet Kristukseen uskovina. Meidät, jotka olemme vielä elossa ja täällä jäljellä, temmataan sitten yhdessä heidän kanssaan pilvissä yläilmoihin Herraa vastaan. Näin saamme olla aina Herran kanssa.

Set your affection on things above, not on things on the earth.

Ajatelkaa sitä mikä on ylhäällä, älkää sitä mikä on maan päällä.

In my Father's house are many mansions: if it were not so, I would have told you. I go to prepare a place for you.

Minun Isäni kodissa on monta huonetta – enhän minä muuten sanoisi, että menen valmistamaan teille asuinsijan.

For our conversation is in heaven; from whence also we look for the Saviour, the Lord Jesus Christ.

Mutta me olemme taivaan kansalaisia, ja taivaasta me odotamme pelastajaksi Herraa Jeesusta Kristusta.

Whom have I in heaven but thee? and there is none upon earth that I desire beside thee.

Taivaassa minulla on sinut, sinä olet ainoa turvani maan päällä.

The heavens declare the glory of God; and the firmament sheweth his handywork. Day unto day uttereth speech, and night unto night sheweth knowledge.

Taivaat julistavat Jumalan kunniaa, taivaankansi kertoo hänen teoistaan. Päivä ilmoittaa ne päivälle, yö julistaa yölle.

To every thing there is a season, and a time to every purpose under the heaven.

Kaikella on määrähetkensä, aikansa joka asialla taivaan alla.

Lay not up for yourselves treasures upon earth, where moth and rust doth corrupt, and where thieves break through and steal: But lay up for yourselves treasures in heaven, where neither moth nor rust doth corrupt, and where thieves do not break through nor steal.

Älkää kootko itsellenne aarteita maan päälle. Täällä tekevät koi ja ruoste tuhojaan ja varkaat murtautuvat sisään ja varastavat. Kootkaa itsellenne aarteita taivaaseen. Siellä ei koi eikä ruoste tee tuhojaan eivätkä varkaat murtaudu sisään ja varasta.

Heaven and earth shall pass away, but my words shall not pass away.

Taivas ja maa katoavat, mutta minun sanani eivät katoa.

But Jesus said, Suffer little children, and forbid them not, to come unto me: for of such is the kingdom of heaven.

Mutta Jeesus sanoi: »Antakaa lasten olla, älkää estäkö heitä tulemasta minun luokseni. Heidän kaltaistensa on taivasten valtakunta.»

And the Lord shall deliver me from every evil work, and will preserve me unto his heavenly kingdom: to whom be glory for ever and ever. Amen.

Herra pelastaa vastedeskin minut kaikesta pahasta ja vie minut turvaan taivaalliseen valtakuntaansa. Hänen on kunnia aina ja ikuisesti. Aamen.

Ah Lord G

od

! behold, thou hast made the heaven and the earth by thy great power and stretched out arm, and there is nothing too hard for thee.

Oi Herra, Jumalani! Suurella voimallasi ja väkevällä kädelläsi sinä olet luonut taivaan ja maan. Mikään ei ole sinulle mahdotonta!

Beloved, now are we the sons of God, and it doth not yet appear what we shall be: but we know that, when he shall appear, we shall be like him; for we shall see him as he is. And every man that hath this hope in him purifieth himself, even as he is pure.

Rakkaat ystävät, jo nyt me olemme Jumalan lapsia, mutta vielä ei ole käynyt ilmi, mitä meistä tulee. Sen me tiedämme, että kun se käy ilmi, meistä tulee hänen kaltaisiaan, sillä me saamme nähdä hänet sellaisena kuin hän on. Jokainen, joka näin panee toivonsa häneen, pitää itsensä puhtaana, niin kuin hän on puhdas ja pyhä.

For we brought nothing into this world, and it is certain we can carry nothing out. And having food and raiment let us be therewith content.

Emme me ole tuoneet mitään mukanamme maailmaan emmekä voi viedä mitään täältä pois. Kun meillä on ruoka ja vaatteet, saamme olla tyytyväisiä.

Be thou exalted, O God, above the heavens: and thy glory above all the earth.

Jumala, kohotkoon kunniasi yli taivaitten, kirkkautesi yli kaiken maan!

Our help is in the name of the L

ord

, who made heaven and earth.

Meidän auttajamme on Herra, hän, joka on luonut taivaan ja maan.

It is he that buildeth his stories in the heaven, and hath founded his troop in the earth; he that calleth for the waters of the sea, and poureth them out upon the face of the earth: The L

ord

is his name.

Hän on rakentanut asumuksensa taivaisiin, perustanut holvisalinsa maan ylle. Hän kutsuu vedet merestä ja kostuttaa niillä maan. Hänen nimensä on Herra.

And when he had spoken these things, while they beheld, he was taken up; and a cloud received him out of their sight.

Kun hän oli sanonut tämän, he näkivät, kuinka hänet otettiin ylös, ja pilvi vei hänet heidän näkyvistään.

For we wrestle not against flesh and blood, but against principalities, against powers, against the rulers of the darkness of this world, against spiritual wickedness in high places.

Emmehän me taistele ihmisiä vastaan vaan henkivaltoja ja voimia vastaan, tämän pimeyden maailman hallitsijoita ja avaruuden pahoja henkiä vastaan.

And he led them out as far as to Bethany, and he lifted up his hands, and blessed them. And it came to pass, while he blessed them, he was parted from them, and carried up into heaven.

Jeesus vei opetuslapset ulos kaupungista, lähelle Betaniaa, ja siellä hän kohotti kätensä ja siunasi heidät. Siunatessaan hän erkani heistä, ja hänet otettiin ylös taivaaseen.

For as the heavens are higher than the earth, so are my ways higher than your ways, and my thoughts than your thoughts.

Sillä niin korkealla kuin taivas kaartuu maan yllä, niin korkealla ovat minun tieni teidän teittenne yläpuolella ja minun ajatukseni teidän ajatustenne yläpuolella.

Can any hide himself in secret places that I shall not see him? saith the L

ord

. Do not I fill heaven and earth? saith the L

ord

.

Voiko kukaan kätkeytyä sellaiseen piilopaikkaan, etten minä häntä näkisi? sanoo Herra. Enkö minä ole läsnä kaikkialla niin taivaassa kuin maassa? sanoo Herra.

Jesus said unto him, If thou wilt be perfect, go and sell that thou hast, and give to the poor, and thou shalt have treasure in heaven: and come and follow me.

Jeesus sanoi hänelle: »Jos tahdot olla täydellinen, niin mene ja myy kaikki, mitä sinulla on, ja anna rahat köyhille. Silloin sinulla on aarre taivaissa. Tule sitten ja seuraa minua.»

As he came forth of his mother's womb, naked shall he return to go as he came, and shall take nothing of his labour, which he may carry away in his hand.

Rikkaan oli täältä lähdettävä yhtä alastomana kuin hän oli äitinsä kohdusta tullut, eikä hän voinut viedä mukanaan mitään siitä, minkä oli vaivaa nähden koonnut.

In the beginning God created the heaven and the earth. And the earth was without form, and void; and darkness was upon the face of the deep. And the Spirit of God moved upon the face of the waters.

Alussa Jumala loi taivaan ja maan. Maa oli autio ja tyhjä, pimeys peitti syvyydet, ja Jumalan henki liikkui vetten yllä.
Neither is there salvation in any other: for there is none other name under heaven given among men, whereby we must be saved.
Personal Bible reading plan
Create an account to configure your Bible reading plan and you will see your progress and the next chapter to read here!
Read more...