Bible Verses about Holiness
«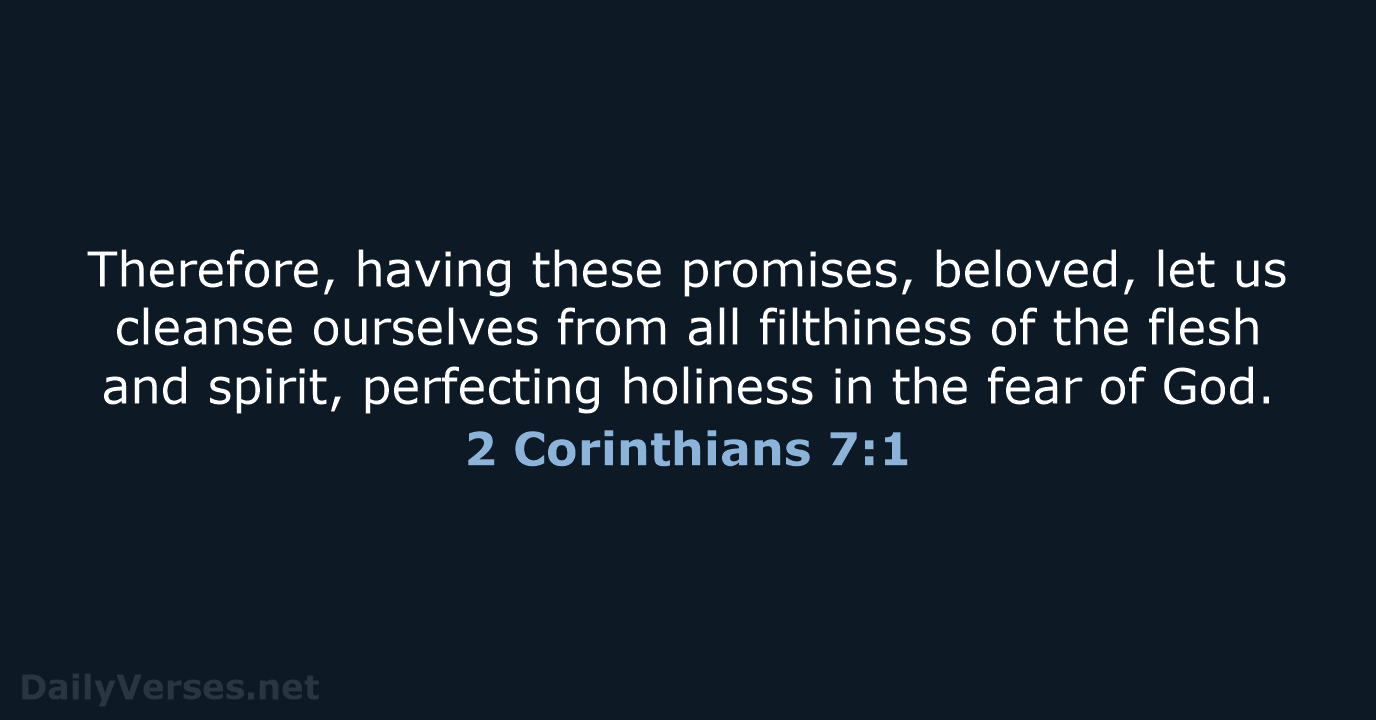 »
Therefore, having these promises, beloved, let us cleanse ourselves from all filthiness of the flesh and spirit, perfecting holiness in the fear of God.

Omdat God ons dit heeft beloofd, lieve broeders en zusters, moeten we niets doen wat slecht is voor ons lichaam of onze geest. Want dat past bij mensen die bij God horen en ontzag voor Hem hebben.

But as He who called you is holy, you also be holy in all your conduct, because it is written, "Be holy, for I am holy."
Hij heeft jullie geroepen om voor Hem te leven. God is heilig. Daarom moeten jullie ook heilig leven in alles wat jullie doen. Want er staat in de Boeken: "Leef heilig, want Ik ben heilig."
Pursue peace with all people, and holiness, without which no one will see the Lord.

Doe je best om met iedereen in vrede te leven en om een zuiver leven te leiden. Anders zul je nooit dicht bij de Heer kunnen zijn.

How can a young man cleanse his way? By taking heed according to Your word.

Hoe kan een jong mens zuiver leven? Door te leven volgens uw woord.

Who has saved us and called us with a holy calling, not according to our works, but according to His own purpose and grace which was given to us in Christ Jesus before time began.

Want Hij heeft ons gered en ons geroepen om voor Hem te leven. Maar Hij deed dat niet omdat we dat hebben verdiend met de dingen die we zelf hebben gedaan. God deed dat omdat Hij altijd al van plan is geweest om goed voor ons te zijn en ons Jezus Christus te geven. Al voordat de wereld bestond had Hij dat plan.

Search me, O God, and know my heart; Try me, and know my anxieties; And see if there is any wicked way in me, And lead me in the way everlasting.

God, ik wil dat U alles van me weet. Kijk in mijn hart, onderzoek mijn gedachten. Zeg het me als ik iets verkeerds doe, en help me om weer te leven zoals U het wil.

Let this mind be in you which was also in Christ Jesus.

Wees net zo bescheiden als Jezus Christus was.

Do all things without complaining and disputing, that you may become blameless and harmless, children of God without fault in the midst of a crooked and perverse generation, among whom you shine as lights in the world, holding fast the word of life.

Doe alles zonder mopperen of klagen. Zorg ervoor dat niemand iets slechts van jullie kan zeggen. Wees echte kinderen van God op wie niets valt aan te merken. Want dan zullen jullie als stralende sterren zijn, die opvallen tussen de slechte en ongehoorzame mensen van deze tijd. Blijf gehoorzaam aan het woord dat leven geeft.

And you shall be holy to Me, for I the L

ord

am holy, and have separated you from the peoples, that you should be Mine.

Leef heilig, want Ik ben heilig en heb jullie van tussen de andere volken uitgekozen om mijn eigen volk te zijn.

But fornication and all uncleanness or covetousness, let it not even be named among you, as is fitting for saints.

Maar jullie mogen absoluut niet met allerlei vrouwen of mannen naar bed gaan, of allerlei andere verkeerde dingen op het gebied van seks doen. Wees ook niet langer hebzuchtig.

I beseech you therefore, brethren, by the mercies of God, that you present your bodies a living sacrifice, holy, acceptable to God, which is your reasonable service.

God is liefdevol en goed. Daarom moedig ik jullie aan, broeders en zusters, om jezelf aan God te geven. Geef jezelf als een levend en heilig offer waar God blij mee is. Het is goed om God op die manier te dienen.

No one is holy like the L

ord

, For there is none besides You, Nor is there any rock like our God.

Niemand is zo heilig als de Heer. Geen enkele god is als U. U bent de rots op wie we altijd kunnen vertrouwen. Niemand is als U.

But now having been set free from sin, and having become slaves of God, you have your fruit to holiness, and the end, everlasting life.

Maar nu zijn jullie bevrijd uit de macht van het kwaad. Jullie zijn dienaren van God geworden. Daardoor zullen jullie leven zoals Hij het wil. En tenslotte zullen jullie het eeuwige leven hebben.

For thus says the High and Lofty One Who inhabits eternity, whose name is Holy: "I dwell in the high and holy place, With him who has a contrite and humble spirit, To revive the spirit of the humble, And to revive the heart of the contrite ones."

Dit zegt de Hoogverheven God, die voor eeuwig op de troon zit. Ik ben de Heilige God. Ik woon in de hoge, heilige hemel. Ik woon óók bij de mensen die nederig begrijpen dat ze Mij nodig hebben. Bij de mensen die bij Mij terugkomen en Mij voortaan van harte willen gehoorzamen. Hun zal Ik nieuw leven geven.

Now I urge you, brethren, note those who cause divisions and offenses, contrary to the doctrine which you learned, and avoid them.

Ik wil jullie waarschuwen, broeders en zusters, dat jullie goed moeten oppassen voor mensen die ruzie maken en verdeeldheid veroorzaken. Ze houden zich niet aan de dingen die ik jullie heb geleerd. Blijf bij hen uit de buurt.

Therefore you shall be perfect, just as your Father in heaven is perfect.

Wees volmaakt, want jullie hemelse Vader is óók volmaakt.

Do you not know that you are the temple of God and that the Spirit of God dwells in you?

Vergeet niet dat jullie de tempel van God zijn. In die tempel woont Gods Geest.

Thus I will magnify Myself and sanctify Myself, and I will be known in the eyes of many nations. Then they shall know that I am the L

ord

.

Ik zal laten zien hoe machtig Ik ben. Ik zal laten zien wie Ik ben. De volken zullen dat zien en ze zullen beseffen dat Ik de Heer ben.

Seek good and not evil, That you may live; So the L

ord

God of hosts will be with you, As you have spoken.

Jullie zéggen wel dat de Heer met jullie is. Maar dan moeten jullie het goede doen, en niet het kwade. Dan zullen jullie leven. Dan zal de Heer wérkelijk met jullie zijn, zoals jullie zeggen.

Bless the L

ord

, O my soul; And all that is within me, bless His holy name!

Ik zeg tegen mezelf: "Kom, prijs de Heer! Prijs de Heer met alles wat je hebt!"

It is a snare for a man to devote rashly something as holy, And afterward to reconsider his vows.

Het is dom om te haastig iets aan God te beloven en je daarna pas af te vragen of je je belofte wel kan houden.

"And I will sanctify My great name, which has been profaned among the nations, which you have profaned in their midst; and the nations shall know that I am the L

ord

," says the Lord G

od

, "when I am hallowed in you before their eyes."

Maar Ik zal laten zien wie Ik ben. Ik zal laten zien dat Ik de heilige God ben, Ík die door júllie voor schut gezet ben. Dan zullen de volken beseffen dat Ik de Heer ben.

The fear of the L

ord

is the beginning of wisdom, And the knowledge of the Holy One is understanding.

Als je wijs wil worden, begin dan met ontzag te hebben voor de Heer. Als je de heilige God kent, word je verstandig.

No one, when he has lit a lamp, covers it with a vessel or puts it under a bed, but sets it on a lampstand, that those who enter may see the light.
Jezus zei: "Als je een olielamp aansteekt, zet je hem daarna niet onder een emmer of onder je bed. Nee, je zet hem ergens hoog neer, zodat iedereen die binnenkomt het licht ziet."
Sing to God, sing praises to His name; Extol Him who rides on the clouds, By His name Yah, And rejoice before Him. A father of the fatherless, a defender of widows, Is God in His holy habitation.

Zing voor God, zing dankliederen voor Hem. Maak de weg vrij voor Hem die over de vlakten rijdt. Zijn naam is Heer. Juich blij voor Hem. Hij is een Vader voor de weeskinderen. Hij komt op voor de weduwen. Hij is God in zijn heilige huis.
He who does not love does not know God, for God is love.
Personal Bible reading plan
Create an account to configure your Bible reading plan and you will see your progress and the next chapter to read here!
Read more...