22 Bible Verses about Honesty
«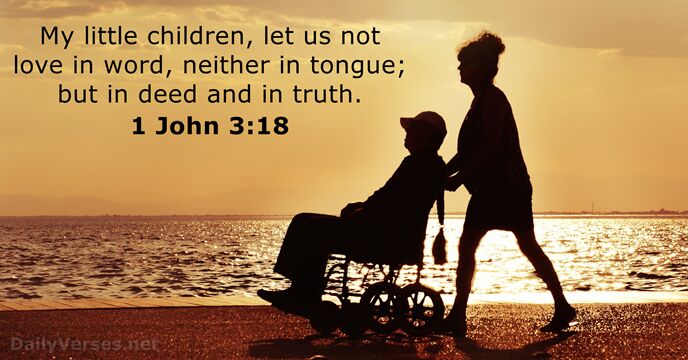 »
My little children, let us not love in word, neither in tongue; but in deed and in truth.

Vrienden, we moeten anderen laten merken dat we van hen houden. Niet door mooie woorden, maar door daden die Gods waarheid laten zien.

The integrity of the upright shall guide them: but the perverseness of transgressors shall destroy them.

Eerlijke mensen blijven leven door hun goedheid, maar onbetrouwbare mensen sterven door hun slechtheid.

To do justice and judgment is more acceptable to the L

ord

than sacrifice.

De Heer heeft liever dat je goed en eerlijk leeft, dan dat je offers aan hem brengt.

If we say that we have fellowship with him, and walk in darkness, we lie, and do not the truth.

Stel dat we zeggen dat we met God verbonden zijn, maar intussen blijven we leven in de duisternis. Dan liegen we, en leven we niet volgens Gods waarheid.

Render therefore to all their dues: tribute to whom tribute is due; custom to whom custom; fear to whom fear; honour to whom honour.

Geef dus altijd wat je moet geven. Betaal alle belasting die je moet betalen. Heb respect voor wie respect verdient. En geef eer aan wie eer verdient.

Blessed are the pure in heart: for they shall see God.

Het echte geluk is voor mensen die eerlijk zijn. Want zij zullen God zien.

A froward man soweth strife: and a whisperer separateth chief friends.

Mensen die roddelen, veroorzaken ruzie. Ze zorgen ervoor dat zelfs vrienden elkaar gaan haten.

Study to shew thyself approved unto God, a workman that needeth not to be ashamed, rightly dividing the word of truth.

Doe je best om een betrouwbare dienaar van God te zijn. Zorg dat je je niet hoeft te schamen voor je werk. Vertel altijd eerlijk over de waarheid.

Rest in the L

ord

, and wait patiently for him: fret not thyself because of him who prospereth in his way, because of the man who bringeth wicked devices to pass.

Wees geduldig en wacht, wacht af wat de Heer doet. Als het goed gaat met slechte mensen, word dan niet kwaad.

But the wisdom that is from above is first pure, then peaceable, gentle, and easy to be intreated, full of mercy and good fruits, without partiality, and without hypocrisy.

Want zulke wijsheid is alleen maar menselijke, aardse wijsheid. Het is wijsheid die komt van de kwade geesten. Wie jaloers is of zichzelf beter vindt dan anderen, leeft helemaal verkeerd, en zorgt overal voor onrust. Nee, echte wijsheid krijg je van onze God. Je laat zien dat je wijs bent als je leeft zoals God het wil. Wijze mensen leven namelijk in vrede met iedereen. Ze zijn geduldig en gehoorzaam. Ze zijn goed voor anderen. Ze behandelen alle mensen gelijk, en ze zijn altijd eerlijk. Ze doen alleen maar goede dingen.

Better is a little with righteousness than great revenues without right.

Je kunt beter arm zijn en eerlijk, dan rijk en oneerlijk.

Withhold not good from them to whom it is due, when it is in the power of thine hand to do it.

Als je iemand ergens mee kunt helpen, doe dat dan ook. En geef hem waar hij recht op heeft.

Treasures of wickedness profit nothing: but righteousness delivereth from death.

Niemand wordt gelukkig van gestolen geld, maar eerlijkheid redt mensen van de dood.

But above all things, my brethren, swear not, neither by heaven, neither by the earth, neither by any other oath: but let your yea be yea; and your nay, nay; lest ye fall into condemnation.

Vrienden, weten jullie wat het allerbelangrijkste is? Dat jullie nooit zeggen over iets: 'Dat is zo zeker als de Heer leeft!' En zeg ook nooit over iets: 'Dat is zo zeker als de hemel bestaat', of: 'Dat is zo zeker als de aarde bestaat'. Zeg ja als het ja is en zeg nee als het nee is. Anders zal God jullie straffen.

A good man sheweth favour, and lendeth: he will guide his affairs with discretion.

Het gaat goed met mensen die geld weggeven en daar niets voor terugvragen. Het gaat goed met mensen die eerlijk zakendoen.

No man, when he hath lighted a candle, covereth it with a vessel, or putteth it under a bed; but setteth it on a candlestick, that they which enter in may see the light.

Jezus zei tegen de mensen: 'Niemand zet een brandende lamp onder een emmer of onder een bed. Je zet een lamp juist hoog. Dan kan iedereen die binnenkomt, het licht goed zien.'

Then shalt thou understand righteousness, and judgment, and equity; yea, every good path.

Luister goed! Als je luistert naar mijn wijze lessen, leer je wat goed en eerlijk is. Dan zul je altijd doen wat goed is.

Let thine eyes look right on, and let thine eyelids look straight before thee.

Wees altijd eerlijk en betrouwbaar.

Lying lips are abomination to the L

ord

: but they that deal truly are his delight.

De Heer vindt het afschuwelijk als mensen liegen, maar hij houdt van eerlijke mensen.

For for this cause pay ye tribute also: for they are God's ministers, attending continually upon this very thing.

Daarom betaal je ook belasting. De mensen die belasting ophalen, staan in dienst van God.

But Peter said, Ananias, why hath Satan filled thine heart to lie to the Holy Ghost, and to keep back part of the price of the land? Whiles it remained, was it not thine own? and after it was sold, was it not in thine own power? why hast thou conceived this thing in thine heart? thou hast not lied unto men, but unto God.

Maar Petrus zei: 'Ananias, je hebt geluisterd naar Satan en je hebt de heilige Geest bedrogen. Want je deed alsof je de hele opbrengst gaf. Waarom heb je dat gedaan? Je had je land gewoon voor jezelf kunnen houden. Of je had het geld voor jezelf kunnen gebruiken. Maar nu ben je oneerlijk geweest, en niet tegen de mensen, maar tegen God!'

For there is nothing covered, that shall not be revealed; neither hid, that shall not be known.

Want alles wat verborgen is, zal zichtbaar worden. En alles wat geheim is, zal bekend worden.
Trust in the L

ord

, and do good;
so shalt thou dwell in the land, and verily thou shalt be fed.
Train up a child in the way he should go:
and when he is old, he will not depart from it.
Read more
Trust in the L

ord

, and do good; so shalt thou dwell in the land, and verily thou shalt be fed.
Personal Bible reading plan
Create an account to configure your Bible reading plan and you will see your progress and the next chapter to read here!
Read more...