Bible Verses about Honesty
«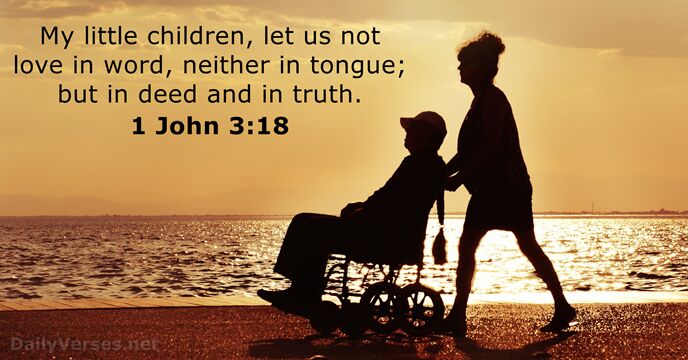 »
My little children, let us not love in word, neither in tongue; but in deed and in truth.

Meine Kinder, lasst uns nicht lieben mit Worten noch mit der Zunge, sondern mit der Tat und mit der Wahrheit.

The integrity of the upright shall guide them: but the perverseness of transgressors shall destroy them.

Ihre Unschuld wird die Aufrechten leiten; aber ihre Falschheit wird die Verächter verderben.

To do justice and judgment is more acceptable to the L

ord

than sacrifice.
Recht und Gerechtigkeit tun ist dem

HERRN

lieber als Opfer.

If we say that we have fellowship with him, and walk in darkness, we lie, and do not the truth.

Wenn wir sagen, dass wir Gemeinschaft mit ihm haben, und wandeln doch in der Finsternis, so lügen wir und tun nicht die Wahrheit.

Render therefore to all their dues: tribute to whom tribute is due; custom to whom custom; fear to whom fear; honour to whom honour.

So gebt nun jedem, was ihr schuldig seid: Steuer, dem die Steuer gebührt; Zoll, dem der Zoll gebührt; Furcht, dem die Furcht gebührt; Ehre, dem die Ehre gebührt.

Blessed are the pure in heart: for they shall see God.

Selig sind, die reinen Herzens sind; denn sie werden Gott schauen.

Study to shew thyself approved unto God, a workman that needeth not to be ashamed, rightly dividing the word of truth.

Bemühe dich darum, dich vor Gott zu erweisen als ein angesehener und untadeliger Arbeiter, der das Wort der Wahrheit recht vertritt.

A froward man soweth strife: and a whisperer separateth chief friends.

Ein falscher Mensch richtet Zank an, und ein Verleumder macht Freunde uneins.

Rest in the L

ord

, and wait patiently for him: fret not thyself because of him who prospereth in his way, because of the man who bringeth wicked devices to pass.
Sei stille dem

HERRN

und warte auf ihn. Entrüste dich nicht über den, dem es gut geht, der seinen Mutwillen treibt.

But the wisdom that is from above is first pure, then peaceable, gentle, and easy to be intreated, full of mercy and good fruits, without partiality, and without hypocrisy.

Die Weisheit aber von oben her ist zuerst lauter, dann friedfertig, gütig, lässt sich etwas sagen, ist reich an Barmherzigkeit und guten Früchten, unparteiisch, ohne Heuchelei.

Better is a little with righteousness than great revenues without right.

Besser wenig mit Gerechtigkeit als viel Einkommen mit Unrecht.

Withhold not good from them to whom it is due, when it is in the power of thine hand to do it.

Weigere dich nicht, dem Bedürftigen Gutes zu tun, wenn deine Hand es vermag.

Treasures of wickedness profit nothing: but righteousness delivereth from death.

Unrecht Gut hilft nicht; aber Gerechtigkeit errettet vom Tode.

But above all things, my brethren, swear not, neither by heaven, neither by the earth, neither by any other oath: but let your yea be yea; and your nay, nay; lest ye fall into condemnation.

Vor allen Dingen aber, Brüder und Schwestern, schwört nicht, weder bei dem Himmel noch bei der Erde noch mit einem andern Eid. Es sei aber euer Ja ein Ja und euer Nein ein Nein, damit ihr nicht dem Gericht verfallt.

A good man sheweth favour, and lendeth: he will guide his affairs with discretion.

Wohl dem, der barmherzig ist und gerne leiht und das Seine tut, wie es recht ist!

No man, when he hath lighted a candle, covereth it with a vessel, or putteth it under a bed; but setteth it on a candlestick, that they which enter in may see the light.

Niemand aber zündet ein Licht an und bedeckt es mit einem Gefäß oder setzt es unter eine Bank; sondern er setzt es auf einen Leuchter, auf dass, wer hineingeht, das Licht sehe.

Lying lips are abomination to the L

ord

: but they that deal truly are his delight.
Lügenmäuler sind dem

HERRN

ein Gräuel; die aber treulich handeln, gefallen ihm.

Let thine eyes look right on, and let thine eyelids look straight before thee.

Lass deine Augen stracks vor sich sehen und deinen Blick geradeaus gerichtet sein.

Then shalt thou understand righteousness, and judgment, and equity; yea, every good path.

Dann wirst du verstehen Gerechtigkeit und Recht und Frömmigkeit und jeden guten Weg.

For for this cause pay ye tribute also: for they are God's ministers, attending continually upon this very thing.

Deshalb zahlt ihr ja auch Steuer; denn sie sind Gottes Diener, auf diesen Dienst beständig bedacht.

For there is nothing covered, that shall not be revealed; neither hid, that shall not be known.

Es ist aber nichts verborgen, was nicht offenbar wird, und nichts geheim, was man nicht wissen wird.

But Peter said, Ananias, why hath Satan filled thine heart to lie to the Holy Ghost, and to keep back part of the price of the land? Whiles it remained, was it not thine own? and after it was sold, was it not in thine own power? why hast thou conceived this thing in thine heart? thou hast not lied unto men, but unto God.

Petrus aber sprach: Hananias, warum hat der Satan dein Herz erfüllt, dass du den Heiligen Geist belogen und etwas vom Geld für den Acker zurückbehalten hast? Hättest du den Acker nicht behalten können, als du ihn hattest? Und konntest du nicht auch, als er verkauft war, noch tun, was du wolltest? Warum hast du dir dies in deinem Herzen vorgenommen? Du hast nicht Menschen, sondern Gott belogen.
Be not deceived; God is not mocked: for whatsoever a man soweth, that shall he also reap.
Personal Bible reading plan
Create an account to configure your Bible reading plan and you will see your progress and the next chapter to read here!
Read more...