Bible Verses about Honesty
«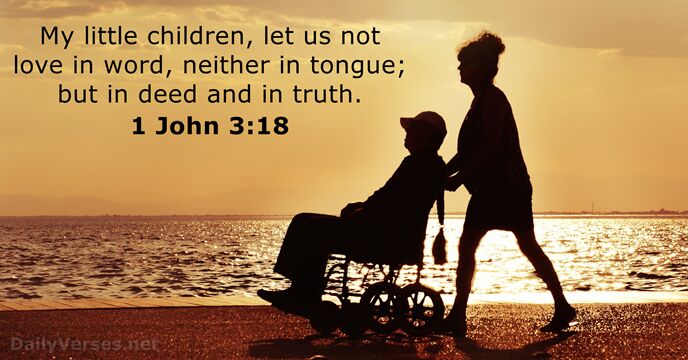 »
My little children, let us not love in word, neither in tongue; but in deed and in truth.

Queridos hijos, no amemos de palabra ni de labios para afuera, sino con hechos y de verdad.

The integrity of the upright shall guide them: but the perverseness of transgressors shall destroy them.

A los justos los guía su integridad; a los falsos los destruye su hipocresía.

To do justice and judgment is more acceptable to the L

ord

than sacrifice.
Practicar la justicia y el derecho lo prefiere el S

eñor

a los sacrificios.

If we say that we have fellowship with him, and walk in darkness, we lie, and do not the truth.

Si afirmamos que tenemos comunión con él, pero vivimos en la oscuridad, mentimos y no ponemos en práctica la verdad.

Render therefore to all their dues: tribute to whom tribute is due; custom to whom custom; fear to whom fear; honour to whom honour.

Paguen a cada uno lo que le corresponda: si deben impuestos, paguen los impuestos; si deben contribuciones, paguen las contribuciones; al que deban respeto, muéstrenle respeto; al que deban honor, ríndanle honor.

Blessed are the pure in heart: for they shall see God.

Dichosos los de corazón limpio, porque ellos verán a Dios.

Study to shew thyself approved unto God, a workman that needeth not to be ashamed, rightly dividing the word of truth.

Esfuérzate por presentarte a Dios aprobado, como obrero que no tiene de qué avergonzarse y que interpreta rectamente la palabra de verdad.

A froward man soweth strife: and a whisperer separateth chief friends.

El perverso provoca contiendas, y el chismoso divide a los buenos amigos.

Rest in the L

ord

, and wait patiently for him: fret not thyself because of him who prospereth in his way, because of the man who bringeth wicked devices to pass.
Guarda silencio ante el S

eñor

, y espera en él con paciencia; no te irrites ante el éxito de otros, de los que maquinan planes malvados.

Better is a little with righteousness than great revenues without right.

Más vale tener poco con justicia que ganar mucho con injusticia.

But the wisdom that is from above is first pure, then peaceable, gentle, and easy to be intreated, full of mercy and good fruits, without partiality, and without hypocrisy.

En cambio, la sabiduría que desciende del cielo es ante todo pura, y además pacífica, bondadosa, dócil, llena de compasión y de buenos frutos, imparcial y sincera.

Withhold not good from them to whom it is due, when it is in the power of thine hand to do it.

No niegues un favor a quien te lo pida si en tu mano está el otorgarlo.

Treasures of wickedness profit nothing: but righteousness delivereth from death.

Las riquezas mal habidas no sirven de nada, pero la justicia libra de la muerte.

But above all things, my brethren, swear not, neither by heaven, neither by the earth, neither by any other oath: but let your yea be yea; and your nay, nay; lest ye fall into condemnation.

Sobre todo, hermanos míos, no juren ni por el cielo ni por la tierra ni por ninguna otra cosa. Que su «sí» sea «sí», y su «no», «no», para que no sean condenados.

A good man sheweth favour, and lendeth: he will guide his affairs with discretion.

Bien le va al que presta con generosidad, y maneja sus negocios con justicia.

Lying lips are abomination to the L

ord

: but they that deal truly are his delight.
El S

eñor

aborrece a los de labios mentirosos, pero se complace en los que actúan con lealtad.

No man, when he hath lighted a candle, covereth it with a vessel, or putteth it under a bed; but setteth it on a candlestick, that they which enter in may see the light.

Nadie enciende una lámpara para después cubrirla con una vasija o ponerla debajo de la cama, sino para ponerla en una repisa, a fin de que los que entren tengan luz.

Let thine eyes look right on, and let thine eyelids look straight before thee.

Pon la mirada en lo que tienes delante; fija la vista en lo que está frente a ti.

Then shalt thou understand righteousness, and judgment, and equity; yea, every good path.

Entonces comprenderás la justicia y el derecho, la equidad y todo buen camino.

For for this cause pay ye tribute also: for they are God's ministers, attending continually upon this very thing.

Por eso mismo pagan ustedes impuestos, pues las autoridades están al servicio de Dios, dedicadas precisamente a gobernar.

For there is nothing covered, that shall not be revealed; neither hid, that shall not be known.

No hay nada encubierto que no llegue a revelarse, ni nada escondido que no llegue a conocerse.

But Peter said, Ananias, why hath Satan filled thine heart to lie to the Holy Ghost, and to keep back part of the price of the land? Whiles it remained, was it not thine own? and after it was sold, was it not in thine own power? why hast thou conceived this thing in thine heart? thou hast not lied unto men, but unto God.

Ananías —le reclamó Pedro—, ¿cómo es posible que Satanás haya llenado tu corazón para que le mintieras al Espíritu Santo y te quedaras con parte del dinero que recibiste por el terreno? ¿Acaso no era tuyo antes de venderlo? Y una vez vendido, ¿no estaba el dinero en tu poder? ¿Cómo se te ocurrió hacer esto? ¡No has mentido a los hombres, sino a Dios!
Charge them that are rich in this world, that they be not highminded, nor trust in uncertain riches, but in the living God, who giveth us richly all things to enjoy.
Personal Bible reading plan
Create an account to configure your Bible reading plan and you will see your progress and the next chapter to read here!
Read more...