Bible Verses about Honesty
«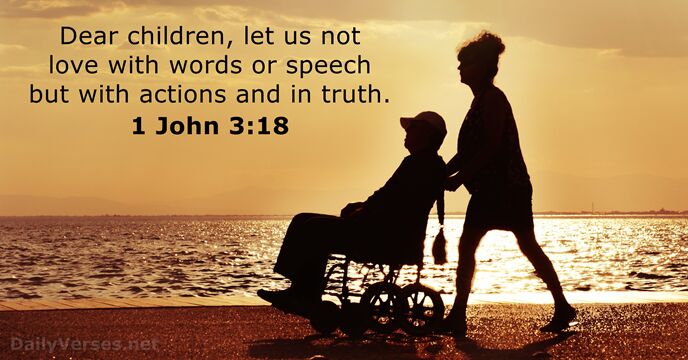 »
Dear children, let us not love with words or speech but with actions and in truth.

Meus filhinhos, não amemos de palavra, nem de língua, mas por obra e em verdade.

The integrity of the upright guides them, but the unfaithful are destroyed by their duplicity.

A sinceridade dos sinceros os encaminhará, mas a perversidade dos desleais os destruirá.

To do what is right and just is more acceptable to the L

ord

than sacrifice.
Fazer justiça e julgar com retidão é mais aceitável ao S

enhor

do que oferecer-lhe sacrifício.

If we claim to have fellowship with him and yet walk in the darkness, we lie and do not live out the truth.

Se dissermos que temos comunhão com ele e andarmos em trevas, mentimos e não praticamos a verdade.

Give to everyone what you owe them: If you owe taxes, pay taxes; if revenue, then revenue; if respect, then respect; if honor, then honor.

Portanto, dai a cada um o que deveis: a quem tributo, tributo; a quem imposto, imposto; a quem temor, temor; a quem honra, honra.

Blessed are the pure in heart, for they will see God.

Bem-aventurados os limpos de coração, porque eles verão a Deus.

Do your best to present yourself to God as one approved, a worker who does not need to be ashamed and who correctly handles the word of truth.

Procura apresentar-te a Deus aprovado, como obreiro que não tem de que se envergonhar, que maneja bem a palavra da verdade.

A perverse person stirs up conflict, and a gossip separates close friends.

O homem perverso levanta a contenda, e o difamador separa os maiores amigos.

Be still before the L

ord

and wait patiently for him; do not fret when people succeed in their ways, when they carry out their wicked schemes.
Descansa no S

enhor

e espera nele; não te indignes por causa daquele que prospera em seu caminho, por causa do homem que executa astutos intentos.

But the wisdom that comes from heaven is first of all pure; then peace-loving, considerate, submissive, full of mercy and good fruit, impartial and sincere.

Mas a sabedoria que vem do alto é, primeiramente, pura, depois, pacífica, moderada, tratável, cheia de misericórdia e de bons frutos, sem parcialidade e sem hipocrisia.

Better a little with righteousness than much gain with injustice.

Melhor é o pouco com justiça do que a abundância de colheita com injustiça.

Do not withhold good from those to whom it is due, when it is in your power to act.

Não detenhas dos seus donos o bem, estando na tua mão poder fazê-lo.

Ill-gotten treasures have no lasting value, but righteousness delivers from death.

Os tesouros da impiedade de nada aproveitam; mas a justiça livra da morte.

Above all, my brothers and sisters, do not swear—not by heaven or by earth or by anything else. All you need to say is a simple "Yes" or "No." Otherwise you will be condemned.

Mas, sobretudo, meus irmãos, não jureis nem pelo céu nem pela terra, nem façais qualquer outro juramento; mas que a vossa palavra seja sim, sim e não, não, para que não caiais em condenação.

Good will come to those who are generous and lend freely, who conduct their affairs with justice.

Bem irá ao homem que se compadece e empresta; disporá as suas coisas com juízo.

No one lights a lamp and hides it in a clay jar or puts it under a bed. Instead, they put it on a stand, so that those who come in can see the light.

E ninguém, acendendo uma candeia, a cobre com algum vaso ou a põe debaixo da cama; mas põe-na no velador, para que os que entram vejam a luz.
The L

ord

detests lying lips, but he delights in people who are trustworthy.
Os lábios mentirosos são abomináveis ao S

enhor

, mas os que agem fielmente são o seu deleite.

Let your eyes look straight ahead; fix your gaze directly before you.

Os teus olhos olhem direitos, e as tuas pálpebras olhem diretamente diante de ti.

Then you will understand what is right and just and fair—every good path.

Então, entenderás justiça, e juízo, e equidade, e todas as boas veredas.

This is also why you pay taxes, for the authorities are God's servants, who give their full time to governing.

Por esta razão também pagais tributos, porque são ministros de Deus, atendendo sempre a isto mesmo.

There is nothing concealed that will not be disclosed, or hidden that will not be made known.

Mas nada há encoberto que não haja de ser descoberto; nem oculto, que não haja de ser sabido.

Then Peter said, "Ananias, how is it that Satan has so filled your heart that you have lied to the Holy Spirit and have kept for yourself some of the money you received for the land? Didn't it belong to you before it was sold? And after it was sold, wasn't the money at your disposal? What made you think of doing such a thing? You have not lied just to human beings but to God."

Disse, então, Pedro: Ananias, por que encheu Satanás o teu coração, para que mentisses ao Espírito Santo e retivesses parte do preço da herdade? Guardando-a, não ficava para ti? E, vendida, não estava em teu poder? Por que formaste este desígnio em teu coração? Não mentiste aos homens, mas a Deus.
Whoever would foster love covers over an offense, but whoever repeats the matter separates close friends.
Personal Bible reading plan
Create an account to configure your Bible reading plan and you will see your progress and the next chapter to read here!
Read more...