Bible Verses about Honesty
«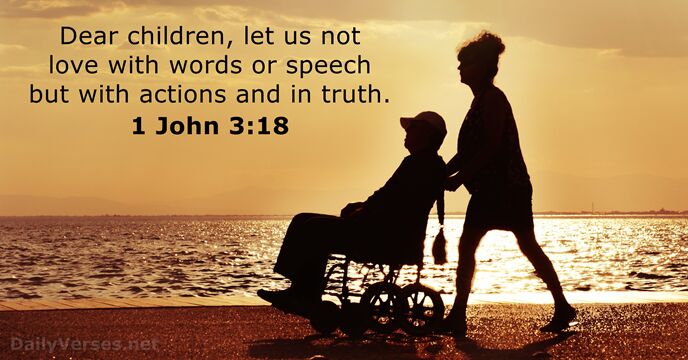 »
Dear children, let us not love with words or speech but with actions and in truth.

Hijitos míos, no amemos de palabra ni de lengua, sino de hecho y en verdad.

The integrity of the upright guides them, but the unfaithful are destroyed by their duplicity.

La integridad de los rectos los encaminará; Pero destruirá a los pecadores la perversidad de ellos.

To do what is right and just is more acceptable to the L

ord

than sacrifice.

Hacer justicia y juicio es a Jehová Más agradable que sacrificio.

If we claim to have fellowship with him and yet walk in the darkness, we lie and do not live out the truth.

Si decimos que tenemos comunión con él, y andamos en tinieblas, mentimos, y no practicamos la verdad.

Give to everyone what you owe them: If you owe taxes, pay taxes; if revenue, then revenue; if respect, then respect; if honor, then honor.

Pagad a todos lo que debéis: al que tributo, tributo; al que impuesto, impuesto; al que respeto, respeto; al que honra, honra.

Blessed are the pure in heart, for they will see God.

Bienaventurados los de limpio corazón, porque ellos verán a Dios.

Do your best to present yourself to God as one approved, a worker who does not need to be ashamed and who correctly handles the word of truth.

Procura con diligencia presentarte a Dios aprobado, como obrero que no tiene de qué avergonzarse, que usa bien la palabra de verdad.

A perverse person stirs up conflict, and a gossip separates close friends.

El hombre perverso levanta contienda, Y el chismoso aparta a los mejores amigos.

Be still before the L

ord

and wait patiently for him; do not fret when people succeed in their ways, when they carry out their wicked schemes.

Guarda silencio ante Jehová, y espera en él. No te alteres con motivo del que prospera en su camino, Por el hombre que hace maldades.

But the wisdom that comes from heaven is first of all pure; then peace-loving, considerate, submissive, full of mercy and good fruit, impartial and sincere.

Pero la sabiduría que es de lo alto es primeramente pura, después pacífica, amable, benigna, llena de misericordia y de buenos frutos, sin incertidumbre ni hipocresía.

Better a little with righteousness than much gain with injustice.

Mejor es lo poco con justicia Que la muchedumbre de frutos sin derecho.

Do not withhold good from those to whom it is due, when it is in your power to act.

No te niegues a hacer el bien a quien es debido, Cuando tuvieres poder para hacerlo.

Ill-gotten treasures have no lasting value, but righteousness delivers from death.

Los tesoros de maldad no serán de provecho; Mas la justicia libra de muerte.

Above all, my brothers and sisters, do not swear—not by heaven or by earth or by anything else. All you need to say is a simple "Yes" or "No." Otherwise you will be condemned.

Pero sobre todo, hermanos míos, no juréis, ni por el cielo, ni por la tierra, ni por ningún otro juramento; sino que vuestro sí sea sí, y vuestro no sea no, para que no caigáis en condenación.

Good will come to those who are generous and lend freely, who conduct their affairs with justice.

El hombre de bien tiene misericordia, y presta; Gobierna sus asuntos con juicio.

No one lights a lamp and hides it in a clay jar or puts it under a bed. Instead, they put it on a stand, so that those who come in can see the light.

Nadie que enciende una luz la cubre con una vasija, ni la pone debajo de la cama, sino que la pone en un candelero para que los que entran vean la luz.

The L

ord

detests lying lips, but he delights in people who are trustworthy.

Los labios mentirosos son abominación a Jehová; Pero los que hacen verdad son su contentamiento.

Let your eyes look straight ahead; fix your gaze directly before you.

Tus ojos miren lo recto, Y diríjanse tus párpados hacia lo que tienes delante.

Then you will understand what is right and just and fair—every good path.

Entonces entenderás justicia, juicio Y equidad, y todo buen camino.

This is also why you pay taxes, for the authorities are God's servants, who give their full time to governing.

Pues por esto pagáis también los tributos, porque son servidores de Dios que atienden continuamente a esto mismo.

There is nothing concealed that will not be disclosed, or hidden that will not be made known.

Porque nada hay encubierto, que no haya de descubrirse; ni oculto, que no haya de saberse.

Then Peter said, "Ananias, how is it that Satan has so filled your heart that you have lied to the Holy Spirit and have kept for yourself some of the money you received for the land? Didn't it belong to you before it was sold? And after it was sold, wasn't the money at your disposal? What made you think of doing such a thing? You have not lied just to human beings but to God."

Y dijo Pedro: Ananías, ¿por qué llenó Satanás tu corazón para que mintieses al Espíritu Santo, y sustrajeses del precio de la heredad? Reteniéndola, ¿no se te quedaba a ti? y vendida, ¿no estaba en tu poder? ¿Por qué pusiste esto en tu corazón? No has mentido a los hombres, sino a Dios.
Whoever would foster love covers over an offense, but whoever repeats the matter separates close friends.
Personal Bible reading plan
Create an account to configure your Bible reading plan and you will see your progress and the next chapter to read here!
Read more...