Bible Verses about Humility
«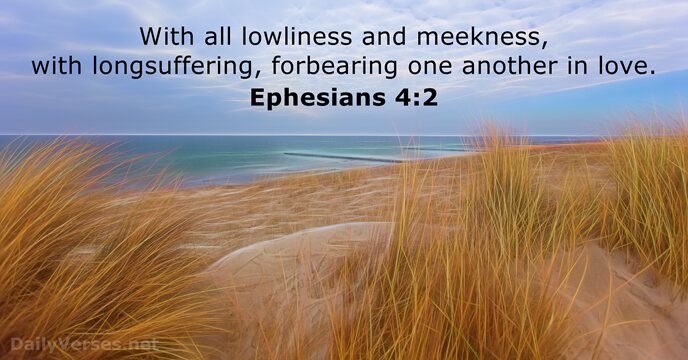 »
With all lowliness and meekness, with longsuffering, forbearing one another in love.

Aina nöyrinä, lempeinä ja kärsivällisinä. Auttakoon rakkaus teitä tulemaan toimeen keskenänne.

Let nothing be done through strife or vainglory; but in lowliness of mind let each esteem other better than themselves.

Älkää tehkö mitään itsekkyydestä tai turhamaisuudesta, vaan olkaa nöyriä ja pitäkää kukin toista parempana kuin itseänne.

When pride cometh, then cometh shame: but with the lowly is wisdom.

Missä on ylpeys, sinne tulee häpeä, nöyrien kumppani on viisaus.

Be of the same mind one toward another. Mind not high things, but condescend to men of low estate. Be not wise in your own conceits.

Olkaa keskenänne yksimielisiä. Älkää pitäkö itseänne muita parempina, vaan asettukaa vähäosaisten rinnalle. Älkää olko omasta mielestänne viisaita.

Humble yourselves in the sight of the Lord, and he shall lift you up.

Nöyrtykää Herran edessä, niin hän on teidät korottava.

Whose adorning let it not be that outward adorning of plaiting the hair, and of wearing of gold, or of putting on of apparel; But let it be the hidden man of the heart, in that which is not corruptible, even the ornament of a meek and quiet spirit, which is in the sight of God of great price.

Älkää pitäkö tärkeänä ulkonaista kaunistusta, älkää hiuslaitteita, kultakoruja tai hienoja vaatteita. Teidän kaunistuksenne olkoon katoamatonta: salassa oleva sydämen ihminen, lempeä ja sävyisä henki. Tämä on Jumalan silmissä kallisarvoista.

Put on therefore, as the elect of God, holy and beloved, bowels of mercies, kindness, humbleness of mind, meekness, longsuffering.

Te, jotka olette Jumalan valittuja, pyhiä ja hänelle rakkaita, pukeutukaa siis sydämelliseen armahtavaisuuteen, ystävällisyyteen, nöyryyteen, lempeyteen ja kärsivällisyyteen.

A man's pride shall bring him low: but honour shall uphold the humble in spirit.

Ylpeys vie nöyryytykseen, vaatimaton saa kunniaa.

By humility and the fear of the L

ord

are riches, and honour, and life.

Nöyryyden ja Herran pelon palkka on elämä, vauraus ja kunnia.

Humble yourselves therefore under the mighty hand of God, that he may exalt you in due time.

Nöyrtykää siis Jumalan väkevän käden alle, niin hän ajan tullen korottaa teidät.

If my people, which are called by my name, shall humble themselves, and pray, and seek my face, and turn from their wicked ways; then will I hear from heaven, and will forgive their sin, and will heal their land.

Ja jos silloin kansani, jonka olen ottanut omakseni, nöyrtyy ja rukoilee, kääntyy minun puoleeni ja hylkää pahat tiensä, niin minä kuulen sitä taivaaseen, annan sen synnit anteeksi ja teen sen maan jälleen terveeksi.

Take my yoke upon you, and learn of me; for I am meek and lowly in heart: and ye shall find rest unto your souls. For my yoke is easy, and my burden is light.

Ottakaa minun ikeeni harteillenne ja katsokaa minua: minä olen sydämeltäni lempeä ja nöyrä. Näin teidän sielunne löytää levon. Minun ikeeni on hyvä kantaa ja minun kuormani on kevyt.

Who is a wise man and endued with knowledge among you? let him shew out of a good conversation his works with meekness of wisdom.

Kuka teistä on viisas ja ymmärtäväinen? Esittäköön hän osoitukseksi hyvästä vaelluksesta tekonsa, sävyisästi, niin kuin viisas tekee.

Before destruction the heart of man is haughty, and before honour is humility.

Ylpeys vie ihmisen perikatoon, kunnian tie käy nöyryyden kautta.

Finally, be ye all of one mind, having compassion one of another, love as brethren, be pitiful, be courteous.

Ja lopuksi: olkaa kaikki yksimielisiä, jakakaa toistenne ilot ja surut, rakastakaa toisianne ja olkaa hyväsydämisiä ja nöyriä.

And he sat down, and called the twelve, and saith unto them, If any man desire to be first, the same shall be last of all, and servant of all.

Jeesus istuutui, kokosi kaksitoista opetuslastaan ympärilleen ja sanoi heille: »Jos joku tahtoo olla ensimmäinen, hänen on oltava viimeinen ja kaikkien palvelija.»

And base things of the world, and things which are despised, hath God chosen, yea, and things which are not, to bring to nought things that are: That no flesh should glory in his presence.

Mikä maailmassa on vähäpätöistä ja halveksittua, mikä ei ole yhtään mitään, sen Jumala valitsi tehdäkseen tyhjäksi sen, mikä on jotakin. Näin ei yksikään ihminen voi ylpeillä Jumalan edessä.

He hath shewed thee, O man, what is good; and what doth the L

ord

require of thee, but to do justly, and to love mercy, and to walk humbly with thy God?

Sinulle, ihminen, on ilmoitettu, mikä on hyvää. Vain tätä Herra sinulta odottaa: tee sitä mikä on oikein, osoita rakkautta ja hyvyyttä ja vaella valvoen, Jumalaasi kuunnellen.

Therefore when thou doest thine alms, do not sound a trumpet before thee, as the hypocrites do in the synagogues and in the streets, that they may have glory of men. Verily I say unto you, They have their reward.

Kun siis autat köyhiä, älä toitota siitä niin kuin tekopyhät tekevät synagogissa ja kujilla, jotta ihmiset kiittelisivät heitä. Totisesti: he ovat jo palkkansa saaneet.

The fear of the L

ord

is the instruction of wisdom; and before honour is humility.

Herran pelko on viisauden koulu, kunnian tie käy nöyryyden kautta.

Good and upright is the L

ord

: therefore will he teach sinners in the way. The meek will he guide in judgment: and the meek will he teach his way.

Hyvä ja oikeamielinen on Herra, hän neuvoo syntisille tien. Hän hankkii sorretuille oikeuden, hän opettaa köyhille tiensä.

Wives, submit yourselves unto your own husbands, as it is fit in the Lord. Husbands, love your wives, and be not bitter against them.

Vaimot, suostukaa miehenne tahtoon, niin kuin Herraan uskoville sopii. Miehet, rakastakaa vaimoanne, älkää kohdelko häntä tylysti.

And said unto them, Whosoever shall receive this child in my name receiveth me: and whosoever shall receive me receiveth him that sent me: for he that is least among you all, the same shall be great.

Ja sanoi heille: »Joka minun nimessäni ottaa luokseen tämän lapsen, se ottaa luokseen minut. Ja joka ottaa minut luokseen, ottaa sen, joka on minut lähettänyt. Se teistä, joka on kaikkein pienin, on todella suuri.»

For, brethren, ye have been called unto liberty; only use not liberty for an occasion to the flesh, but by love serve one another.

Teidät on kutsuttu vapauteen, veljet. Mutta älkää tämän vapauden varjolla päästäkö itsekästä luontoanne valloilleen, vaan rakastakaa ja palvelkaa toisianne.

Now unto God and our Father be glory for ever and ever. Amen.

Jumalan, meidän Isämme, on kunnia aina ja ikuisesti. Aamen.
For with the heart man believeth unto righteousness; and with the mouth confession is made unto salvation.
Personal Bible reading plan
Create an account to configure your Bible reading plan and you will see your progress and the next chapter to read here!
Read more...