Bible Verses about Idols
«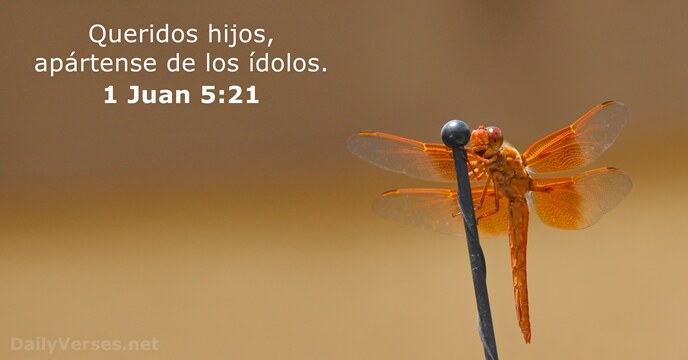 »
Little children, keep yourselves from idols.

Queridos hijos, apártense de los ídolos.

Or do you not know that the unrighteous will not inherit the kingdom of God? Do not be deceived: neither the sexually immoral, nor idolaters, nor adulterers, nor men who practice homosexuality, nor thieves, nor the greedy, nor drunkards, nor revilers, nor swindlers will inherit the kingdom of God.

¿No saben que los malvados no heredarán el reino de Dios? ¡No se dejen engañar! Ni los fornicarios, ni los idólatras, ni los adúlteros, ni los sodomitas, ni los pervertidos sexuales, ni los ladrones, ni los avaros, ni los borrachos, ni los calumniadores, ni los estafadores heredarán el reino de Dios.

You shall walk after the L

ord

your God and fear him and keep his commandments and obey his voice, and you shall serve him and hold fast to him.
Solamente al S

eñor

tu Dios debes seguir y rendir culto. Cumple sus mandamientos y obedécelo; sírvele y permanece fiel a él.

You shall not make gods of silver to be with me, nor shall you make for yourselves gods of gold.

No me ofendan; no se hagan dioses de plata o de oro, ni los adoren.

Know therefore today, and lay it to your heart, that the L

ord

is God in heaven above and on the earth beneath; there is no other.
Reconoce y considera seriamente hoy que el S

eñor

es Dios arriba en el cielo y abajo en la tierra, y que no hay otro.

Take no part in the unfruitful works of darkness, but instead expose them. For it is shameful even to speak of the things that they do in secret.

No tengan nada que ver con las obras infructuosas de la oscuridad, sino más bien denúncienlas, porque da vergüenza aun mencionar lo que los desobedientes hacen en secreto.

Put to death therefore what is earthly in you: sexual immorality, impurity, passion, evil desire, and covetousness, which is idolatry.

Por tanto, hagan morir todo lo que es propio de la naturaleza terrenal: inmoralidad sexual, impureza, bajas pasiones, malos deseos y avaricia, la cual es idolatría.

For the customs of the peoples are vanity. A tree from the forest is cut down and worked with an axe by the hands of a craftsman. They decorate it with silver and gold; they fasten it with hammer and nails so that it cannot move. Their idols are like scarecrows in a cucumber field, and they cannot speak; they have to be carried, for they cannot walk. Do not be afraid of them, for they cannot do evil, neither is it in them to do good.

Las costumbres de los pueblos no tienen valor alguno. Cortan un tronco en el bosque, y un artífice lo labra con un cincel. Lo adornan con oro y plata, y lo afirman con clavos y martillo para que no se tambalee. Sus ídolos no pueden hablar; ¡parecen espantapájaros en un campo sembrado de melones! Tienen que ser transportados, porque no pueden caminar. No les tengan miedo, que ningún mal pueden hacerles, pero tampoco ningún bien.

And if it is evil in your eyes to serve the L

ord

, choose this day whom you will serve, whether the gods your fathers served in the region beyond the River, or the gods of the Amorites in whose land you dwell. But as for me and my house, we will serve the L

ord

.
Pero, si a ustedes les parece mal servir al S

eñor

, elijan ustedes mismos a quiénes van a servir: a los dioses que sirvieron sus antepasados al otro lado del río Éufrates, o a los dioses de los amorreos, en cuya tierra ustedes ahora habitan. Por mi parte, mi familia y yo serviremos al S

eñor

.
But I am the L

ord

your God from the land of Egypt; you know no God but me, and besides me there is no savior.
Pero yo soy el S

eñor

tu Dios desde que estabas en Egipto. No conocerás a otro Dios fuera de mí, ni a otro Salvador que no sea yo.
No weapon that is fashioned against you shall succeed, and you shall refute every tongue that rises against you in judgment. This is the heritage of the servants of the L

ord

and their vindication from me, declares the L

ord

.
No prevalecerá ninguna arma que se forje contra ti; toda lengua que te acuse será refutada. Esta es la herencia de los siervos del S

eñor

, la justicia que de mí procede —afirma el S

eñor

—.

For the love of money is a root of all kinds of evils. It is through this craving that some have wandered away from the faith and pierced themselves with many pangs.

Porque el amor al dinero es la raíz de toda clase de males. Por codiciarlo, algunos se han desviado de la fe y se han causado muchísimos sinsabores.

Put on the whole armor of God, that you may be able to stand against the schemes of the devil.

Pónganse toda la armadura de Dios para que puedan hacer frente a las artimañas del diablo.

Do not be overcome by evil, but overcome evil with good.

No te dejes vencer por el mal; al contrario, vence el mal con el bien.

The sting of death is sin, and the power of sin is the law.

El aguijón de la muerte es el pecado, y el poder del pecado es la ley.

Turn away from evil and do good; seek peace and pursue it.

Que se aparte del mal y haga el bien; que busque la paz y la siga.

I do not ask that you take them out of the world, but that you keep them from the evil one.

No te pido que los quites del mundo, sino que los protejas del maligno.
Great is the Lord, and greatly to be praised, and his greatness is unsearchable.
Personal Bible reading plan
Create an account to configure your Bible reading plan and you will see your progress and the next chapter to read here!
Read more...