Bible Verses about Idols
«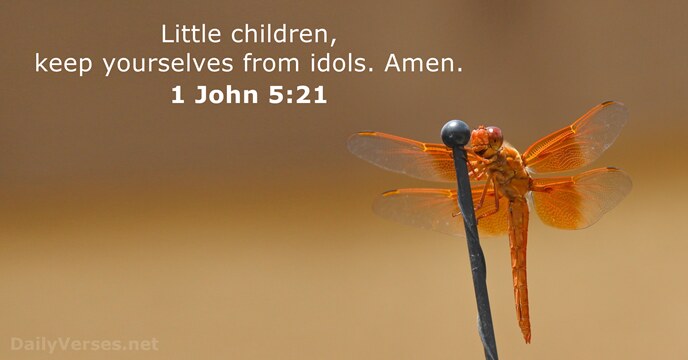 »
Little children, keep yourselves from idols. Amen.

Filhinhos, guardai-vos dos ídolos. Amém!

Know ye not that the unrighteous shall not inherit the kingdom of God? Be not deceived: neither fornicators, nor idolaters, nor adulterers, nor effeminate, nor abusers of themselves with mankind, Nor thieves, nor covetous, nor drunkards, nor revilers, nor extortioners, shall inherit the kingdom of God.

Não sabeis que os injustos não hão de herdar o Reino de Deus? Não erreis: nem os devassos, nem os idólatras, nem os adúlteros, nem os efeminados, nem os sodomitas, nem os ladrões, nem os avarentos, nem os bêbados, nem os maldizentes, nem os roubadores herdarão o Reino de Deus.

Ye shall walk after the L

ord

your God, and fear him, and keep his commandments, and obey his voice, and ye shall serve him, and cleave unto him.
Após o S

enhor

, vosso Deus, andareis, e a ele temereis, e os seus mandamentos guardareis, e a sua voz ouvireis, e a ele servireis, e a ele vos achegareis.

Ye shall not make with me gods of silver, neither shall ye make unto you gods of gold.

Não fareis outros deuses comigo; deuses de prata ou deuses de ouro não fareis para vós.

Know therefore this day, and consider it in thine heart, that the L

ord

he is God in heaven above, and upon the earth beneath: there is none else.
Pelo que hoje saberás e refletirás no teu coração que só o S

enhor

é Deus em cima no céu e embaixo na terra; nenhum outro há.

And have no fellowship with the unfruitful works of darkness, but rather reprove them. For it is a shame even to speak of those things which are done of them in secret.

E não comuniqueis com as obras infrutuosas das trevas, mas, antes, condenai-as. Porque o que eles fazem em oculto, até dizê-lo é torpe.

Mortify therefore your members which are upon the earth; fornication, uncleanness, inordinate affection, evil concupiscence, and covetousness, which is idolatry.

Mortificai, pois, os vossos membros que estão sobre a terra: a prostituição, a impureza, o apetite desordenado, a vil concupiscência e a avareza, que é idolatria.

For the customs of the people are vain: for one cutteth a tree out of the forest, the work of the hands of the workman, with the axe. They deck it with silver and with gold; they fasten it with nails and with hammers, that it move not. They are upright as the palm tree, but speak not: they must needs be borne, because they cannot go. Be not afraid of them; for they cannot do evil, neither also is it in them to do good.

Porque os costumes dos povos são vaidade; pois cortam do bosque um madeiro, obra das mãos do artífice, com machado. Com prata e com ouro o enfeitam, com pregos e com martelos o firmam, para que não se mova. São como a palmeira, obra torneada, mas não podem falar; necessitam de quem os leve, porquanto não podem andar; não tenhais receio deles, pois não podem fazer mal, nem tampouco têm poder de fazer bem.
And if it seem evil unto you to serve the L

ord

, choose you this day whom ye will serve; whether the gods which your fathers served that were on the other side of the flood, or the gods of the Amorites, in whose land ye dwell: but as for me and my house, we will serve the L

ord

.
Porém, se vos parece mal aos vossos olhos servir ao S

enhor

, escolhei hoje a quem sirvais: se os deuses a quem serviram vossos pais, que estavam dalém do rio, ou os deuses dos amorreus, em cuja terra habitais; porém eu e a minha casa serviremos ao S

enhor

.
Yet I am the L

ord

thy God from the land of Egypt, and thou shalt know no god but me: for there is no saviour beside me.
Todavia, eu sou o S

enhor

, teu Deus, desde a terra do Egito; portanto, não reconhecerás outro deus além de mim, porque não há Salvador, senão eu.
No weapon that is formed against thee shall prosper; and every tongue that shall rise against thee in judgment thou shalt condemn. This is the heritage of the servants of the L

ord

, and their righteousness is of me, saith the L

ord

.
Toda ferramenta preparada contra ti não prosperará; e toda língua que se levantar contra ti em juízo, tu a condenarás; esta é a herança dos servos do S

enhor

e a sua justiça que vem de mim, diz o S

enhor

.

For the love of money is the root of all evil: which while some coveted after, they have erred from the faith, and pierced themselves through with many sorrows.

Porque o amor do dinheiro é a raiz de toda espécie de males; e nessa cobiça alguns se desviaram da fé e se traspassaram a si mesmos com muitas dores.

Put on the whole armour of God, that ye may be able to stand against the wiles of the devil.

Revesti-vos de toda a armadura de Deus, para que possais estar firmes contra as astutas ciladas do diabo.

Be not overcome of evil, but overcome evil with good.

Não te deixes vencer do mal, mas vence o mal com o bem.

The sting of death is sin; and the strength of sin is the law.

Ora, o aguilhão da morte é o pecado, e a força do pecado é a lei.

Depart from evil, and do good; seek peace, and pursue it.

Aparta-te do mal e faze o bem; procura a paz e segue-a.

I pray not that thou shouldest take them out of the world, but that thou shouldest keep them from the evil.

Não peço que os tires do mundo, mas que os livres do mal.
A prudent man foreseeth the evil, and hideth himself; but the simple pass on, and are punished.
Personal Bible reading plan
Create an account to configure your Bible reading plan and you will see your progress and the next chapter to read here!
Read more...