Bible Verses about Idols
«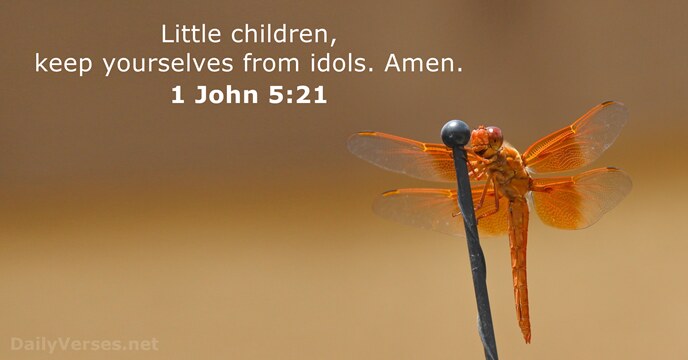 »
Little children, keep yourselves from idols. Amen.

Kinder, hütet euch vor den Götzen!

Know ye not that the unrighteous shall not inherit the kingdom of God? Be not deceived: neither fornicators, nor idolaters, nor adulterers, nor effeminate, nor abusers of themselves with mankind, Nor thieves, nor covetous, nor drunkards, nor revilers, nor extortioners, shall inherit the kingdom of God.

Oder wisst ihr nicht, dass die Ungerechten das Reich Gottes nicht ererben werden? Täuscht euch nicht! Weder Unzüchtige noch Götzendiener noch Ehebrecher noch Lustknaben noch Knabenschänder noch Diebe noch Habgierige noch Trunkenbolde noch Lästerer noch Räuber werden das Reich Gottes ererben.

Ye shall walk after the L

ord

your God, and fear him, and keep his commandments, and obey his voice, and ye shall serve him, and cleave unto him.
Dem

HERRN

, eurem Gott, sollt ihr folgen und ihn fürchten und seine Gebote halten und seiner Stimme gehorchen und ihm dienen und ihm anhangen.

Ye shall not make with me gods of silver, neither shall ye make unto you gods of gold.

Darum sollt ihr euch keine andern Götter neben mir machen, weder silberne noch goldene sollt ihr euch machen.

Know therefore this day, and consider it in thine heart, that the L

ord

he is God in heaven above, and upon the earth beneath: there is none else.
So sollst du nun heute wissen und zu Herzen nehmen, dass der

HERR

Gott ist oben im Himmel und unten auf Erden und sonst keiner.

And have no fellowship with the unfruitful works of darkness, but rather reprove them. For it is a shame even to speak of those things which are done of them in secret.

Und habt nicht Gemeinschaft mit den unfruchtbaren Werken der Finsternis; deckt sie vielmehr auf. Denn was von ihnen heimlich getan wird, davon auch nur zu reden ist schändlich.

Mortify therefore your members which are upon the earth; fornication, uncleanness, inordinate affection, evil concupiscence, and covetousness, which is idolatry.

So tötet nun die Glieder, die auf Erden sind, Unzucht, Unreinheit, schändliche Leidenschaft, böse Begierde und die Habsucht, die Götzendienst ist.

Put on the whole armour of God, that ye may be able to stand against the wiles of the devil.

Zieht an die Waffenrüstung Gottes, damit ihr bestehen könnt gegen die listigen Anschläge des Teufels.

No weapon that is formed against thee shall prosper; and every tongue that shall rise against thee in judgment thou shalt condemn. This is the heritage of the servants of the L

ord

, and their righteousness is of me, saith the L

ord

.
Keiner Waffe, die gegen dich bereitet wird, soll es gelingen, und jede Zunge, die sich zum Rechtsstreit gegen dich erhebt, sollst du schuldig sprechen. Das ist das Erbteil der Knechte des

HERRN

, und ihre Gerechtigkeit kommt von mir, spricht der

HERR

.
And if it seem evil unto you to serve the L

ord

, choose you this day whom ye will serve; whether the gods which your fathers served that were on the other side of the flood, or the gods of the Amorites, in whose land ye dwell: but as for me and my house, we will serve the L

ord

.
Gefällt es euch aber nicht, dem

HERRN

zu dienen, so wählt euch heute, wem ihr dienen wollt: den Göttern, denen eure Väter gedient haben jenseits des Stroms, oder den Göttern der Amoriter, in deren Land ihr wohnt. Ich aber und mein Haus wollen dem

HERRN

dienen.

For the customs of the people are vain: for one cutteth a tree out of the forest, the work of the hands of the workman, with the axe. They deck it with silver and with gold; they fasten it with nails and with hammers, that it move not. They are upright as the palm tree, but speak not: they must needs be borne, because they cannot go. Be not afraid of them; for they cannot do evil, neither also is it in them to do good.

Denn die Bräuche der Heiden sind alle nichts: Man fällt im Walde einen Baum, und der Bildhauer macht daraus mit dem Beil ein Werk seiner Hände. Er schmückt es mit Silber und Gold und befestigt es mit Nagel und Hammer, dass es nicht umfalle. Es sind ja nichts als Vogelscheuchen im Gurkenfeld. Sie können nicht reden; auch muss man sie tragen, denn sie können nicht gehen. Darum sollt ihr euch nicht vor ihnen fürchten; denn sie können weder helfen noch Schaden tun.

Be not overcome of evil, but overcome evil with good.

Lass dich nicht vom Bösen überwinden, sondern überwinde das Böse mit Gutem.

Yet I am the L

ord

thy God from the land of Egypt, and thou shalt know no god but me: for there is no saviour beside me.
Ich aber bin der

HERR

, dein Gott, von Ägyptenland her. Einen Gott neben mir kennst du nicht und keinen Heiland als allein mich.

For the love of money is the root of all evil: which while some coveted after, they have erred from the faith, and pierced themselves through with many sorrows.

Denn Geldgier ist eine Wurzel alles Übels; danach hat einige gelüstet und sie sind vom Glauben abgeirrt und machen sich selbst viel Schmerzen.

I pray not that thou shouldest take them out of the world, but that thou shouldest keep them from the evil.

Ich bitte nicht, dass du sie aus der Welt nimmst, sondern dass du sie bewahrst vor dem Bösen.

Depart from evil, and do good; seek peace, and pursue it.

Lass ab vom Bösen und tue Gutes; suche Frieden und jage ihm nach!

The sting of death is sin; and the strength of sin is the law.

Der Stachel des Todes aber ist die Sünde, die Kraft aber der Sünde ist das Gesetz.
Rejoice evermore. Pray without ceasing. In every thing give thanks: for this is the will of God in Christ Jesus concerning you.
Personal Bible reading plan
Create an account to configure your Bible reading plan and you will see your progress and the next chapter to read here!
Read more...