Bible Verses about Idols
«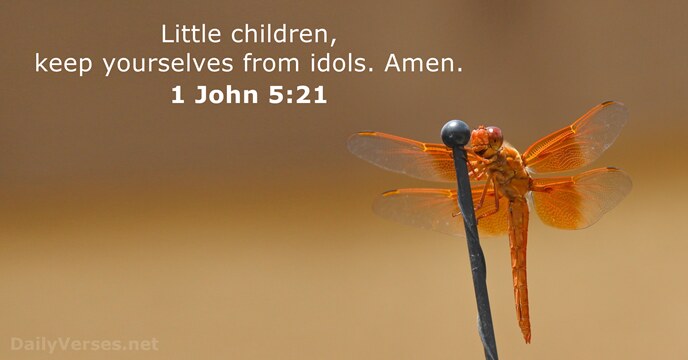 »
Little children, keep yourselves from idols. Amen.

Kinder, hütet euch vor den falschen Göttern!

Know ye not that the unrighteous shall not inherit the kingdom of God? Be not deceived: neither fornicators, nor idolaters, nor adulterers, nor effeminate, nor abusers of themselves with mankind, Nor thieves, nor covetous, nor drunkards, nor revilers, nor extortioners, shall inherit the kingdom of God.

Wisst ihr denn nicht, dass ungerechte Menschen keinen Platz im Reich Gottes haben werden? Täuscht euch nicht: Menschen, die in sexueller Unmoral leben, Götzen anbeten oder die Ehe brechen, Lustknaben und Knabenschänder, Diebe oder Habsüchtige, Trinker, Lästerer oder Räuber werden keinen Platz im Reich Gottes haben.

Ye shall walk after the L

ord

your God, and fear him, and keep his commandments, and obey his voice, and ye shall serve him, and cleave unto him.

Ihr sollt Jahwe, eurem Gott, folgen und Ehrfurcht vor ihm haben. Seine Gebote sollt ihr halten, seinen Weisungen gehorchen, ihm dienen und ihm treu sein.

Ye shall not make with me gods of silver, neither shall ye make unto you gods of gold.

Darum sollt ihr keine selbst gemachten Götter neben mich stellen, weder aus Silber noch aus Gold.

Know therefore this day, and consider it in thine heart, that the L

ord

he is God in heaven above, and upon the earth beneath: there is none else.

So begreif es heute endlich und nimm es dir zu Herzen, dass Jahwe oben im Himmel und unten auf der Erde allein Gott ist, keiner sonst!

And have no fellowship with the unfruitful works of darkness, but rather reprove them. For it is a shame even to speak of those things which are done of them in secret.

Beteiligt euch nicht an den nutzlosen Dingen, die aus der Finsternis kommen, sondern stellt sie vielmehr bloß. Denn was manche heimlich tun, ist schon auszusprechen unanständig.

Mortify therefore your members which are upon the earth; fornication, uncleanness, inordinate affection, evil concupiscence, and covetousness, which is idolatry.

Darum tötet alles, was zu eurer irdischen Natur gehört: sexuelle Unmoral, Schamlosigkeit, Leidenschaft, böse Lüste und Habgier, die Götzendienst ist.

Put on the whole armour of God, that ye may be able to stand against the wiles of the devil.

Zieht die volle Rüstung Gottes an, damit ihr den heimtückischen Anschlägen des Teufels standhalten könnt.

No weapon that is formed against thee shall prosper; and every tongue that shall rise against thee in judgment thou shalt condemn. This is the heritage of the servants of the L

ord

, and their righteousness is of me, saith the L

ord

.

"Deshalb wird dir keine Waffe etwas tun, die gegen dich geschmiedet ist. Und jeder, der dich vor Gericht anklagt, wird von dir als Schuldiger entlarvt. Das ist das Vorrecht der Diener Jahwes, so sieht ihre Gerechtigkeit aus!", spricht Jahwe.

And if it seem evil unto you to serve the L

ord

, choose you this day whom ye will serve; whether the gods which your fathers served that were on the other side of the flood, or the gods of the Amorites, in whose land ye dwell: but as for me and my house, we will serve the L

ord

.

Wenn euch das aber nicht gefällt, dann entscheidet euch heute, wem ihr dienen wollt: den Göttern, die eure Vorfahren jenseits des Stromes verehrt haben, oder den Göttern der Amoriter, in deren Land ihr lebt. Doch ich und meine ganze Familie – wir werden Jahwe dienen!

For the customs of the people are vain: for one cutteth a tree out of the forest, the work of the hands of the workman, with the axe. They deck it with silver and with gold; they fasten it with nails and with hammers, that it move not. They are upright as the palm tree, but speak not: they must needs be borne, because they cannot go. Be not afraid of them; for they cannot do evil, neither also is it in them to do good.

Denn ihre Gebräuche sind ohne Sinn, ihre Götzen ohne Verstand. Da holt einer Holz aus dem Wald, der Schnitzer macht daraus eine Figur. Man schmückt sie mit Silber und Gold, befestigt sie mit Hammer und Nagel, damit der Gott nicht wackeln kann. Wie Vogelscheuchen im Gurkenfeld stehen sie und reden nicht. Man muss sie tragen, sie können nicht gehen. Habt keine Angst vor ihnen! Sie können euch nichts Böses tun, und Gutes noch viel weniger.

Be not overcome of evil, but overcome evil with good.

Lass dich nicht vom Bösen besiegen, sondern besiege das Böse mit dem Guten!

Yet I am the L

ord

thy God from the land of Egypt, and thou shalt know no god but me: for there is no saviour beside me.

Doch ich bin Jahwe, dein Gott, schon seit der Zeit in Ägypten. Du kennst keinen Gott außer mir, und es gibt keinen Retter als mich.

For the love of money is the root of all evil: which while some coveted after, they have erred from the faith, and pierced themselves through with many sorrows.

Denn die Liebe zum Geld ist eine Wurzel für alles Böse. Manche sind ihr so verfallen, dass sie vom Glauben abgeirrt sind und sich selbst die schlimmsten Qualen bereitet haben.

I pray not that thou shouldest take them out of the world, but that thou shouldest keep them from the evil.

Ich bitte dich nicht darum, sie aus der Welt wegzunehmen, aber ich bitte dich, sie vor dem Bösen zu bewahren.

Depart from evil, and do good; seek peace, and pursue it.

Wer will etwas vom Leben haben? Wer will lange glücklich sein? Der tue das Gute und wende sich vom Bösen ab, der mühe sich um Frieden mit seiner ganzen Kraft.

The sting of death is sin; and the strength of sin is the law.

Der Giftstachel des Todes ist die Sünde, und die Kraft der Sünde kommt durch das Gesetz.
Therefore let us not sleep, as do others; but let us watch and be sober.
Personal Bible reading plan
Create an account to configure your Bible reading plan and you will see your progress and the next chapter to read here!
Read more...