Bible Verses about Idols
«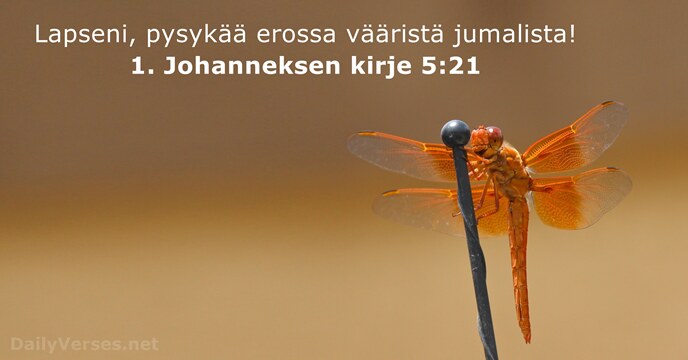 »
Little children, keep yourselves from idols. Amen.

Lapseni, pysykää erossa vääristä jumalista!

Do you not know that the unrighteous will not inherit the kingdom of God? Do not be deceived. Neither fornicators, nor idolaters, nor adulterers, nor homosexuals, nor sodomites, nor thieves, nor covetous, nor drunkards, nor revilers, nor extortioners will inherit the kingdom of God.

Ettekö tiedä, että vääryydentekijät eivät saa omakseen Jumalan valtakuntaa? Älkää eksykö! Jumalan valtakunnan perillisiä eivät ole siveettömyyden harjoittajat eivätkä epäjumalien palvelijat, eivät avionrikkojat, eivät miesten kanssa makaavat miehet, eivät varkaat eivätkä ahneet, eivät juomarit, pilkkaajat eivätkä riistäjät.

You shall walk after the L

ord

your God and fear Him, and keep His commandments and obey His voice; you shall serve Him and hold fast to Him.

Teidän tulee seurata vain Herraa, Jumalaanne, pelätä häntä, noudattaa hänen käskyjään, totella häntä ja pysyä hänen uskollisina palvelijoinaan.

You shall not make anything to be with Me—gods of silver or gods of gold you shall not make for yourselves.

Älkää asettako mitään minun rinnalleni, älkää tehkö itsellenne jumalia hopeasta tai kullasta.

Therefore know this day, and consider it in your heart, that the L

ord

Himself is God in heaven above and on the earth beneath; there is no other.

Teidän tulee siis tietää ja painaa mieleenne, että Herra on Jumala niin taivaassa kuin maan päällä eikä toista Jumalaa ole.

And have no fellowship with the unfruitful works of darkness, but rather expose them. For it is shameful even to speak of those things which are done by them in secret.

Älkää osallistuko pimeyden töihin: ne eivät kanna hedelmää. Tuokaa ne päivänvaloon. Mitä sellaiset ihmiset salassa tekevät, on häpeällistä sanoakin.

Therefore put to death your members which are on the earth: fornication, uncleanness, passion, evil desire, and covetousness, which is idolatry.

Haudatkaa siis se, mikä teissä on maallista: siveettömyys, saastaisuus, intohimot, pahat halut ja ahneus, joka on epäjumalanpalvelusta.

For the customs of the peoples are futile; For one cuts a tree from the forest, The work of the hands of the workman, with the ax. They decorate it with silver and gold; They fasten it with nails and hammers So that it will not topple. They are upright, like a palm tree, And they cannot speak; They must be carried, Because they cannot go by themselves. Do not be afraid of them, For they cannot do evil, Nor can they do any good.

Heidän uskomuksensa ovat typeriä kuvitelmia. He kaatavat metsästä puun, ja puuseppä muodostelee sen taltallaan, hän koristelee sen hopealla ja kullalla ja kiinnittää sen paikoilleen vasaralla ja nauloilla, ettei se kaadu. Tällaisia ovat heidän jumalansa. Ne ovat kuin linnunpelättimet kurkkumaalla, eivät ne osaa puhua. Ne eivät pysty liikkumaan itse, niitä täytyy kantaa paikasta toiseen. Älkää pelätkö niitä, eivät ne tee teille pahaa, mutta ei niistä apuakaan ole.

And if it seems evil to you to serve the L

ord

, choose for yourselves this day whom you will serve, whether the gods which your fathers served that were on the other side of the River, or the gods of the Amorites, in whose land you dwell. But as for me and my house, we will serve the L

ord

.

Mutta jos te ette tahdo palvella Herraa, niin valitkaa tänä päivänä, ketä palvelette: haluatteko palvella niitä jumalia, joita esi-isänne palvelivat Eufratin toisella puolen, vai amorilaisten jumalia, näiden amorilaisten, joiden maassa te nyt asutte. Minä ja minun perheeni palvelemme Herraa.

Yet I am the L

ord

your God Ever since the land of Egypt, And you shall know no God but Me; For there is no savior besides Me.

Mutta minä olen Herra, sinun Jumalasi, minä toin sinut Egyptistä. Muuta jumalaa sinulla ei ole, ei muuta auttajaa kuin minä yksin.

"No weapon formed against you shall prosper, And every tongue which rises against you in judgment You shall condemn. This is the heritage of the servants of the L

ord

, And their righteousness is from Me," Says the L

ord

.

Ja niin jokainen ase, joka taotaan sinua vastaan, on tehoton. Jokaisen kielen, joka käy sinua syyttämään, sinä osoitat valehtelijaksi. Tämä on Herran palvelijoiden perintöosa. Minä annan heille siihen oikeuden, sanoo Herra.

Put on the whole armor of God, that you may be able to stand against the wiles of the devil.

Pukekaa yllenne Jumalan taisteluvarustus, jotta voisitte pitää puolianne Paholaisen juonia vastaan.

For the love of money is a root of all kinds of evil, for which some have strayed from the faith in their greediness, and pierced themselves through with many sorrows.

Rahanhimo on kaiken pahan alkujuuri. Rahaa havitellessaan monet ovat eksyneet pois uskosta ja tuottaneet itselleen monenlaista kärsimystä.

Do not be overcome by evil, but overcome evil with good.

Älä anna pahan voittaa itseäsi, vaan voita sinä paha hyvällä.

The sting of death is sin, and the strength of sin is the law.

Kuoleman pistin on synti, ja synnin voimana on laki.

Depart from evil and do good; Seek peace and pursue it.

Karta pahaa ja tee hyvää, pyri sopuun, rakenna rauhaa!

I do not pray that You should take them out of the world, but that You should keep them from the evil one.

En kuitenkaan pyydä, että ottaisit heidät pois maailmasta, vaan että varjelisit heidät pahalta.
Anxiety in the heart of man causes depression, But a good word makes it glad.
Personal Bible reading plan
Create an account to configure your Bible reading plan and you will see your progress and the next chapter to read here!
Read more...